From dead spot to data hot spot
Wireless broadband has promising opportunities in, and for, rural areas of the district
Published January 1, 2004 | January 2004 issue
While sitting in a client's open house waiting for potential buyers to drop by, Remax real estate agent Morris Pyle often kills time by logging on to the Internet to check out various Web sites covering real estate listings in the Fargo, N.D., area or to work on his own online database. When visiting with clients he'll connect again and use his laptop to show them online images of potential homes they may want to buy or to offer a tour of his own photo-laden Web site.
Pyle's use of the Net would be unexceptional except for one thing—he does not access it through the traditional hookups of cable modem or DSL. No, he connects through Monet Mobile Networks, a Kirkland, Wash.-based wireless data company, which last year created citywide wireless broadband networks in a number of Ninth District locations, among them Eau Claire and Superior (Wis.), Duluth and Moorhead (Minn.), Sioux Falls (S.D.) and Fargo, Bismarck and Grand Forks.
Monet's network allows subscribers to access the Internet from nearly any location in their community. Pyle has no problem jumping online from home, his office or any of the many houses he visits every year. Although marred by technical glitches and dead spots last year, Monet's service dramatically improved this year, and he rarely encounters any difficulty getting online.
"Now I take my laptop everyplace I go," explained Pyle. "We'll be sitting at a customer's dinner table in their house and they'll express an interest in a home they heard about that's for sale, and I'll grab my laptop, go search for it and say, 'Would you like to see it?'"
Shooting wireless BBs
For Pyle and others like him, the issue is about both access and speed, and wireless broadband is capitalizing on its unique position—particularly with regard to mobility—in providing both. It also turns out that the petri dish of wireless broadband for the country is arguably right here in the Upper Midwest, as subscribers like Pyle pave the way for wireless to morph from a telephone base toward new broadband applications.
The Sioux Falls rollout of Monet in 2001, for example, was the country's first application of a citywide broadband wireless network in the world outside of Asia, said Monet president Richard Kingston. Perhaps no other part of the nation can boast as many wired wireless cities, in part due to the work of Monet and other wireless Internet service providers, or WISPs.
A number of district WISPs have begun using frequencies that are unlicensed—and therefore unregulated—by the Federal Communications Commission (FCC) but available for data transmission. Many serve rural areas, including Xtratyme Technologies Inc. in Dassel, Minn., and InvisiMax Inc. in Warren, Minn.
Monet came to the Ninth District for several reasons. When the company formed four years ago and went looking for spectrum, it bought inexpensive frequencies from VoiceStream—now T-Mobile—that happened to be in the rural Midwest. The flat landscape made connections easier, and the cities they could serve "were underserved by broadband options, which is good for us, but still filled with technically savvy people," said Kingston. "These are good markets, good cities with leaders who wanted someone to come in and build infrastructure."
The available broadband options, he pointed out, indicated the cities Monet serves all had "high Internet penetration, higher than the national average." With a strong market for broadband wireless, the business case for starting up in Ninth District cities was not hard to make, and Monet went forward. Licensed spectrum in an urban area like Minneapolis would be prohibitively expensive for a small startup such as Monet, Kingston added.
Does the presence of Monet and a small army of WISPs mean the Ninth District's a happening place for wireless broadband? Will the dormant rural economy, now graced by the presence of broadband connectivity once available only in urban areas, get a necessary kick-start to retain and attract business? What, if anything, does the presence of wireless broadband—providing a much faster pipe to the Net than dialup connections—mean in the sparsely populated, largely rural Upper Midwest?
The answers to all these questions, in one form or another, is the easy cop-out "too early to tell" answer. One thing is clear, however: Wireless matters. And in rural communities, it may matter even more.
Rise of the living dead zone
One way to gauge the potential consumer utility and commercial opportunity of wireless broadband is to look first at its big brother—wireless telephones—which district residents have come to rely on.
The FCC's last survey of wireless use in 2002 showed around half or more of the residents of Wisconsin, Minnesota and South Dakota have cell phones. North Dakota boasts 38 percent, Montana 34 percent. The figures are likely higher than the FCC report suggests since the agency does not require carriers with fewer than 10,000 clients to submit data, and the Ninth District has plenty of small carriers.
Rural wireless users have begun to see their cell phones as more important than wireline connections, a trend emerging in urban areas, too. A survey by Western Wireless, a carrier serving much of the Ninth District, revealed that half the respondents in the rural Midwest said their wireless phone had become more important to them than their wireline connection.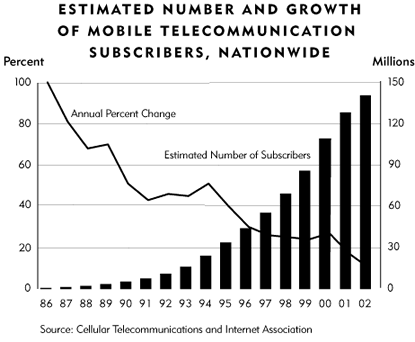 Though little research exists detailing the extent to which rural communities have benefited from wireless technology, the absence of it can be debilitating. Every state in the nation is allegedly covered by wireless networks, but the reality differs. Steve Wegman, policy analyst for the South Dakota Public Utilities Commission, said his state has plenty of dead zones where wireless coverage drops off. He tells the story of talking to a newspaper reporter while standing outside a Rapid City hotel and having the conversation drop off four times, an episode that made it into the day's news.
Despite those challenges South Dakota has more than 400,000 cell phone users and 450,000 wireline subscribers out of 750,000 residents, he said, an almost 1-1 ratio. "It's become a tool, a necessary tool like a hammer or pliers," he said. "It's not a luxury; it's a necessity."
Ann Newhall, chief operating officer of Alexandria, Minn.-based Rural Cellular Corp. (RCC)-one of the few publicly traded wireless firms in the district-sees wireless as "playing a larger role in rural areas than in metropolitan environments because the distances are greater and people want to be able to keep in contact with others." Without good wireless access, she suggests it's now "difficult for any business to flourish."
They agree with that observation in Miner County, S.D., a land forgotten by wireless carriers. Greg Simpson, plant manager of PBM Graphics Inc. in Howard, a small town in the county, has customers visit on occasion. When they go to use their cell phones they see the dreaded "out of service area" tag that heavy users fear. "The minute they get out here, they go to use their cell phones to get their voice messages and they can't get reception," he explained. "We get them to a telephone to get their messages that way but it's an extra step, especially to people so used to using their cell phones for everything."
No company has left town or threatened to due to the lack of coverage, but it hurts when potential businesses decide whether to locate in the county, said Mike Knutson, economic development and housing director for Miner County Community Revitalization. Miner's not that far out in the sticks, he pointed out, noting Brookings and Sioux Falls lie just 60 miles away and both have "great" wireless service. Thanks to efforts by his organization and others in town, Western Wireless, one of the state's largest wireless providers, plans to build a tower that should cover the entire county.
Perfect reception everywhere in the rural Ninth District may never happen. Mike McDermott, regional public policy director for Verizon Wireless' Chicago office, said rural coverage has remained an issue since cell phones were introduced 20 years ago. The equipment alone for a wireless base station, not including construction of a tower or rental of a grain elevator, costs between $300,000 and $500,000. "What it boils down to is economic feasibility, how much money we need to invest for equipment to have every square inch of our license area covered," he said. "Basically, it's cost-prohibitive."
That may be changing with the help of the FCC. The government collects a "universal service fee" from wireline, long-distance and wireless carriers based on a percentage of their interstate and international calls. The fees are paid to the Universal Service Administrative Co. (USAC) in Washington, D.C., and then redistributed to underserved populations or institutions. Much of the money goes to rural landline carriers to keep the cost of telephone service and Web access at or below what residents in the rest of the country pay. Money also goes to hospitals, schools and, to a small degree, wireless carriers.
For decades wireline rural carriers have received disbursements from the USAC, while wireless carriers were shut out until recently. Newhall said RCC received $4 million from the fund this year; Midwest Wireless, which is larger, will get around $7 million.
Not everyone believes the wireless companies make good use of the money. Geoff Feiss, general manager of the Montana Telecommunications Association, called the service fund a "gravy train" for Western Wireless and other cellular companies because "there's no requirement" they add capacity in dead zones and "that's the problem."
Feiss, who largely represents landline companies, argued wireless companies already enjoy an advantage since many of them offer free long-distance calling at certain times and have enormous local districts within a calling area. A call from Billings to Spokane, Wash., is charged as local if conducted on a wireless phone and long-distance if on a wireline, he claims. On the other hand, wireless carriers have argued the taxes they pay go to local exchange carriers with whom they are in direct competition. The bottom line? Either way, rural communities win with better wireless or better wireline service, or both.
Tom Riley, Midwest Wireless vice president of customer operations, said his company makes a point of using universal fund money for adding capacity in small cities through its market, among them Clara City, Morgan, Lafayette (all in Minnesota) and other towns with fewer than 2,000 people. "We've made a decision not to play the allocation game, and we're using the money to make direct investments in expanding capacity," he said.
The temptation to use incoming federal and state money for cash flow, he confessed, is real for the many companies that have still not turned a profit on wireless operations, among them Nextel, Sprint and AT&T Wireless. In contrast, Midwest has turned a profit for more than 14 years, he said. RCC, the other major carrier in the district, is close to profitability but has not yet achieved it, said Newhall.
Data, data, data
Rural areas of the Ninth District are hardly undeserved by broadband access to the Internet. A survey by the Center for Rural Policy and Development in St. Peter, Minn., found that 58 percent of respondents in rural areas of the state have an Internet connection, and 15 percent reported broadband access through DSL, cable or wireless. A national study by the Pew Internet & American Life Project showed 16 percent of Americans get to the Net through a broadband connection, a mere 1 percentage point higher than rural Minnesotans.
Broadband wireless providers see great potential in the region. They feel they can compete in sparsely settled rural areas where DSL is hard to come by as well as in areas rich with cable or DSL options. Even sizable cities in the Ninth District lack total broadband wireline coverage within their borders. Monet's customers flocked to wireless broadband in part because they had poor or no access to high-speed broadband, said Kingston.
Unlicensed spectrum exists in many Ninth District communities. Licensed spectrum must be purchased from the FCC or other carriers and holds certain advantages, such as a generally higher level of security, no interference from other carriers and the advantage of being able to more easily build out a national network. Still, in sparsely populated areas with little spectrum competition, an unlicensed frequency works just fine.
Up in Warren, Minn., a 30-mile drive from Grand Forks, N.D., Dave Giles and his partners are selling wireless Internet access on unlicensed spectrum. All wireless cell providers purchased frequencies from the FCC in a highly publicized auction in the 1990s, but plenty of unlicensed frequencies still exist in the uncrowded spectrum available in rural areas. The agency allows this unallocated spectrum to be used for wireless data transmission, and there are an estimated 1,600 to 1,800 WISPs nationwide. However, these companies mostly offer "fixed wireless" service, which does not provide the kind of ubiquitous coverage offered by the likes of Monet.
Giles' company, InvisiMax, is among a small but growing number of WISPs operating in the Ninth District, though finding a precise number remains difficult. InvisiMax has created a 250-mile long wireless broadband belt extending into North Dakota. In some communities it's had competition from DSL and cable providers but often their technology is old or the clients live too far from town to get access.
InvisiMax clients get Internet access at speeds of 256 Kbps (kilobits per second) to 1.5 Mbps (megabits per second)—speeds comparable to DSL and cable. Giles found an audience quickly for the service. "The ability to get them to the Internet is an issue, and we've found a lot of businesses have gone to the next level because of this service, and they've begun communicating with the rest of the world (through the Net), which they didn't before," he said. "With the connectivity we're providing we're seeing rural online stores being set up and clients buying and selling stuff online."
Giles and his partner Phil Hebert are advocates for rural wireless broadband, but they complain local banks, venture capitalists and other likely investors have trouble understanding its potential. They hope the government will step in with funding to assist in reaching communities where broadband does not exist, just as it did for RCC and Midwest Wireless.
That's precisely what the Minnesota Department of Employment and Economic Development set out to do two years ago in rewarding nine "catalyst" grants totaling $1 million in small towns throughout the state. The concept was to create wireless broadband connectivity in places without cable or DSL offerings. Midwest Wireless and a handful of smaller telcos partnered with small communities that had been waiting "for a wire that never came," said Jim Wrobleski, northeast regional marketing representative for DEED.
The grants have had an economic impact. The action of a video store owner in International Falls who began selling wireless Internet with the help of a grant prompted the local telephone and cable companies to start selling broadband services, according to Wrobleski. The city of Elysian, Minn., offered its own residents and those of several neighboring towns wireless broadband connections. Among those benefiting was a newsletter and Web site editor who needed a better connection to trade content with her editors in the state of Virginia. "Once these systems get started they grow like a virus," said Wrobleski. "The businesses that use it start to make more efficient use of broadband technology to generate value."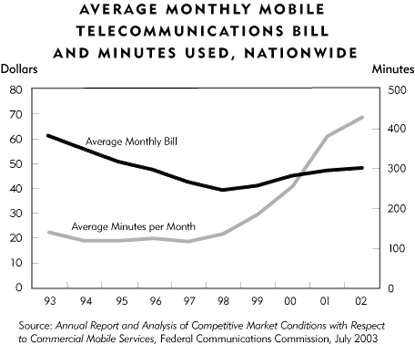 A much bigger pot of money could have an even bigger effect. The 2002 Farm Bill restored funding to the Rural Utilities Service (which is part of the U.S. Department of Agriculture), providing roughly $1.4 billion in loans to providers of Internet access to communities with fewer than 20,000 residents. The move is seen by rural broadband advocates as a victory for spreading the Internet to isolated areas and uses some of the same methods employed decades ago to spread electricity and telephone service.
Digitally undivided
Broadband wireless is picking up steam elsewhere. Delcomp/SOFTTEK in Escanaba, Mich., introduced wireless Internet access last year and has seen sales skyrocket despite an advertising campaign which relies mainly on word of mouth. "We can't keep up with the demand," said Joe Knauff, the company's president. Even where his company competes against cable and DSL, he's seeing customers switch to wireless to save money, he added.
Since only 1 percent of broadband subscribers have wireless access, there seems only one way for sales to go. As Giles noted, a conference on wireless broadband he regularly attends has doubled in attendance in just a couple of years. The potential remains great and many of the attendees, he said, sell service in rural America.
In the 1990s a clamorous debate erupted over the so-called digital divide separating citizens with broadband access and those without it, many living in rural areas. That highly debatable divide seems to be evaporating as farmers and small town stores alike use the Net to trade information and buy and sell products through online stores. Just as wireless phones have changed the nature of communications—even with dead zones—so will broadband wireless in ways that cannot be anticipated.