Globalization: not just for breakfast anymore
Minnesota manufacturers join the global business race.
Published November 1, 2004 | November 2004 issue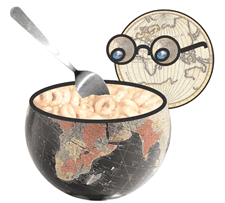 Ron Kirscht was still in school in 1972 when Richard Nixon opened the doors to China. He still remembers the Nixon trip, but only vaguely, and he also remembers hearing something about 3M opening a plant in China. None of it really registered. In 1972, hardly anyone talked about globalization.
"Back then it all seemed so distant," said Kirscht, who is president of Donnelly Custom
Manufacturing Co. in Alexandria, in west-central Minnesota. Donnelly specializes in short-run custom injection molding and manufacturing.
"Nixon in China, 3M in China—it was intriguing, but isolated. I remember thinking, that's pretty neat, but it's not reality," Kirscht said. "Thirty years later, let me tell you, globalization is here and it's real. It's the new hard reality."
Judging from a spring survey conducted by Minnesota Technology Inc. (MTI) and the Minnesota Department of Employment and Economic Development (DEED), Kirscht's perception of a "hard new reality" is spot-on. Today practically everyone talks about globalization. And it's clear that many business leaders are changing their approach to reflect the new reality.
The MTI/DEED globalization study conducted last April asked executives from Minnesota businesses in selected industries to share their views on globalization and its effect on their operations. The results showed that state manufacturers and service providers in industries most likely to be affected by globalization are integrating rapidly into the global community, whether through importing, exporting, offshoring or foreign direct investment.
Businesses are going global
Donnelly Custom Manufacturing offers a good example of the trend lines. A dozen years ago, Kirscht noted, the company did very little importing and no exporting at all. Today it does both, importing components, materials and tools, and exporting its custom-built products to countries around the globe. "We couldn't compete if we didn't," he said.
Steven Sheppard, the chair and CEO of Foldcraft Co. in Kenyon, a small town of 1,700 about an hour south of the Twin Cities, agreed that globalization is "an ever-encroaching factor that we're all being forced to deal with." Like Kirscht, Sheppard said his company, a manufacturer of specialty furniture and furnishings for the restaurant and hospitality industries, has had to adapt quickly in order to remain competitive.
"There's always the feeling that the fewer the competitors the better," Sheppard said. "But in a sort of convoluted fashion it is possible to make a positive out of this. It forces us to make ourselves better and better, because we must. ... Without the specter of increased competition, it's easy to be complacent. In this business, a little paranoia can go a long way."
It's barely even newsworthy anymore to note the accelerating pace of globalization and the profound effect it's having on individual businesses. The real story is the net result of these trends on Minnesota's economy.
Survey says ...
The MTI/DEED survey drew about 250 responses from Minnesota business executives representing a broad variety of industry sectors, including manufacturing, business services and professional, technical and scientific industries. About half the respondents were senior management in small businesses of fewer than 100 employees, and about two-thirds of them were from the Twin Cities metro area.
The survey asked respondents whether they engaged in import or export activities in 1998 and 2003, and what they expect to be doing in 2008. The results reflect significant actual growth in both import and export activities between 1998 and 2003, though continued integration might be slower, at least according to respondents' expectations.
In 1998, the first year covered by the survey, 21 percent of respondents were importers and 32 percent were exporters. Today the numbers hover just under 40 percent in both categories and are expected to remain basically unchanged by 2008.
The survey also asked businesses to indicate, to the best of their knowledge, the impact of globalization on various aspects of their businesses, such as production and employment. While about 40 percent reported that Minnesota-based employment and production had dropped between 1998 and 2003 because of globalization, about 20 percent reported increased employment and production. Respondents had mixed opinions concerning the impact of globalization on wages and benefits to Minnesota workers, with 43 percent expecting them to increase, 38 percent anticipating no changes and 19 percent expecting a decrease.
The job reductions were concentrated in production jobs, with IT, business services and other back-office occupations a distant second. Through 2008, however, the majority of businesses anticipated no changes in employment due to globalization. In general, respondents were more optimistic about increasing the number of production jobs between now and 2008 than they were between 1998 and 2003.
The survey also asked businesses to rank their reasons for both outsourcing and importing. It wasn't particularly surprising to learn that the top three reasons were to reduce or control costs, increase revenue potential and increase overall competitiveness. In addition, some manufacturers said that outsourcing helped them get geographically closer to customers and offer around-the-clock operations, while service providers said they hoped to tap into an abundance of qualified workers abroad.
Labor costs often are cited as primary reasons for offshoring and, indeed, in the MTI/DEED survey 43 percent of respondents said the cost of employee health care benefits was a key factor in their decision to offshore. About one-third indicated that wages and worker-related taxes had significant influence on offshoring.
In 1998, just 14 percent of respondents indicated that they outsourced the production of goods to non-U.S. locations, and even fewer (about 3 percent) outsourced any services. By 2003, twice as many respondents reported outsourcing goods or services, and by 2008 those levels are expected to hit 35 percent and 14 percent, respectively.
The survey suggests that Minnesota companies are participating in an increasingly global marketplace as a way to stay competitive.
Team Industries, a designer and manufacturer of power trains for recreational vehicles, has manufacturing facilities in six Greater Minnesota cities—and a market reach that extends around the globe. Jason Roue, general manager at Team's facility in Baxter, in central Minnesota, said the company reflects the recent explosion in both importing and exporting. In the last few years, Team has gone to a network of global sourcing, importing lower-cost parts and raw materials from around the world, while simultaneously experiencing significant export growth as international demand for its products increases.
"If we plan on staying in business, we're going to have to adapt," Roue said. "By adopting global sourcing and lean manufacturing techniques, and by differentiating ourselves from foreign competitors, mainly in China and Korea, we think we can meet the challenge of global competition."
Differentiation is the key
Regardless of how businesses "feel" about the often polarizing issue of globalization, they seem to understand that membership is not negotiable, but required—Kirscht's "new hard reality."
"There's no doubt that globalization is going to accelerate and expand," Sheppard of Foldcraft said. "Anyone who thinks globalization is going to come to a screeching halt, or even flatten out, is sort of whistling in the dark." Sheppard believes that Minnesota companies—and indeed companies everywhere—have entered a highly competitive marketplace that is characterized by what he calls "the commoditization of product." As China emerges as a dominant global manufacturing powerhouse, for example, companies like his will have to find new ways of doing business.
Even in the small and specialized market niche in which Foldcraft Co. operates, Sheppard said, Chinese manufacturers can produce knockoff versions of restaurant and hospitality products that are virtually identical to those manufactured by Foldcraft, at something like one-tenth the cost.
And that's when it becomes essential for a company like Foldcraft to differentiate itself from the cheap commodity. For example, the Chinese product might, like Henry Ford's famed Model A, come in any color you want—as long as you want black—and take weeks for delivery. By contrast, the Foldcraft product comes in 57 different colors and can be delivered anywhere in the world within a matter of just a few days.
"That's how we can compete," Sheppard said. "If there's a positive side to these globalization trends, it's that we're driven to create responses to the commoditization of our products, to improve, to innovate and to differentiate ourselves as well as we can, by service, by who we are, by the values basis of our company."
From his office in Alexandria, Kirscht sees things in much the same way. When he thinks about globalization, he said, "that word conjures up a macro-level reality that probably has always been there, but not always as visible or high-profile as it is today."
Bob Isaacson is director of the Analysis and Evaluation Office at the Minnesota Department of Employment and Economic Development. John Fisher is assistant director of communications and marketing at DEED. Thu-Mai Ho-Kim, an economic analyst at DEED, also contributed to this article.