Helicopter churn: The macro view on job loss and growth
Published November 1, 2005 | November 2005 issue

Whenever a complex issue like employment shocks is examined, there are seemingly countless ways to gather, and then slice, available data.

This fedgazette looks through a brief window of time (1990 to 1993) to see what might be learned about the sources and effects of employment shocks during this period.

Taking a step back provides another perspective on the matter of employment shocks, not to mention some historical economic context. From a longer-run perspective, it is clear that employment shocks are not rare. In any given year, even with a hot national economy, some counties will experience a major decline in employment.

The reason for this is an often overlooked feature of market economies called "churn." Simply, market economies tend to create and destroy a lot of jobs simultaneously, as employers collectively allocate scarce resources for additional labor in some sectors and occupations while cutting back in others. Even in strong job markets, some jobs are being lost, just as some jobs are gained in the midst of a recession.

So it's useful to see how our four-year period of analysis (1990-93) compares to other periods in terms of the propensity for both annual employment shocks (decline of 3 percent or more) and booms (growth of 5 percent or more) among the district's 303 counties.

<>

Data on all district counties from 1969 to 2002 show that major job loss happens more often than you might think. In three-plus decades, there were more than 900 instances where one of the district's 303 counties experienced an employment decline of 3 percent or more—roughly, one every decade for each county in the district. The period of 1990 to 1993 averaged 12 county shocks per year (some counties experienced several shocks during this period)—well below the long-run average of 27 county shocks per year.

Are the same counties getting endlessly sucker-punched? In general, no. During the 1969-2002 period, every district county except one experienced a net employment decline in at least one year, and better than 80 percent (247) of district counties endured a 3 percent employment loss in at least one year. The only county in the district to maneuver through the entire 34-year period without experiencing a single year-to-year decline in employment was Burleigh County, N.D., home to Bismarck. (The county's closest call came in the 1980-81 recession, when it eked out a 0.1 percent increase in employment.)

But some counties certainly experience more than their share of shocks. Though all counties have some probability of employment shock, small counties are more prone. Counties with fewer than 4,000 workers make up 44 percent of district counties ("county years," technically, to factor for changing employment levels over time). But these counties experienced 66 percent of the 905 employment shocks that occurred from 1969 to 2002. At the other end, 7 percent of district counties have more than 32,000 workers, but they experienced just 1 percent of all shocks.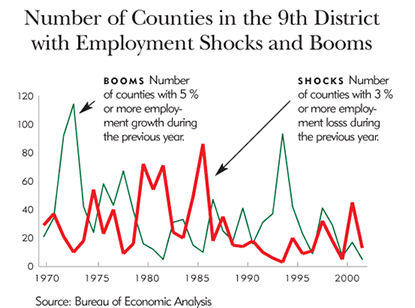 Flip side: The boom
Before getting too gloomy about the employment picture in the district, remember that counties also experience employment booms more frequently than you might imagine.
From 1969 to 2002, 86 percent of district counties (260) experienced at least one year of 5 percent employment growth. Furthermore, a majority of counties saw at least one year of 7 percent employment growth, and all but one county had at least one year of 3 percent growth. (McIntosh County, N.D., had its largest employment gain of 2.7 percent during 1976.)
In fact, while an annual average of 12 district counties suffered a shock from 1990 to 1993, job growth was booming in 31 counties per year during this period. And even that is below the long-run average of 33 booming counties per year.
The moral of the story? A central feature of U.S., state and county labor markets is job churn. Each year millions of people nationally lose their jobs. But in most years, an even larger number of people find new jobs. The same is true on a smaller scale at the county level. Jobs are gained and lost within a county, and oftentimes other counties offer an employment counterbalance. Again, however, counties with fewer than 4,000 workers experienced proportionately more shocks than booms from 1969 to 2002, while the reverse is true for counties with more workers.
Job churn can often be messy, unpleasant—even gut-wrenching—particularly at the household and community level. But over time, it is this very churn that helps struggling economies transfer resources to better uses, while keeping healthy economies robust in an ever changing world.
Return to: County employment: Shocks and Rebounds