In St. Cloud, if you want city services, you join the city and many want in
Published October 1, 1996 | October 1996 issue
During the dry summer of 1988, about 50 homes built in a rural haven just east of St. Cloud ran out of water. Existing township wells were dry, and new wells weren't producing. National Guard trucks hauled water to this outlying area, and residents came with their buckets and jugs.
Meanwhile, in St. Cloud, where residents pay taxes to support a municipal water treatment system that uses water from the Mississippi, there was water to get through the drought. In wasn't long before those 50 homeowners were requesting an annexation to the city. St. Cloud obliged, and the residents are now served by St. Cloud's sewer and water services-as well as law enforcement, fire protection and roads.
In recent years, St. Cloud has been very obliging to rural developments seeking annexation. Prior to the annexation of St. Cloud township earlier this year, the city had processed 32 applications for annexation during the previous eight years on land ranging from a single lot to hundreds of acres. Even now, St. Cloud Planning Director Patti Gartland says other subdivisions "are ripe for a problem," and she expects annexation requests from some of them.
"The horse is already out of the barn in a lot of these cases," Gartland says about rural subdivisions with water and sewer problems. Annexation of some of these subdivisions would mean leapfrogging over undeveloped rural land, and in all cases it involves the need for water and sewer service.
After growing at such a fast pace in recent years—especially through annexation—the city is now looking to slow down, Gartland says. The growth has been good because it adds tax base to pay for services, but the emphasis on growth means the city has not been able to concentrate on the maintenance and upkeep of existing pipelines and roads.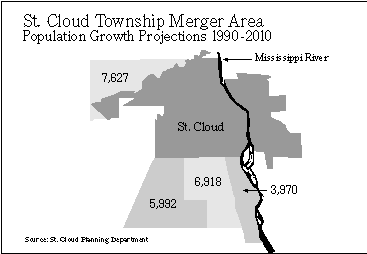 Source: St. Cloud Planning Department
To try to manage this growth, St. Cloud has a policy of not contracting sewer and water service to unincorporated areas. "It's the only tool we have," Gartland says, noting that some people are eager to build homes outside the city to, in part, avoid paying city taxes, but then they also want to be hooked to the city's sewer and water lines. In the 1970s St. Cloud was sued by an unincorporated area which claimed that the city had to provide water and sewer service-St. Cloud won. "It's human nature to want it all at no cost. [This policy] is the only motivator for those who wanted service," Gartland says.
The annexation of St. Cloud Township, including sections adjoining southern and northwestern St. Cloud, was by far the largest and most politically contentious. Many residents did not want to relinquish their township status, but the pressures of providing costly services-and the problems with private septic and well systems-finally became too great. About 8,800 people were added to St. Cloud's rolls, and the city's population now stands at about 60,000, up from about 49,000 in 1990. In addition, the city's land size was increased by 59 percent, or 7,700 acres. Of that newly acquired land, about 60 percent is considered developable, meaning the city has plenty room to continue its strong growth.
From 1960 to 1990, while the state's population grew at a 26.2 percent rate, St. Cloud grew at 72.8 percent, as measured by the metropolitan statistical area-from 110,00 to 190,000. The city itself grew almost by half during the same time, increasing from about 33,000 to nearly 49,000. Growth through 2010 is expected to remain brisk, with the city reaching about 89,000 in 14 years.
"We've had a hard time just keeping up," Gartland says of St. Cloud's rapid growth. "We're now going from a reactionary mode to a management mode," she says. With St. Cloud Township now a part of the city, St. Cloud can better manage growth, she says, in addition to updating the new property's infrastructure. St. Cloud has begun an intensive 10-year program, funded by a bond increase, to extend sewer and water lines to the former township.
St. Cloud expanded its water treatment plant two years ago, and Gartland says the facility should meet projected growth. The city contracts with five area towns, including Sauk Rapids and St. Joseph, to provide water treatment services. Each town has contracted for a certain capacity, and while some are nearing that capacity, Gartland says St. Cloud should be able to meet their demand.
Those five towns, along with St. Cloud, three county governments and various townships that make up the metro area, all combine to create one of the biggest issues facing St. Cloud, according to Gartland-multi-jurisdictional policy-making. At a time when the metro area is growing and changing dramatically, it becomes more important for those jurisdictions to initiate similar policies and, at the very least, to communicate with the other jurisdictions. "It becomes both more critical and more cumbersome," Gartland says. A recent state legislative proposal to redraw county lines so that the St. Cloud metro area would be located in one jurisdiction was met with swift criticism and shelved, because it broke up existing jurisdictions and created one powerful entity.
St. Cloud's growth in recent years has been fueled, in part, by new economic development and also by the willingness of people to live in a certain community and travel rather long distances to work. Every day, St. Cloud area commuters hop on Interstate 94 for jobs ranging from Collegeville and Albany in the west, through Monticello and to the Twin Cities in the east.
This growth and vibrancy has brought many changes to St. Cloud, Gartland says, and some residents who have lived there for years are uncomfortable with the changes, even though they appreciate the prospering economy. "This is not the St. Cloud they remember," Gartland says. "For a lot of people that's hard to swallow."