Katrina reaches into the Ninth District
Published November 1, 2005 | November 2005 issue
Hurricane Katrina brought terrible death and destruction to Gulf states. Many lives and billions of dollars worth of property were destroyed. The effects are far-reaching and will be felt for a long time.
The Ninth District felt some discomfort, mostly from the disruption of the major ports in southern Louisiana, which wreaked havoc on a major transportation mode for district exports and imports.
Almost a tenth of all export freight tonnage from Minnesota—mostly grain—heads for Louisiana ports on Mississippi River barges. When those barges return, important commodities come with them, primarily fertilizer and road salt.
The Mississippi is a crucial export route for agricultural producers in Minnesota and western Wisconsin. Barges carried 12.9 million tons of commodities from Minnesota in 2004. More than 60 percent of the Minnesota grain raised for export and 50 percent of the fertilizer used in the state are carried by barge to and from the three major Louisiana ports in New Orleans, Baton Rouge and Lake Charles (see chart). About 585 facilities at these ports include grain elevators, berthing accommodations, handling equipment for petroleum and bulk commodities, intermodal transfer facilities, transit sheds, warehouses and repair plants.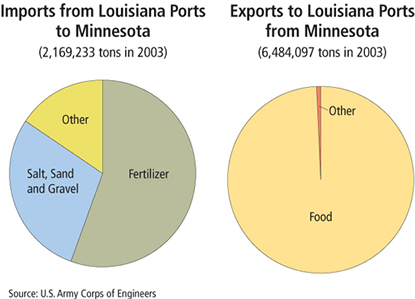 The timing of the disaster probably could not have been worse as agricultural producers in the district are harvesting bountiful crops of corn, soybeans and wheat. According to Jerry Fruin, an extension specialist in transportation at the University of Minnesota, the two biggest months for crop shipping from Minnesota are September and October. In addition, farmers need to apply fertilizer before the snow covers the ground. Barges returning from southern Louisiana to Minnesota ports are filled with 1.2 million tons of fertilizer and 600,000 tons of salt annually. The disruption of road salt deliveries may make for some slippery roads this winter.
All is not doom and gloom in the district. Repairs to the shipping channels and port facilities are occurring, and this catastrophe should affect transporting only this year's harvest. The U.S. Department of Agriculture is trying to alleviate the disruption by providing incentives for alternative grain storage and encouraging alternative transportation routes to reduce congestion. Meanwhile, producers in the Dakotas and Montana primarily use rail cars bound for West Coast ports to export commodities. Producers in the Upper Peninsula of Michigan use rail or ships on the Great Lakes to move heavy cargo, primarily iron ore.