Lotsa de novos? Follow the money
Published January 1, 2005 | January 2005 issue
The Twin Cities has been hyped of late for its de novo activity. From 2000 to mid-2004, there have been at least 19 de novo banks in the Minneapolis-St. Paul region, while Chicago saw just 22, despite having triple the population. The Twin Cities figure either compared favorably with or bested the likes of San Diego, Los Angeles, Phoenix, Dallas, Miami and Philadelphia.
However, while local media played up the story, one angle they failed to look at was average capital invested in each de novo—in some ways, a better measure of market attractiveness. In this measure Twin Cities de novos ranked near the bottom.
Academic research suggests that the rate of de novo formation depends on the degree of existing market competition (and particularly the presence of small banks, which de novos are likely to be), lending levels to small businesses (again, more likely with small banks and de novos), and population and employment growth.
According to a Minneapolis Fed analysis of 15 metro regions nationwide, the Twin Cities had the second-most competitive market among the regions compared, the highest concentration of small banks, the third-highest concentration of small business loans and the fifth-lowest gain in employment from 2000-2004.
Based on such criteria, the market placed a comparatively small amount of total equity capital in Twin Cities de novos relative to those in other metropolitan areas.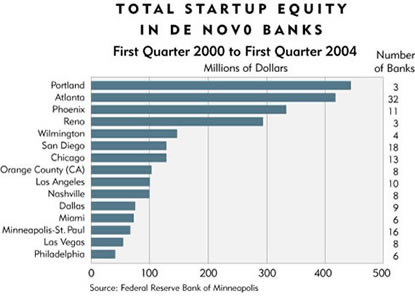 Note: De novos that started after the first quarter of 2004 had not filed their first Call Reports when this analysis was conducted. As such, institutions started after the first quarter of 2004 were not included in the analysis, which is why Minneapolis-St. Paul and Chicago only have 16 and 18 de novos, respectively, listed on this chart.