Manufacturers expect stability in late 2002
Survey of Minnesota manufacturers
Published November 1, 2002 | November 2002 issue
Even as the nation's general economic doldrums continue, Minnesota manufacturers said they anticipate stable conditions during the second half of 2002, according to a survey of state manufacturers by the Minnesota Department of Employment and Economic Development (DEED) and the Federal Reserve Bank of Minneapolis.
The survey, conducted in August and September, found that most manufacturers expected orders, production level, investment and employment to either increase or stay the same during the second half. Although most said they foresee little change in most indicators before the end of this year, the percent expecting declines in these indicators remained largely unchanged from the last survey conducted in April.
While manufacturers show some signs of optimism within their businesses, they're less sanguine about the out look for the state's broader economic health. The survey revealed pessimism about consumer spending, economic growth and corporate profits—with 47 percent expecting corporate profits to decrease over the last six months of 2002.
MINNESOTA MANUFACTURING BUSINESS SURVEY
Compared with the first half of 2002, during the next six months what do you expect from your business?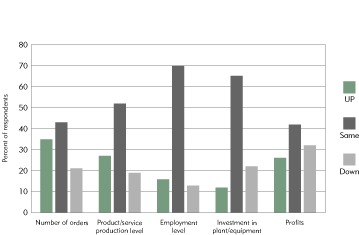 Sources: Minnesota Department of Employment and Economic Development and Federal Reserve Bank of Minneapolis
"This survey tends to support the conclusions of a similar manufacturing survey last April, which indicated that Minnesota manufacturers have seen better days," said DEED's Analysis and Evaluation Director Bob Isaacson. "I think we can conclude from this new survey that our manufacturers are experiencing a gradual return to economic health, but that most remain cautious about predicting a quick economic turnaround."
For more detailed results, see the news and events page on DEED's Web site.