Manufacturing activity up again in 2012; stable activity expected for 2013
Published January 3, 2013 | January 2013 issue
In spite of a sluggish economy, manufacturers have seen solid gains in recent years, and they expect continued growth in the coming year, according to the November survey of manufacturers conducted by the Federal Reserve Bank of Minneapolis and the Minnesota Department of Employment and Economic Development.
The multiyear manufacturing expansion that started in 2010 moderated in 2012. Orders were up in 2012 for half of survey respondents and down for 27 percent. About a third reported increased employment in 2012, while 27 percent reported reduced staffing. Manufacturers also reported higher prices and productivity, but lower profits. The Dakotas reported the strongest growth in 2012. Large and medium-sized firms also saw stronger performance compared with small employers. Wages and benefits grew about 2.2 percent in 2012.
Manufacturers across the district expect stable growth in 2013, with the exception of those in the Upper Peninsula of Michigan (see chart). Orders and total production are expected to increase, buoyed by solid productivity gains and higher selling prices. As a result, profits should increase.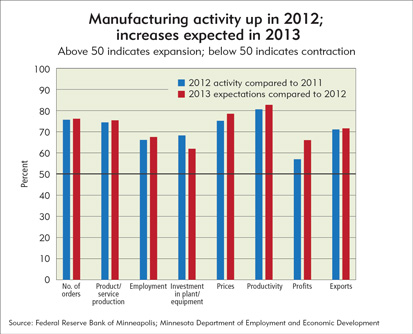 One-quarter of respondents expect manufacturing employment to grow in 2013, while 16 percent expect job cuts. Wages and benefits are again expected to increase by around 2 percent. Increased exports are anticipated across the district in 2013.
This industry optimism runs counter to the negative outlook many have for their state economies. Respondents expect declining state economic growth and decreases in overall corporate profits, capital investments and consumer spending. However, the boom should continue in North Dakota, as all indicators are up. Inflation is also a concern, as 60 expect higher inflation, while only 1 percent foresee lower inflation.
Manufacturing survey data [xlsx]
Ninth District Manufacturing Business Conditions Survey Methodology - November 2012