Manufacturing activity up in 2010; increases expected in 2011
Published December 16, 2010 | January 2011 issue
Manufacturing activity increased significantly in 2010 over a dismal 2009. This increase was widespread by firm size and across most of the Ninth District. Manufacturers' outlook for their operations in 2011 is for continued growth, and they expect the overall economy to grow as well, according to the November survey of manufacturers conducted by the Federal Reserve Bank of Minneapolis and the Minnesota Department of Employment and Economic Development.
Last year, manufacturers were glad to turn the page from a rough 2009. Orders in 2010 rose for 54 percent of survey respondents and fell for 29 percent. Over a third reported increased employment in 2010, while about a quarter reported reducing staff levels.
The overall result was increased productivity and profits. "Even though our business [is] up [from 2009], it is still very down from 2008 sales," said a small Minnesota manufacturer. These results were widespread across the district except in Montana, where manufacturing weakness was noted. Medium-sized businesses saw weaker results than small or large manufacturers.
Credit conditions are not quite as tight as a year ago. Thirteen percent said credit conditions had improved over the past three months, up from 9 percent in last year's survey. "Bank credit is not a problem," commented a small Montana manufacturer. But not everyone thinks so. Twenty-one percent reported that access to bank credit had deteriorated over the past three months. That's a smaller percentage than in 2009 (28 percent), but shows that some manufacturers still face credit hurdles. "Bank credit has been poor for two years and not getting better," commented a small Wisconsin producer.
Manufacturers across the district expect continued growth in 2011 (see chart). Businesses anticipate increased orders, production, investment, profits and productivity. These expectations are widespread across the district and across firm size. About the same percentage of companies that saw increased activity in 2010 expect gains in 2011; but fewer respondents expect declining activity in 2011 compared with 2010. Companies anticipate adding employees in 2011, and wages and benefits are each expected to increase by around 2 percent. Exports are expected to increase slightly in 2011 across the district, except in Montana and North Dakota, where respondents predict small declines.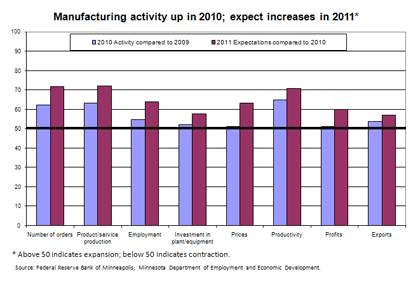 Not only are manufacturers optimistic about their own operations, but they also expect their state economies to grow. They anticipate increases in business investment, employment, corporate profits and consumer spending. On this question, the Dakotas are the most optimistic, and Montana is the most pessimistic. Over half expect increased inflation levels in 2011 from the low inflation of 2010.
Manufacturing survey data [xls]
Ninth District Manufacturing Business Conditions Survey Methodology – November 2010