Manufacturing machine heats up
Summer Survey of Ninth District Manufacturers
Published September 1, 2004 | September 2004 issue
Despite significant increases in raw materials prices over the past year, manufacturers indicated strong activity in the first half of the year and optimism for the second half of the year, according to a summer survey of manufacturers by the Federal Reserve Bank of Minneapolis and the Minnesota Department of Employment and Economic Development. "Sales continue strong; inflation is hitting raw materials very hard," reported a representative of a small Michigan company. Respondents indicated that orders, production, employment, investment, productivity and prices all grew in the first half and are expected to continue growing throughout the year. This strength appears widespread across the district and all sizes of companies. "Things are good and getting better," reported a Minnesota manufacturer.
In addition to optimism in the manufacturing sector, respondents expect the overall economy to grow in the second half of 2004. However, some concerns were expressed. This sentiment from a small Minnesota producer sums up a concern of most respondents: "We are expecting rapid inflation." Several manufacturers also commented that the anticipated close presidential race has created an air of uncertainty.
Producers note improvement in the first half of 2004
Across the district, manufacturers' performance improved during the first half of the year. Companies ramped up production to meet an increase in new orders and significantly improved productivity, hired more workers and invested in new equipment. Material input costs increased rapidly, and manufacturers covered these costs by raising prices. However, they barely kept pace with the increased costs, and profits grew slowly and actually fell slightly for Minnesota and small producers.
Manufacturing Performance Increased in the First Half of 2004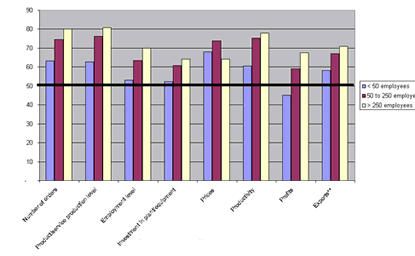 * Diffusion Index: Above 50 indicates expansion, below 50 indicates contraction.
Companies expect higher profits in the second half
Manufacturers anticipate the momentum of the first half to continue in the second half of the year. The bullish outlook for production, prices and productivity is expected to translate into higher profits for producers. Lured by the promise of higher profits, companies plan to increase employment and investment in plant and equipment.
Outlook for overall economy is bright
Respondents are optimistic about their state economies, expecting their state economy to continue growing, consumers to spend more and corporate profits to increase. In addition, business investment and employment are also predicted to expand. On a more cautious note, inflation is expected to heat up, as 60 percent of the respondents see higher inflation and only 1 percent anticipate reduced inflation.

Manufacturers Expect Economy to Grow in the Second Half of 2004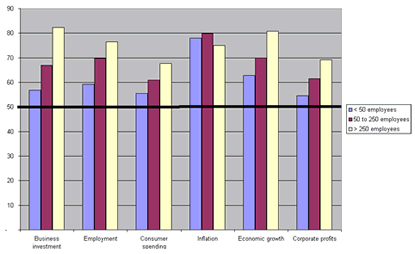 * Diffusion Index: Above 50 indicates expansion, below 50 indicates contraction.
Ninth District Manufacturing Business Conditions Survey Methodology–Summer 2004
Of the 16,706 Ninth District manufacturers a stratified random sample of 2,905 businesses was drawn from the population. For each state except Minnesota (see note below), the population was stratified based on employment size; the sample includes 100 percent of establishments with more than 49 employees, 20 percent with 5 to 49 employees and 3 percent fewer than 5 employees.
A postcard survey was mailed to each of the selected businesses. The mailing was in mid-July and a second mailing was sent in early August to businesses that did not respond to the first mailing. A cutoff for survey responses was Aug. 25. A total of 741 usable surveys was received, for a response rate of 20 percent. Of the usable surveys, 146 were from respondents indicating that their specific location had no manufacturing on site.
Survey results were tabulated for all manufacturers. The confidence interval for sampling error was calculated. The 95 percent confidence interval for the table of results for all manufacturers is plus or minus 3.5 percentage points. Results are also subject to errors introduced by other factors such as the wording of questions and differences between survey respondents and nonrespondents.
Note: The Minnesota Department of Employment and Economic Development produced and processed the surveys for Minnesota manufacturers, and the Federal Reserve Bank of Minneapolis conducted the survey for manufacturers in Montana, North and South Dakota, Ninth District counties in western Wisconsin and the Upper Peninsula of Michigan.