Manufacturing some optimism in the district
Winter 2004 Manufacturing Business Conditions Survey Results
Published May 1, 2004 | May 2004 issue
"Generally all indicators are up."
That comment, from a midsized Montana company, reflects the overall optimism of manufacturers in the Ninth District, both for their own operations and the overall economy, according to 682 respondents to a first quarter survey of manufacturers by the Federal Reserve Bank of Minneapolis and the Minnesota Department of Employment and Economic Development.
As the economy continued to expand through 2003, the cloud hanging over the manufacturing sector also began to dissipate as more respondents saw increased productivity, prices, production and stable employment. This improvement, which occurred in most areas of the district and in businesses of all sizes, is expected to continue.
Decline in dollar and increased demand boosted the expansion
"The decline of the dollar has helped us," commented a small Wisconsin manufacturer. The weak dollar enlarged the relative costs of foreign production and made Ninth District production more competitive for sales both here and abroad. In addition, upticks in overall business investment and consumer spending created additional demand for manufactured products.
Producers noted a strong pickup in new orders during the second half of 2003 and expect rapid growth in the first half of 2004. The greatest increase in new orders was reported by large businesses and those located in the Dakotas. In response to the new orders, manufacturers ramped up production and prices. The increase in production has strained capacity somewhat, and businesses are reacting by increasing investment in plant and equipment. In addition, productivity increases were expected across the district. The increased production, prices and productivity should translate into higher profits in 2004. However, the increase in productivity dampened the need for workers, as manufacturers expected only slight increases in employment.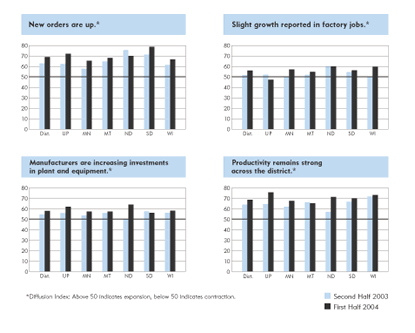 Despite widespread optimism, there are small potholes on the road to manufacturing recovery. For example, in the second half of 2003 respondents reported lower profits in North Dakota, western Wisconsin and Minnesota and small price decreases in western Wisconsin. In addition, a slight decrease in employment is expected in the Upper Peninsula of Michigan for the first half of 2004.
Expecting growth in the overall economy
Manufacturers' positive outlook spills into their predictions of overall economic growth for their respective states during the first half of 2004 compared with the second half of 2003. As previously noted, producers observed increased business investment and consumer spending in the overall economy and expect this trend to continue. In addition, corporate profits and employment are expected to increase in the overall economy. On average, respondents from all locations and employment sizes expect increased indicators.
But the sky is not all blue
While economic indicators are up for the most part, some manufacturers voiced concerns over a number of issues. They have expectations that inflation may be higher for the first half of 2004. Respondents pointed out that as manufacturing operations are relocated outside the country, manufacturing jobs are being replaced by jobs in the service industry. As one respondent wrote, "Stop the 'Wal-Marting' of America! Get our jobs back!" Several other manufacturers echoed those sentiments.
In addition, health insurance costs are still a concern. "The cost of health care must be attacked—four straight years of twenty plus percent increases."
Ninth District Manufacturing Business Conditions Survey Methodology–Winter 2004
Of the 16,706 Ninth District Manufacturers a random sample of 2,887 businesses was drawn from the population.
Two mailings of a postcard survey were sent to each of the selected businesses. The first mailing was on January 14, and a second went to businesses that had not responded by February 4. The cutoff for survey responses was March 3. A total of 682 usable surveys were received, for a response rate of 29 percent. Of the usable surveys, 164 were from respondents indicating that their specific location had no manufacturing on site.
Survey results were tabulated for all manufacturers. The confidence interval for sampling error was calculated. The 95 percent confidence interval for the table of results for all manufacturers is plus or minus 3.7 percentage points. Results are also subject to errors introduced by other factors such as the wording of questions and differences between survey respondents and nonrespondents.
Note: The Minnesota Department of Employment and Economic Development produced and processed the surveys for Minnesota Manufacturers, and the Federal Reserve Bank of Minneapolis conducted the survey for manufacturers in Montana, North and South Dakota, Ninth District counties in western Wisconsin and the Upper Peninsula of Michigan.