Manufacturing survey: Continued growth
Published January 6, 2015 | January 2015 issue
Strength in the manufacturing sector should continue into 2015, according to a survey of manufacturers conducted by the Federal Reserve Bank of Minneapolis and the Minnesota Department of Employment and Economic Development in November and early December.
Manufacturers reported increased production, but flat profits in 2014. Orders were up for 52 percent of survey respondents and down for 26 percent. Thirty-eight percent reported increased employment, while 19 percent reported reduced staffing. Manufacturers also reported higher prices and productivity, but profits were mixed, with virtually identical levels of respondents reporting that profits rose, fell or remained unchanged (about one-third each). The largest shares of firms that reported growth in 2014 were in South Dakota and Minnesota. A higher proportion of large and medium-sized firms reported growth in activity compared with smaller firms. Wages and benefits grew about 3 percent.
More manufacturers across the district expect growth in 2015 (see chart). Orders, total production and exports are expected to increase. Companies are expecting more capital investment, productivity and profits, as well as higher selling prices.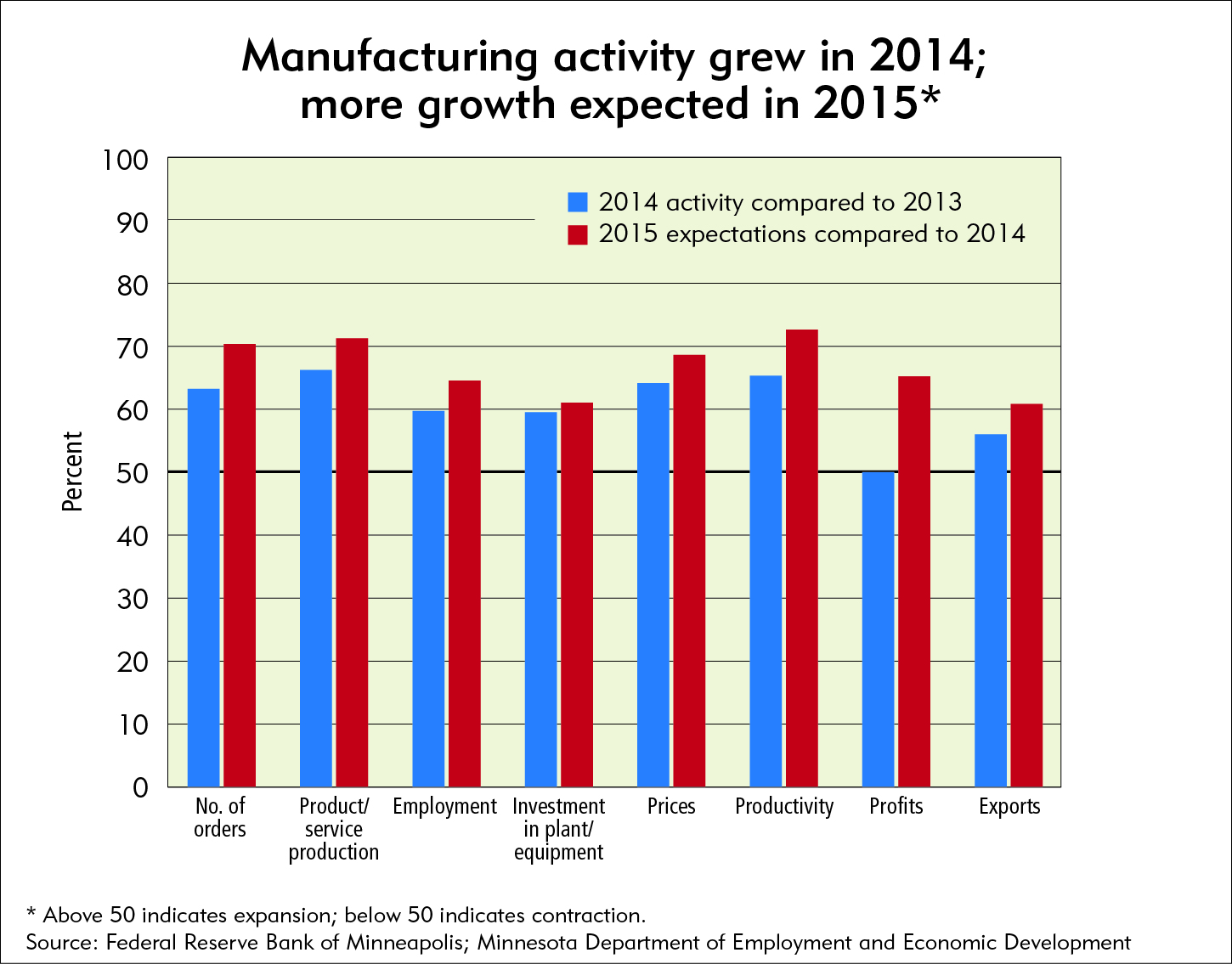 Thirty-seven percent of respondents expect manufacturing employment to grow in 2015, while 8 percent expect job cuts. Wages are expected to increase by 2.5 percent, while benefits are expected to increase by 2.6 percent. Based on numerous comments, the lack of available labor may be affecting business decisions. About a fifth of respondents indicated that oil activity in North Dakota is having a positive effect on their sales. Very few respondents are planning to expand or build at a new location in North Dakota.
This industry optimism spills into a positive outlook many have for their state economies. More respondents than not expect increases in state economic growth, employment, business investment, consumer spending and corporate profits. Inflation is also a concern, as 46 percent expect higher inflation, while 3 percent foresee lower inflation.
Manufacturing survey data [.xlsx]
Ninth District Manufacturing Business Conditions Survey Methodology - November 2014