Many business leaders expect sluggish economic growth in 2013
Business Outlook Poll
Published January 3, 2013 | January 2013 issue
As many look for the economy to grow faster, business confidence has become something of a buzzword or phrase, holding one of the keys to better traction. In the Ninth District, optimism for the year ahead varies widely, according to the fedgazette's annual business conditions poll of 335 business leaders conducted in November.
Business leaders in the Dakotas are very optimistic, thanks largely to the oil boom there, while others are more tempered in their enthusiasm. Companies across most of the Ninth District expect sales to increase in 2013, and they also plan to invest more in capital equipment and hire more people.
Firms expect to raise prices and increase wages, but are concerned about government regulation. More broadly, business leaders expect housing starts to rise, but were mixed in their local assessment of consumer spending, employment and business investment. They also expect higher inflation and slow growth at the national level.
Companies expect continued growth in 2013
"Demand for our products continues to be strong," said a western Wisconsin agricultural producer, which reflects the overall mood of higher sales among most industries and geographic areas across the district (see Chart 1). Respondents from the Minneapolis-St. Paul area and North Dakota are the most optimistic about sales growth, while respondents from greater Minnesota are the least optimistic about sales.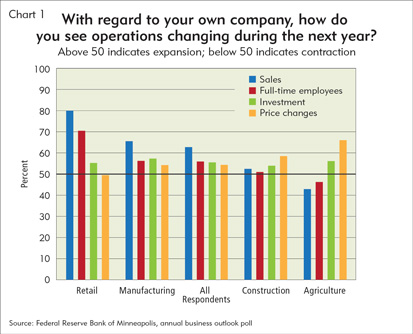 Retailers, real estate professionals and manufacturers expect the biggest gains in sales. In addition, sales prices are expected to rise, as 30 percent of all respondents expect to raise prices in 2013, compared with 20 percent who expect to drop prices. With drought covering much of the United States, 47 percent of agricultural producers expect increases, and only 13 percent expect decreases.
Almost 70 percent of business leaders also saw higher productivity last year, a trend that should continue, as capital investment is expected to increase across all geographic areas and most sectors. "We expect high demand for our services that automate back office processes for organizations," commented a Minneapolis area technology company. In addition to increases in capital investment, slight to modest employment increases are expected at firms across much of the district and most business sectors.
Respondents indicated that they may have an easier time financing capital expenditures because access to credit has improved over the past three months. Seventeen percent of respondents indicated that access to bank credit has improved some or improved a lot versus 9 percent who noted deteriorating conditions. This improvement occurred across industry sectors, save for services, and across district states with the exception of North Dakota and Michigan's Upper Peninsula.
District businesses face some challenges. More than two-thirds of the respondents said that complying with government regulation was a challenge or serious challenge. In addition, 39 percent said that securing workers was a challenge. This labor concern varied across the district, with a high of 68 percent of the respondents from North Dakota and a low of 26 percent from Montana reporting difficulty.
Modest state, sluggish U.S. growth expected
Fewer leaders were optimistic about their state economies compared with last year (see Chart 2). Optimism is strong in the Dakotas, while respondents from greater Minnesota and western Wisconsin are somewhat pessimistic (see Chart 3). "Due to the Bakken oilfield, our state and region are experiencing unprecedented prosperity," commented a North Dakota transportation respondent. This optimism/pessimism also flows into the outlook for state economies.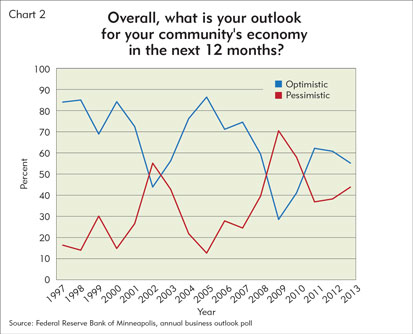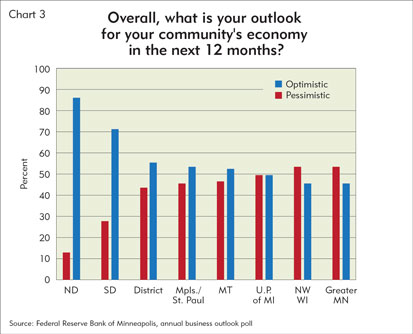 Expectations for local communities generally followed the same pattern. Respondents from the Dakotas were positive about employment, business investment and consumer spending. Respondents from greater Minnesota were negative, and even more so in the U.P. Most industry sectors were slightly positive about their state economies, except agriculture, which was negative about employment and consumer spending.
Most areas of the district expect statewide housing starts to increase in 2013 compared with 2012. The only exception is the U.P. Respondents from the construction, retail, services and finance, insurance and real estate sectors were very optimistic about housing starts.
Wages are also expected to rise modestly, with 62 percent seeing 2 percent to 3 percent increases, while 31 percent expect 0 percent to 1 percent increases. Respondents from North Dakota expect much more robust wage increases; 44 percent expect increases of 4 percent or more. Among industry sectors, construction and manufacturing expect the largest wage increases, while the retail sector expects the lowest increases.
Respondents are pessimistic about national economic conditions. About a quarter expect a recession, while 61 percent expect 1 percent to 2 percent growth in GDP in 2013. The national outlook "remains highly uncertain due to the fiscal cliff and implementation of new regulations," particularly in federal health care, commented a Minnesota manufacturer. Inflation is also a concern, as 26 percent expect CPI to increase by 4 percent or more, and a third expect inflation of around 3 percent.
Business Poll Results [xlsx]