Minnesota leads district in wage rates
Published November 1, 2003 | November 2003 issue
Minnesota's average hourly wage for all occupations topped the rest of the states in the district and was above the national average in 2001. Average wages in district states ranged from $16.96 in Minnesota to $12.93 in South Dakota.
Wages vary among states due to a combination of factors. For example, urban areas typically host higher paying jobs. In Minnesota, about 65 percent of employment is located in Minneapolis-St. Paul, where earnings average $18.37 per hour. In addition, Minnesota leads the district for the percent of population with at least a bachelor's degree. High levels of educational attainment tend to correlate with higher wages.
In specific occupations, family and general practitioners made more than the national average in all district states except South Dakota, while computer programmers earned less than the U.S. average, in all district states, though Minnesota was closest at 98 percent.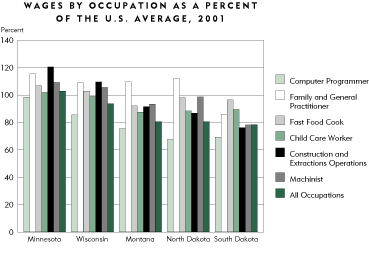 Source: Bureau of Labor Statistics
AVERAGE HOURLY WAGES FOR ALL OCCUPATIONS, 2001
Minnesota
$16.96
United States
$16.54
Wisconsin
$15.46
Montana
$13.27
North Dakota
$13.24
South Dakota
$12.93
Source: Bureau of Labor Statistics