Minnesota trending downward
Published May 1, 2009 | May 2009 issue
Last year the trees had barely leafed out before the recession began blighting tourism in the state. Lodging demand and leisure and hospitality employment declined at an increasing pace through the summer and fall as Minnesota residents cut back discretionary spending.
Smith Travel data show that statewide, year-over-year demand for accommodations fell slightly last May, declined further in July and dropped more than 8 percent in October. The state began shedding leisure and hospitality jobs in August, at a faster pace than for total nonfarm employment (see chart). By November, 4,700 fewer people worked at hotels, restaurants and other tourism-related businesses.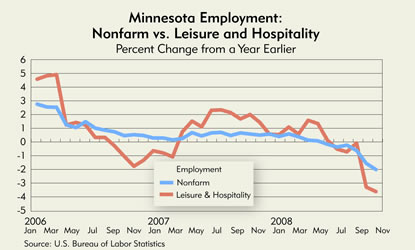 Hospitality employment at the local level doesn't jibe as neatly with lodging trends, but in the Twin Cities and the resort city of Brainerd, lodging demand last year mirrored the statewide picture. In the metro area year-over-year room demand fell in May, rose in August and September (due to the Republican National Convention), then dropped steeply in the fall.
However, Duluth—a popular year-round driving destination for Twin Citians—was more successful at luring visitors; after a slow start due to a cool spring, room demand increased compared with 2007 and didn't fall markedly until November. Separate lodging tax figures show that last December the city attracted roughly the same number of overnight visitors as it did a year earlier.