Natural Resources play a minor, but important, role in the district economy
Published September 1, 2001 | September 2001 issue
The value of crops harvested at the farm, cattle fattened on the ranch, logs cut in the forest and fish netted from lakes and rivers is only a small fraction of the total value of goods and services produced in the Ninth Federal Reserve District (see chart). But don't be fooled by this statistic; these industries play an important role in the district economy.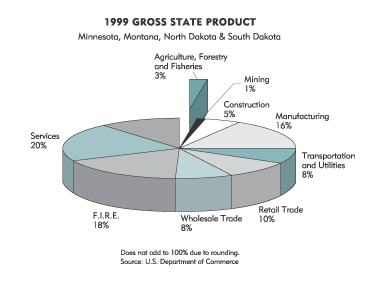 The secondary benefits of natural resource industries are much greater than the primary benefit. Their output is traded, transported, manufactured and then sold at the retail level, and the value added by these steps is included in other pieces of the gross state product pie. For example, the manufacturing sector encompasses 16 percent of the total goods and services of the district economy. Within this sector, several industries are heavily tied to agriculture and forestry, including food and kindred products, paper products, leather goods, lumber and wood products, and furniture and fixtures. These associated industries produce 4 percent of gross state product—nearly twice the value created in the base industries.
Natural resource base and value-added industries vary across the district states. Minnesota produced over $3 billion (1.7 percent of GSP) in the base industries and over $8 billion (4.7 percent of GSP) in the specific manufacturing industries listed above. In contrast, Montana produced over $800 million (4 percent of GSP) in the base and only about $600 million (2.9 percent of GSP) in the value-added industries. In addition, North Dakota produced more in the base industries ($701 million or 4.1 percent of GSP) than the value-added industries ($490 million or 2.9 percent of GSP). South Dakota produced $1.5 billion (6.9 percent of GSP) in the base industry and $753 million (3.5 percent of GSP) in value-added manufacturing.