Ninth District bank Web sites become more sophisticated
Published October 1, 2000 | October 2000 issue
The Internet evolution continues as Ninth District banks flock to the Web to offer their customers more sophisticated online services. As of first quarter 2000, about one-third of the more than 900 Ninth District banks reported a public Web site; of these, 224 bank sites were reviewed. Results indicate that more banks offer their customers e-mail contacts and more transaction services than a year ago. Table
Nearly all district bank Web sites include an e-mail address, compared with 81 percent of sites reviewed in 1999. Over one in four bank Web sites offer online transaction services, including bill payments, account transfers and account balance inquiries, compared with about one in 20 in last year's review. Some Web sites allow customers to purchase savings bonds and reorder checks. In addition, many banks offer loan calculators and Web links to real estate agents, insurance agents and brokerage services.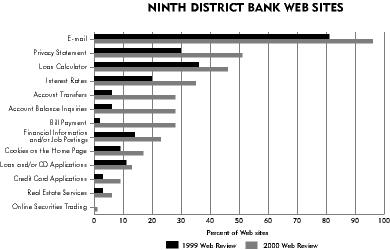 Privacy and security are major concerns for bank customers and banks. To learn more about online customers and to protect against security breaches, many banks use a feature called "cookies." Cookies allow a bank to send a file from its Web site to the customer's computer that then provides the bank with user information. To calm users' fears on how personal information might be used, about half of the Web sites prominently display a privacy policy.
Review Methodology
Banks are required to report the web address of their main banking page on the quarterly call reports (regulatory reports). Three hundred and one banks reported web addresses in the first quarter of 2000, of which 224 sites were reviewed, 46 represented the same sight for multiple branches and 31 sites were either under construction or not available as some banks reported an email address as the web address. Fifteen large banks (more than $500 million in assets) and 209 community banks ($500 million or less in assets) were reviewed.
Each bank Web site was accessed using Netscape Navigator 4.0 software. The site was reviewed to determine if various functions were available. These functions include: e-mail capability, CD rates, account balances, account transfers, bill payment, security trading, loan and or CD applications, corporate banking services, privacy statement, links to other sites, loan calculator and bank financial information. Additional information was obtained on which outside companies developed the sites and whether "cookies" were sent from the site.
The review methodology changed from last year. The sites reviewed a year ago were obtained through a bank survey and a web search, while the sites reviewed this year were obtained from the call reports that financial institutions are required to complete. See last year's review.