Ninth District Franchise Growth by State
Franchise growth in Ninth District states.
Published September 1, 2007 | September 2007 issue
Minnesota | Montana | North Dakota | South Dakota | Wisconsin
Minnesota
Minnesota has seen comparatively strong franchise growth since 1996: The number of total units increased by 50 percent, with franchisee-owned units growing by 61 percent. The number of different franchised brands with at least one unit in Minnesota grew by 77 percent, second only to Montana. Minnesota also has the most corporate-owned units of any district state, topping 1,400 in 2006. However, growth in this category was significantly slower, or less than 9 percent.
Most franchises with a presence in the state have multiple stores or units. The median number in 2006 was three, up from two units in 2003; the average number of units per franchise also rose from 9.2 in 1999 to 11.4 in 2006. The state is headquarters for 63 percent of all franchisors in the Ninth District (81 of 129); all but a handful of Minnesota franchisors are located in the Twin Cities metro.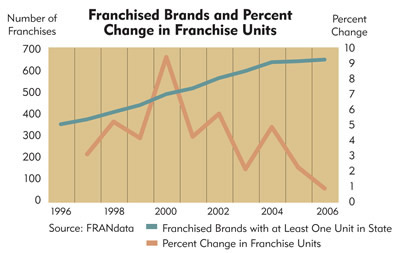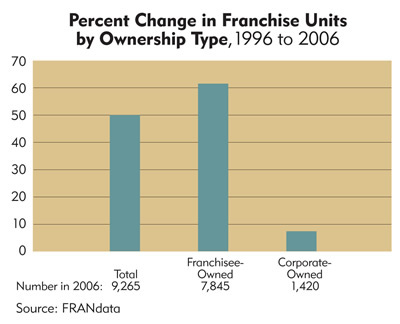 Montana
Montana has seen an explosion of new franchises come into the state; the number of distinct brands with at least one unit has increased 90 percent since 1996. However, growth in the total number of franchise units has been comparatively slow, at 27 percent over the same period. Though the number of corporate-owned franchise units doubled in Montana over this period, it still represents less than 3 percent of the state's franchise total.
A disproportionate amount of the franchise growth took place during 1999 and 2000—a pattern that is even more pronounced than in other states—and growth has been stagnant for two of the past three years. Many franchises still have a comparatively small presence; the median number of units per franchise rose from one in 1999 to two in 2002, but has held steady since. The average number of units per franchise brand in the state (at just under five) is virtually unchanged since 1996.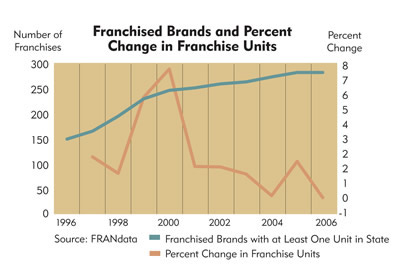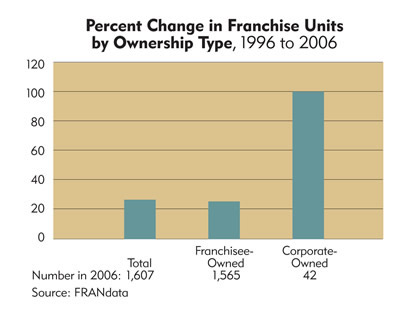 North Dakota
North Dakota had the smallest growth in franchising of any district state in terms of total units and the number of unique brands present in the state, both of which have risen about 25 percent since 1996. Like other states, North Dakota saw much if its franchise growth occur in 1999 and 2000. About 96 percent of all franchise-brand units in the state are owned by local, independent franchises, rather than the parent corporation.
About 300 franchise brands have operated a unit in North Dakota since 1996. Of those, 37 no longer have any operations in the state. All of the seven franchises headquartered in North Dakota are located in the state's metro areas: five in Fargo and one each in Bismarck and Grand Forks.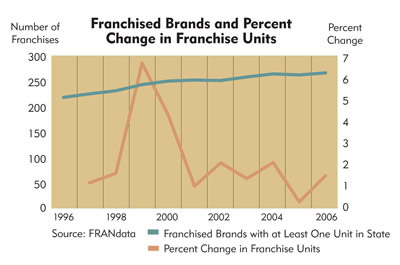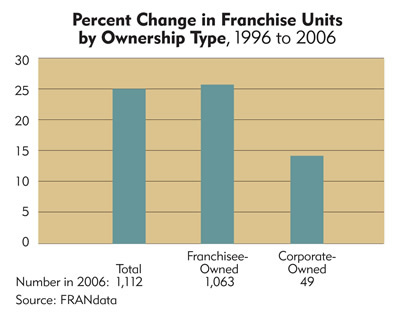 South Dakota
South Dakota has experienced robust 47 percent growth in franchise units since 1996, though it has seen comparatively slower growth in the number of franchise brands with at least one unit in the state over the same period (34 percent). South Dakota has also seen more balanced annual growth in units over the entire period, particularly compared to North Dakota and Montana.
The state has roughly as many franchise units as Montana, and more franchise brands operating there, despite the fact that is has 160,000 fewer people than its western neighbor. Part of that is due to the proliferation of small franchises; more than half of all franchises have just a single unit operating in South Dakota, which is the lowest median of any district state. The state also has the fewest number (36) and lowest percentage (2.4 percent) of corporate-owned franchise units in the district. The state is home to seven franchisors; three are headquartered in in Aberdeen, a city of just 25,000, with the other four based in Sioux Falls.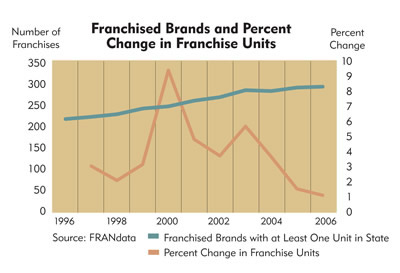 Wisconsin
Wisconsin witnessed healthy growth in both the number of franchised units and the number of brands with at least one unit operating in the state; both increased by about 46 percent from 1996 to 2006. Alone among district states, Wisconsin experienced a decrease in corporate-owned franchise units over this period, dropping below 1,000.
The state also has the highest number of active brands with at least one operating unit of any district state, as well as the highest percentage of brands that continue operations in the state after staking out a presence. Of the 686 distinct brands that have had an operating unit in the state during the previous decade, almost 94 percent continued to operate in the state as of 2006. However, the state had the highest percentage of franchises (39 percent) whose unit totals in 2006 were smaller than any peak year from 1996-2005, though the margin with other states was quite small.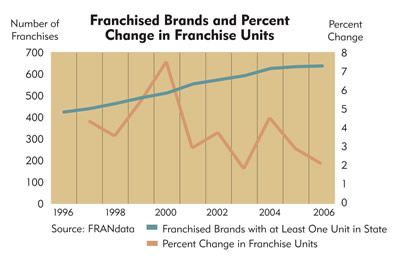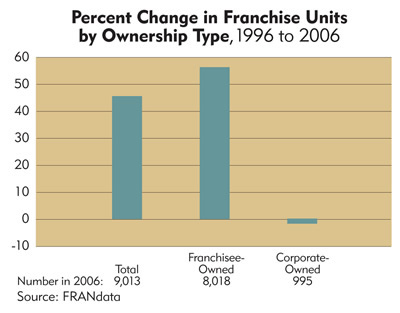 Return to: Franchising like rabbits