North Dakota bucks the trend
Published May 1, 2009 | May 2009 issue
North Dakota is the least visited state in the district, according to lodging statistics; last July travelers booked four times as many overnight stays in Minnesota as they did in the Peace Garden State. But more and more people have come to North Dakota in recent years, and they apparently like to come back, even in uncertain times.
Although fewer people visited Theodore Roosevelt National Park last year than in 2007, aggregate visitation at major attractions such as the International Peace Garden and the Fargo Air Museum through September was 3.1 million, a 2 percent increase over the same period a year earlier. The number of Canadians entering the state to sightsee and shop rose 16 percent.
The state also posted strong gains in demand for accommodations last summer and fall (see chart); rooms sold last year increased, even though demand was also high in 2007. Only November—a slow tourism month when financial panic gripped the nation—saw an annual decline, and it was slight.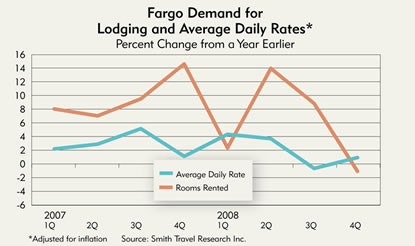 A similar story played out in the Fargo-Moorhead metro area. Lodging demand was 12 percent higher in July and August compared with 2007, and year-over-year demand also increased in September and October before declining for the rest of the year.