One for the ages
Poverty snapshot in the Ninth District: Age structure.
Published November 1, 2006 | November 2006 issue
It makes perfect sense, yet it's a matter often overlooked: Circumstances leading to poverty—or the lack thereof—are revealed very clearly by age groups.
Over a person's lifetime, poverty follows an exaggerated W-shaped pattern: high rates among young children, lower among older children, a spike in the young adult years, then decreasing through working age before finally rising again in the retirement years (see chart). Almost regardless of economic conditions, the comparative poverty rank of age groups tends to hold, mostly rising or falling with the condition of the economy.
Poverty rates among age groups in district states are consistently lower than national rates. Even better news, poverty rates trended down strongly for all age groups for both the nation and the district during the 1990s, bolstered by a strong economy with low unemployment. But by 2005, poverty rates were higher almost across the board, for both the nation and the district, and particularly among children's age groups.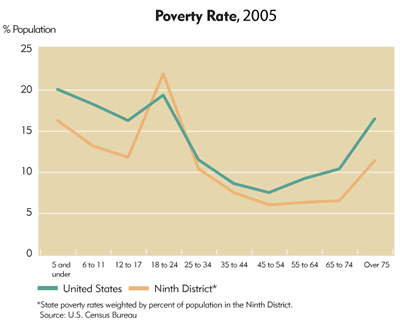 Young children have a higher than average poverty rate because parents often give up some work to raise kids, particularly in early years. As kids get older, and particularly once they reach school age, parents have the opportunity to work more.
North Dakota was the only district state to hold onto poverty gains made among children, with 2005 rates roughly the same as 2000 levels. Child poverty in South Dakota also improved, save for those kids aged five and under, whose poverty rate of almost 25 percent exceeded its 1990 level of 23.4 percent.
Poverty spikes again in the early adult years, typically 20 to 30 percent, as young adults leave home to attend college or enter the workforce full time, sometimes pursuing both part time. Lacking much experience, this age group generally works in low-paying jobs.
An equally sharp drop occurs at ages 25-34 as higher education, training and experience bring about higher income. As workers continue to gain experience, the poverty rate continues to fall, reaching bottom for those aged 45 to 54, which are prime working ages in terms of wages and total hours worked.
As age increases past 55 years old, the poverty rate begins to creep up, and it rises considerably with older age groups as an increasing percentage of people in these age groups begin to retire or take on reduced hours (voluntarily or not), which typically leads to a significant decline in annual income.
Despite higher comparative poverty rates, older age groups saw the greatest overall improvement in poverty from 1990 to 2005. Rates for those over 65 continued to go down and are significantly lower than 1990 levels. This drop likely has several sources, including a growing trend in postponing full retirement due to insufficient retirement resources or a desire to remain active.
Editor's note: All comparisons over the period 1990-2005 use two U.S. Census Bureau surveys that are not directly equal, but offer the best available information over the period investigated. Data from 1990 and 2000 are from the decennial census and are the most reliable. Data after 2000 come from the American Community Survey, an annual Census Bureau survey that uses sample data. Research has shown that ACS data have a tendency to be biased slightly higher than decennial figures.