Personal income grows slower in Montana
Montana State Roundup
Published January 1, 1999 | January 1999 issue
Three decades ago almost half of Montana laborers worked in mines, forests, factories and farms. Today just one in four work in these basic industries. In 1970, Montana ranked 34th in per capita income; today the state ranks 46th. How have Montana's labor markets changed?
Stephen Seninger, director of economic analysis at the Montana Bureau of Business and Economic Research, University of Montana, Missoula, has found that high-wage basic industry jobs have decreased while the number of low-wage service jobs has increased, many employees hold part-time and multiple jobs, and the state lacks a major urban market. Nevertheless, many Montanans seem willing to accept a lower wage to enjoy the state's quality of life and natural amenities.
Changes in technology and market conditions contributed to the decrease in employment in basic industries, especially during the 1980s. For example, employment in wood products and forestry decreased due to labor-saving technology, and employment in mining decreased due to a sharp drop in the price of copper, Seninger says.
At the same time, retail trade and service sector jobs increased from 60 percent to 76 percent of total employment from 1970 to 1997. However, in 1997 these jobs paid less, which kept Montana's per capita income low ($19,704) compared to the national average ($25,298). In 1997 industry wages ranged from $7.82 per hour in retail and $10.78 in services, to $13.95 in manufacturing and $18 in mining. "Montana also doesn't have any major urban areas, has a small employer base and few large corporations with company headquarters," Seninger says.
The average workweek in Montana is 33 hours, slightly lower than the U.S. average, which reflects multiple jobholders and part-time jobs, Seninger says. The Bureau of Labor Statistics shows that 10.2 percent of workers in Montana hold more than one job, the highest in the nation. The national average is 6.4 percent.
Montana & U.S. Growth Rate in Earnings Per Worker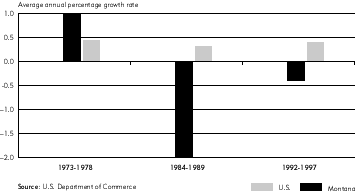 The 1990s have shown improvement as some service sectors, such as health care, are exhibiting growth in employment and earnings. "The workforce is now clearly more heavily weighted toward service industries. Health care is one of the most prominent, both in size and wage scale," says Larry White, president of St. Patrick Hospital in Missoula. The hospital employs over 1,000 and has watched average salaries increase faster than the Montana average during the past two decades. One reason for growth is that hospitals in general are extending their net of specialty care beyond the local area. For example, over 50 percent of St. Patrick's patients don't reside in Missoula County, White says. Other sectors in Montana that provide wages and salaries higher than the national average include legal, engineering and management consulting services.
While wages have grown slower than the national average, studies show that many Montanans are willing to accept a discount in wages to enjoy the lifestyle the state offers, which includes easy access to outdoor recreation areas and less congestion than states with large urban areas, Seninger says.
Seninger and other economists will discuss work and pay in Montana, local and state economic conditions, and Montana gambling at the Montana Economic Outlook Seminars held at nine locations from January to April 1999.
—Rob Grunewald