Professional services firms expect rebound over the next year
Published June 16, 2010 | July 2010 issue
Accountants, architects, engineers, market researchers and other professional services firms experienced a significant decline in business over the past year, according to results of an annual May survey conducted by the Federal Reserve Bank of Minneapolis and the Minnesota Department of Employment and Economic Development.
Widespread decreases in prices, employment and sales revenue were reported by survey respondents. Coupled with a significant increase in input costs, those decreases resulted in plunging profits. In addition, office space usage was flat, exports were stable and productivity did not change (see chart). Some firms noted a continued tightening of credit conditions. Looking ahead to the next four quarters, firms expect orders to pick up and plan to handle demand through greater productivity rather than additional workers. Respondents expect input costs to increase and profits to rise slightly. The firms see a rebound in their state economies, with higher employment and consumer spending.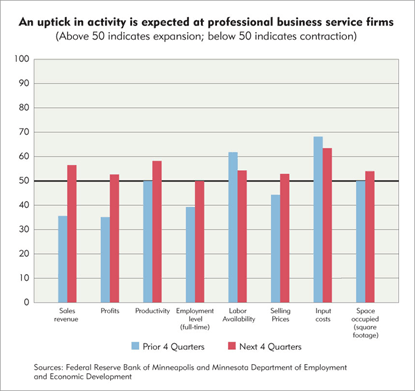 "Business is tough," commented a small Montana accounting firm. Sales revenue slid, with 53 percent of firms reporting decreases and 26 percent reporting increases. Both sales volume and selling prices fell. Input costs rose, as 42 percent of firms reported higher input costs and only 5 percent reported lower input costs. Wages grew an average of 2 percent, and benefits per worker rose 1.6 percent. Profits for firms fell significantly, as only 26 percent of firms noted an increase in profits, and 56 percent noted a decrease. Employment levels fell, with 32 percent of firms reporting lower employment and 11 percent reporting higher employment. Obtaining credit is still a problem; 23 percent of respondents found that access to bank credit had deteriorated over the past three months compared with only 3 percent reporting improved credit conditions.
Professional business services firms are somewhat optimistic about the next four quarters. Sales revenue is expected to rise, according to 36 percent of the respondents, compared with 24 percent expecting lower revenues. The use of space will increase, according to 15 percent of respondents, while only 6 percent see a decrease. A small North Dakota environmental consulting firm said it used Small Business Administration loans to finance a new building "in anticipation of a rebound." Firms expect employment and profits to stay roughly constant and productivity to increase.
Respondents' outlook for their state economy is somewhat positive. They expect employment and consumer spending to increase slightly. Flat corporate profits are expected. However, "inflation will increase in the future," commented a respondent from a small Minnesota services firm. Many other respondents agreed, with over half expecting higher inflation and only 2 percent expecting lower inflation over the next four quarters.
Ninth District Professional Business Services Survey Methodology – June 2010
Of the approximately 20,000 Ninth District professional business services firms (most firms in NAICS code 541), a stratified random sample of 2,300 businesses was drawn from the population. For each state, the population was stratified based on employment size; the sample includes 100 percent of establishments with more than 49 employees, 30 percent with 5 to 49 employees and 4 percent with fewer than 5 employees.
A postcard survey was mailed to each of the selected businesses. The mailing was sent in early May, and a second mailing was sent in mid-May to businesses that did not respond to the first mailing. A cutoff for survey responses was June 9. A total of 477 usable surveys were received, for a response rate of 22 percent.
Survey results were tabulated for all professional business services firms. The confidence interval for sampling error was calculated. The 95 percent confidence interval for the results is plus or minus 4.4 percentage points. Results are also subject to errors introduced by other factors, such as the wording of questions and differences between survey respondents and nonrespondents.
Note: The Minnesota Department of Employment and Economic Development produced and processed the surveys for Minnesota firms, and the Federal Reserve Bank of Minneapolis conducted the survey for manufacturers in Montana, North and South Dakota, Ninth District counties in western Wisconsin and the Upper Peninsula of Michigan.
See complete survey results. [xls]