The past 12 months were good to Ninth District professional services firms, according to a Minneapolis Fed survey. However, labor difficulties made for challenging conditions at many firms.
Overall, the survey by the Federal Reserve Bank of Minneapolis and the Minnesota Department of Employment and Economic Development indicates that business services firms grew over the past year, and respondents expect growth to continue at their firms and in the broader economy.
Over 400 firms in accounting, engineering, graphic design, marketing, consulting and other professional services responded to the survey, conducted in May and early June.
For the most part, the past year was a financial success for professional services firms in the region. The accompanying chart presents survey results as a diffusion index, which indicates an increase or decrease on average over the preceding four quarters. Values above 50 indicate expansion; below 50 indicate contraction.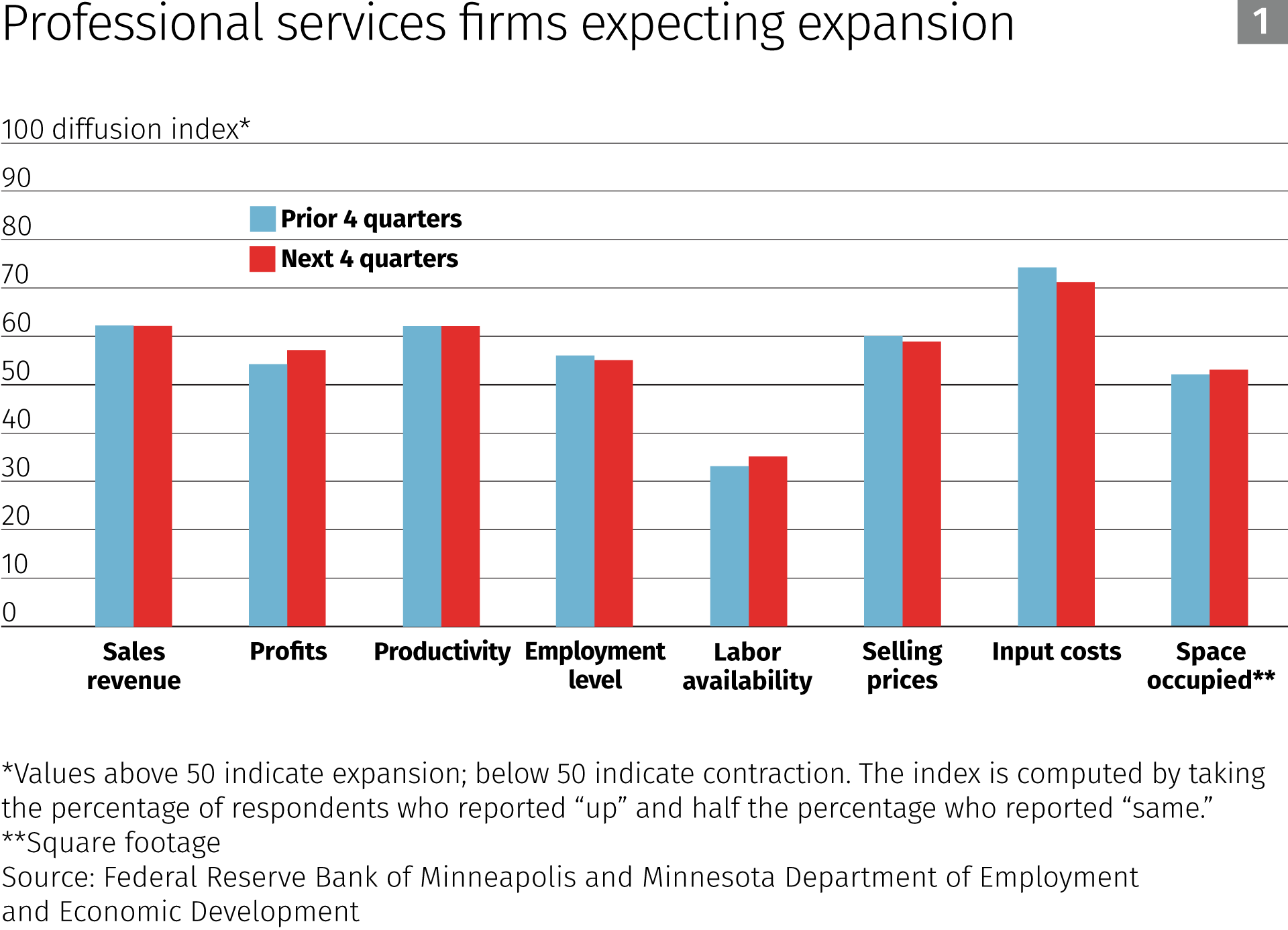 More firms than not reported increased or steady sales and profits over the past year. Business services employment and productivity also expanded over the period, although firms noted an increase in input costs and the prices they charge for services. In response to a separate question, most reported that credit conditions were a minor factor in hiring or capital spending decisions.
However, roughly one in four said that labor had become less available, while only 8 percent reported more labor availability. Wages rose 2.8 percent on average, and benefits increased 2.3 percent, according to respondents.
Responses to a special question on labor availability highlighted the struggles of services firms to cope with a tight labor supply in many parts of the district. A Minnesota firm commented that it was "more difficult and expensive to hire [the] same experience level as [in the] prior year." Only 37 percent of respondents said that labor availability wasn't a challenge.
Roughly the same proportion reported that current workers were putting in longer hours because of hiring troubles. One in five firms said labor conditions were driving up staff wages, while 13 percent blamed the labor crunch for a drop in the quality of customer service.
Going forward, services companies are optimistic about the coming year. In the survey, more firms anticipate increased sales revenue and profits over the next four quarters than expect declines. Productivity and employment are also expected to increase.
About a quarter of responding firms intend to increase prices, while only 7 percent expect to cut prices. Planned sales hikes may be partly in response to higher costs; 45 percent of firms expect to pay more for inputs, while only 2 percent foresee reduced costs. Most anticipate moderate wage increases. Over the next four quarters, firms expect wages to increase by an average of 2.3 percent and benefits by 2 percent.
Looking beyond their businesses, the number of professional services firms expecting employment in their states to increase over the next year was double the number predicting a drop. In contrast, slightly more firms across the district expect corporate profits and consumer spending to fall than anticipate increases.
Finally, nearly half of respondents predict higher inflation over the next 12 months; only 2 percent believe that inflation will fall.
See the May 2016 Professional Services Business Conditions Survey Results