Putting a price, and a cap, on pain and suffering
How the current medical malpractice crisis affects the Ninth District.
Published March 1, 2006 | March 2006 issue
If Jane Doe of Fargo has a surgery gone horribly wrong and sues the physician she believes made a mistake, a North Dakota jury can award Doe no more than $500,000 for her pain and suffering. But if Doe lived across the river in Moorhead, Minn., a jury might be persuaded to give her double that amount, or more. Such are the vagaries of medical malpractice laws.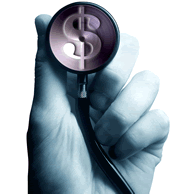 Largely at issue are caps on so-called noneconomic awards. Lawsuits for medical malpractice have two "damage" parts: economic and noneconomic. Economic damages are awarded for tangible losses such as medical costs, loss of employment and continued-care expenses, and can usually be quantified by actuaries and others who can mathematically calculate such damages. Noneconomic damages include more nebulous issues like pain and suffering or loss of companionship. In many cases, noneconomic damages are not limited, which has led to some eyebrow-raising awards.
Though a majority of medical malpractice suits are settled out of court, those that see a court verdict can result in significant payments. The Civil Justice Survey of State Courts 2001, published in April 2004, looked at medical malpractice legal activity in the nation's 75 largest counties. The report, which counted both economic and noneconomic damages, noted that the median award of $425,000 in medical malpractice trials was nearly 16 times greater than the overall median award in all tort trials ($27,000). Plaintiff winners were awarded $1 million or more in nearly one-third of medical malpractice trials.
Which leads us back to Ms. Doe, and where she lives. Some states like North Dakota have passed caps on noneconomic awards to at least partially avoid what some maintain are very large dollar settlements; others like Minnesota have no cap at all. According to an October 2005 report by the American Medical Association (AMA), 24 states cap noneconomic damages in medical liability suits, and they vary in a number of ways—from bestowing larger awards in special circumstances to adjusting caps annually for inflation.
In the Ninth District, Michigan, Montana, and North and South Dakota have limits on noneconomic damages, while Minnesota does not. Wisconsin had noneconomic caps from 1995 until the state Supreme Court struck down that law last July (see chart).
Despite their differences, Ninth District states appear to be largely flyover country in terms of medical malpractice lawsuits and awards. Neither large malpractice suits nor sky-high malpractice insurance rates have landed in the region, but some warn of seepage from the coasts in terms of increasing costs of health care due to "defensive" medicine practices, some reluctance of medical school graduates to enter high-risk specialties and concern over potentially volatile malpractice insurance premiums. Whether these issues are a result of noneconomic damage caps is open to discussion. But "the cap is the cornerstone. It keeps an eye on damage awards," said Bruce Levi, executive director of the North Dakota Medical Association and an attorney.
The cap matter has come under legal challenge in a number of states, including Wisconsin. Supporters and detractors make a seemingly logical argument for either the absolute necessity or the calamity of capping noneconomic damage awards. But spotty evidence for both sides regarding the "cap effect" on malpractice insurance costs, court cases and—most importantly—the supply of practicing doctors in their state suggests something of a hung jury on whether caps are useful or harmful.
Intensive care or outpatient?
The seriousness of medical liability and damage caps is a matter of perspective. According to the AMA's Web site, 20 states are in full medical liability "crisis."
The primary factor in the AMA analysis is the degree to which patients have lost access to medical care, said Robert Mills, medical outreach coordinator for the AMA in Chicago, in an e-mail. Almost half of states—including all district states—"show problem signs," which means that access to care is diminished to a limited degree in certain specialties or geographic areas. An AMA 2003 analysis also indicated that 48 percent of medical school students in their third or fourth year said the liability crisis was a factor in their choice of specialty.
Even the perceived threat of litigation has had an impact. To stave off potential legal action, doctors and medical organizations are increasingly practicing "defensive" medicine, ordering more tests and procedures to protect themselves from lawsuits. These procedures, according to the AMA, add between $84 billion and $151 billion a year unnecessarily to annual health care costs.
Not so fast, says the Association of Trial Lawyers of America, which offers Web information on each state. The organization rightly notes that medical malpractice filings have fallen in recent years and that legal damage awards have less impact on high medical costs than do medical errors.
Gauging the size and severity of malpractice lawsuits, their cumulative effect on the supply of health care services and the related utility of damage caps is a difficult matter to pin down. There are plenty of data available spotlighting various trends, not to mention anecdotal evidence. But certain pieces of data that might shed some light on the matter—like the annual number of practicing physicians by state, by specialty, with corresponding insurance premiums—are unavailable or unreliable, and the remaining weight of evidence doesn't fall particularly hard to either side.
Patient, diagnose thyself
By one view, the pressure of medical liability is easing. For example, the number of physician malpractice payments nationwide dropped 14 percent from 2001 to 2004, according to the National Practitioners Data Bank, housed at the U.S. Department of Health and Human Services; since 1995, annual physician malpractice payments are unchanged. Payments in Michigan have dropped considerably (from a very high base, however, see chart), while other district states generally have mirrored the national pattern. (The NPDB also collects malpractice data on dentists, nurses and other health practitioners, but historical data are most robust for physicians, who also make up the majority of cases.)
The value of those payments, however, has been moving up swiftly, both at the national level and for district states (see chart). In light of such evidence, cap proponents argue that insurance costs and court cases will go down and, by extension, the supply of doctors will increase faster with caps.
Maybe, maybe not. Neither the number of malpractice payments nor the mean or median value of those payments appears to have much relationship to whether the state had a noneconomic damage cap in place, at least in district states. Wisconsin, for example, had noneconomic damage caps in place during the entire period investigated. Still, both mean and median payments in Wisconsin were consistently higher than in Minnesota, a state with no cap.
Not even the courts agree on the utility and legality of damage caps. Wisconsin enacted a $350,000 cap on noneconomic awards in 1995, which accelerated with inflation to nearly $456,000 by July 2005. That's when the state Supreme Court struck down the cap law as unconstitutional. The court concluded that the cap violated the equal protection clause of the Wisconsin Constitution because it deprived full compensation to victims with valid and substantial claims. The state Legislature has since been busy trying to construct a cap law that would pass legal muster with the courts.
Wisconsin isn't the only state that has seen its cap law thrown out. The AMA reported that 11 other states' cap laws have suffered the same fate. But "Wisconsin will be a good state to watch in terms of the impact" of the recent court ruling, said North Dakota's Levi. But the courts have not been unanimous in cap rulings. A month after Wisconsin's cap law was struck down, the U.S. Court of Appeals for the Sixth Circuit upheld Michigan's $280,000 cap (up to $500,000 in special circumstances) on noneconomic damages.
One cap, two purposes
Much of the argument for caps focuses on the belief that they help keep malpractice insurance rates in check because insurance companies don't face the threat of outsized damage awards.
"Michigan's caps are definitely effective," said David Fox, spokesman for the Michigan State Medical Society. "Caps make [malpractice insurance] rates so much more predictable." That sentiment can be seen elsewhere. An October 2005 study by Pinnacle Actuarial Resources (commissioned by the Wisconsin Hospital Association and the Wisconsin Medical Society) predicted that the loss of Wisconsin's cap would result in a 12 percent to 15 percent increase in medical liability insurance premiums.
Not everyone agrees, nor do simple rate data confirm, that caps are necessary to keep medical liability insurance costs down. In its decision to strike down Wisconsin's cap law, the state Supreme Court found that malpractice awards bore no direct relationship to increased medical liability premiums. "The correlation between caps on noneconomic damages and the reduction of medical malpractice premiums or overall health care costs is at best indirect, weak, and remote," the court wrote.
According to a survey by the Medical Liability Monitor last October of leading providers of medical professional liability insurance, rates for physician liability insurance leveled last year overall. In Minnesota, where there are no damage caps, general surgeons paid the lowest rate of their specialty, $11,306, the same as in 2004. Generally, rates in the Upper Midwest were the lowest. Insurance rates for internists, general surgeons and OB/GYNs were highest in Florida (which caps damage awards against physicians at $500,000 and up to $1 million in certain circumstances), while rates in Minnesota, South Dakota and Wisconsin were among the lowest (see table).
State Medical Malpractice Insurance Rates
Reported for Three Medical Specialties, 2005
Internists
General Surgeons
OB/GYNs
Florida (Dade County)*

$74,855

$299,420

$299,420

Wisconsin

5,147

18,015

23,677

South Dakota

3,697

12,569

21,072

Minnesota

3,375

11,306

19,643

*Highest in the United States.
Source: Medical Liability Monitor, October 2005
These low rates came despite a tightening of the medical malpractice insurance market in Ninth District states. The St. Paul Cos. withdrew five years ago; PHICO dropped medical malpractice in 2000. Mike Andring, property casualty actuary with the North Dakota Insurance Department, said that the loss of his state's two largest carriers caused premiums to increase, but not as much as in other states. He noted that rates have stabilized since then: The state's current largest insurer set a 5 percent rate increase for physicians and surgeons in 2004, but less than a 1 percent increase in 2005. But Levi, of the North Dakota Medical Association, said that the precariousness of the insurance industry is leading a number of the state's large health care systems to move toward self-insurance.
Barbara Smith, vice president, South Dakota State Medical Association, said that insurance is not a significant problem. When members of her organization were last polled about the biggest issues facing them, medical malpractice came in behind Medicare. But she pointed to the lack of competition among medical malpractice insurers. "The primary concern," Smith said, "is the 'held hostage' issue," with only one main writer of malpractice insurance currently operating in the state, Midwest Medical Insurance Co.
Still, insurance rates in South Dakota don't reflect a hostage position. MMIC prepared a rate comparison for Smith among specialties and across states from 2003 to 2005, and neighboring states generally came in at higher rates. Ironically, among a group of five Midwestern states (the Dakotas, Iowa, Minnesota and Nebraska), the state with the lowest premiums in 2005 and the lowest rate increase over this three-year period was Minnesota, a no-cap state. (See "Malpractice premium rate comparison, by state and specialty, 2003-05.)
But neither does it mean that no-cap states have the most affordable insurance. The MMIC study found that in 2003, physicians in Connecticut—a no-cap state—paid insurance rates roughly five to seven times higher (depending on the specialty) than doctors in South Dakota. In fact, it's in these high-cost states that caps demonstrate some utility in keeping a lid on insurance premiums. The best example is probably California, which put a noneconomic damage cap of $250,000 in place in 1975 in response to a surge in malpractice suits and a 10-fold increase in settlement amounts over the preceding decade. From 1976 to 2003, average premiums in California rose a mere fraction of the U.S. average—283 percent compared with 925 percent, according to data from the Physician Insurers Association of America.
And lest anyone think insurers are making out like bandits on the premium increases, that doesn't appear to be the case. A paper by insurance professors Robert Hoyt and Lawrence Powell concluded that from 1996 to 2004, medical liability insurers as a group reported modest profitability in only three years (1996, 1997 and 2004), sustained losses in six consecutive years (1998 to 2003) and had an average profit ratio (return on net premiums earned) during the period of -13 percent.
So how many doctors are in the house?
Still, the discussion of insurance rates and other issues talks around the fundamental expectation of damage caps: to ensure an ample supply of instate doctors. Yet here, little is known about the direct effect of noneconomic damage caps on the supply of practicing doctors and related medical services. Though it might seem to be a simple matter, state data on the number of practicing physicians are not widely available or reliable, particularly over time.
An article in the May 2005 online issue of Health Affairs attempts to fill that research gap. Authors William Encinosa and Fred Hellinger looked at the effect of state damage caps on the supply of physicians, particularly in rural areas, and found that the number of doctors grew marginally faster in states with damage caps compared with those with no caps. After accounting for a number of variables, the authors concluded that from 1970 to 2000, the median number of physicians per 100,000 residents grew 102 percent in states with caps during the 1980s, compared to an 83 percent physician growth rate in the 23 states that did not cap malpractice awards before 2000.
The authors also found that the amount of the cap had an impact on the supply of physicians, especially in rural areas. Between 1975 and 2000, the growth in the median number of rural physicians per 100,000 residents in states with caps of $250,000 was 9 percent higher than in states with caps above $250,000.
What's next?
Federal legislation to cap noneconomic damages at $250,000 passed the U.S. House in 2003, but the Senate did not act. Supported by the Bush administration, the legislation will likely be reintroduced in Congress. In the meantime, as North Dakota's Levi noted, "a lot of the debate has gone back to the state level" as a result of federal legislative inaction.
Part of the problem—and the source of continued debate—is that the supply of doctors is influenced by much more than the threat of lawsuits and the affordability of medical liability insurance. As such, it's difficult to determine exactly what effect a cap—or the lack of one—has in any particular state.
"It's very hard to compare states with and without caps. The [medical] environment is so much more controlled" that it's more difficult to measure the impact of caps on physician behavior, said Donna Friedsam, associate director of the University of Wisconsin's Population Health Institute. She said that there is "no longer the environment that there used to be," noting that, for example, pay-for-performance and quality measures factor into how physicians practice medicine. "I can't say it won't be an issue, but I can't say how much of an issue it's been in the past," Friedsam said.
Referring to the Wisconsin case, said Friedsam, "I don't think the sky is falling with the elimination of caps."