Rural health care: Heal thyself?
Published May 1, 2002 | May 2002 issue
Jon Berg came into the world a month early, while his mother was visiting her hometown of Northwood, N.D., to attend her sister's wedding. Robert Delano, the family's physician, delivered him.
Berg would later go on to medical school at the University of Minnesota and family practice residency in Saginaw, Mich. Afterward, he found the perfect place to practice about 40 miles southwest of Grand Forks: Northwood. He also found the perfect partner: Delano, the man who brought him into the world.
For 16 years Berg has cared for the people in the town where he was born. Partners have come and gone; today he is Northwood's sole physician. It was a deliberate decision not to look for another partner. They're just too hard to find. "Small town life is an acquired taste," Berg said.
In many ways, Northwood's dilemma is a microcosm of the broader issue of health care access facing many rural communities in the Ninth District and the country. Filling generalist physician vacancies in rural areas of the nation and the Ninth District—especially in the smallest communities—has been difficult for 30 years or more. But whether health care access and quality of service is actually declining in rural areas is a bit more complicated than the Northwood example might illustrate. Depending on your choice of data, in fact, there may be a crisis in rural health care. Or there might not be.
For example, the percentage of family practice residency graduates going to rural areas nationwide declined from nearly 35 percent in 1975 to 22 percent in 2000. But because more family practice doctors are trained now than 27 years ago, the actual number of doctors going to rural areas has quadrupled to about 780 per year. Nonetheless, physician vacancy postings also show that hundreds of rural doctors are being sought in the district.
"The situation is not getting worse, but it's really not getting better," said Steve Wilhide of the National Rural Health Association.
Where to, doc?
Why doctors locate where they do is multifaceted. Some prefer working as generalists in rural areas where they have the opportunity to get to know patients well, and where lifestyle, values, background, love of the outdoors and other reasons pull many to small town practice.
But the advantages of city practice seem to have growing attraction. In urban areas doctors are on call less and have more professional support and better facilities, in addition to more opportunities to expand their medical knowledge. They also have amenities such as more shopping and entertainment choices that their rural colleagues don't.
City doctors' salaries are also higher. Family practice specialists' compensation in 2000 averaged $150,000 in communities of less than 50,000 and nearly $176,000 in metropolitan areas of more than 1 million, according to a survey by Medical Group Management Association. With an average debt of $93,000, according to American Medical Association data, new doctors are unlikely to want to take lower-paying generalist jobs, which also carry less status in the eyes of other physicians.
12,000 active charts
In small towns, the presence of a physician takes on greater importance than it does in a large city. Even the four or five jobs a medical practice creates can be seen as a significant boost for the community.
"One new doctor in Minneapolis is nothing. Who cares?" said physician recruiter Randy Munson of the Wisconsin Office of Rural Health Outreach. "But in Rock Creek, Minn., it has a huge impact."
Berg, for example, is the sole physician for Northwood's 1,100 residents and others in vast surrounding areas. He works with the help of a nurse practitioner and a physician assistant. Most of his patients are elderly and he has had geriatric training so he can give them better care. He serves 160 nursing home residents at three nursing homes, makes rounds at three hospitals and has 12,000 active patient charts.
He sees patients at two clinic sites that are part of the Grand Forks-based Altru Health System. He's on call two nights a week and often returns to the clinic to work for an hour or so after dinner at home with his wife and five children. After his partner, a successor to Delano, left in January, Berg and Altru officials decided that it would be too difficult to find another physician. If they did, they'd have had to lay off one of the midlevel practitioners. So they closed down a third clinic site 30 miles away in Larimore, hired a doctor to be on call weekends only and are trying to make a go of it. "It looks like we'll be able to do it, at least for a while," Berg said.
Diagnosis: Say data-aah
But determining whether a physician shortage exists, and to what degree, is difficult. Part of the problem stems from how the data—and there's a lot of it—is interpreted. By at least one measure, Health Professional Shortage Area (HPSA) designations, the need for primary care physicians has grown both nationwide and in the district.
The threshold for primary care HPSA designation is a population-to-physician ratio of greater than 3,500:1. Across the country, HPSA populations grew nearly 63 percent from 1990 to 2001, and last year the head count was nearly 56 million. The vast majority of the designations were in nonmetro areas, but in 1995 and 2001 metro HPSAs contained larger populations. But because of lower rural populations, rural residents were four times more likely to live in a HPSA than urban-dwellers.
HPSA data indicates primary care physician shortages (mostly family practitioners, but also internists, pediatricians and obstetricians) stayed steady or increased from 1990 to 2001 in Minnesota, Montana, South Dakota and Wisconsin. Wisconsin's HPSA population fell from 1995 to 2001, but the number of designations grew (see chart).
Second opinion
There's no simple answer as to why HPSA numbers and physician needs are increasing. Population shifts might be responsible, as some areas might be growing faster than they can attract doctors. Attrition is also a likely culprit, as communities face difficulties finding replacements for retiring doctors.
But neither is HPSA a perfect measure of physician shortages. Deb Jahnke, state program administrator at the Minnesota Department of Health, and other state health officials don't believe the need has grown as much as the numbers appear to indicate in Minnesota. HPSA designation provides physicians with financial assistance, recruitment help from the Public Health Service and other government agencies, federal grant opportunities and the chance to apply for Rural Health Clinic certification that allows Medicare and Medicaid to pay for physician assistant and nurse practitioner services.
Minnesota more than doubled its HPSA population in 11 years, but it's probably partly attributable to increased awareness. "My guess would be that we have done more analyzing and recognized more underserved areas," Jahnke said.
In South Dakota, midlevel practitioners often do routine medical care in some rural areas and are not counted as providing direct patient care, which leads to overstating physician needs in the state, said Bernie Osberg, director of the state Office of Rural Health.
Other data suggest that any shortage of physicians is simply mirroring other trends in rural America. For starters, while the percentage of physicians who are rural continues to go down, so too does the rural population, and at a faster rate. In 1980 the nation's population was 26 percent rural, while 13 percent of all physicians practiced in rural areas (townships and other political jurisdictions with fewer than 2,500 people), according to the American Academy of Family Practice (AAFP). By 2000, rural areas held only about an estimated 20 percent of the nation's population and about 12 percent of the nation's physicians.
The percentage of rural general and family practitioners has declined from 31 percent to 26 percent over this 20-year period, according to AAFP figures, but its ratio to the rural population has improved slightly.
Not long ago, there was also alarm about rural hospital closings. From 1980 to 1998, the nation saw a net reduction of 689 hospitals. More than 40 percent of them were in rural areas. The main reason for hospitals closing is lack of doctors, said Terry Hill, director of the National Rural Health Resource Center in Duluth, Minn.
But hospital closings do not persist in large numbers today, at least in the district. North Dakota, for example, lost just six from 1988 to 1994 but none since—and still has plenty of beds. Minnesota has lost 31 small rural hospitals since 1983, but that trend has slowed to a trickle in recent years.
Even if there is a shortage of rural doctors, it's not clear that it's had a negative effect on the general health of the rural population. Figures from the U.S. Department of Health and Human Services (HHS) on prenatal care and childhood vaccination rates, often used as public health indicators, were at or above nationwide averages in district states through the 1990s, but the data are not broken down by urban and rural populations. Age-adjusted death rates in nonmetro areas of the Midwest actually are lower than in metro areas nationwide and in the Midwest.
This might hurt a little
Whatever the state of rural health care, a few signs seem to indicate that conditions might worsen. As noted earlier, the percentage of family practice residency graduates going to rural areas has been in steady decline, and it appears likely to continue. According to a January article in the electronic Journal of the American Medical Association, only 3 percent of recent medical school graduates plan to practice in rural areas nationally. That's worrisome news because states in the district, particularly the Dakotas and Montana, are more rural than most.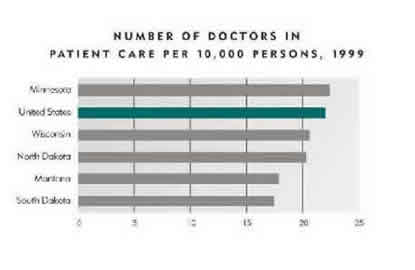 Source: National Center for Health Statistics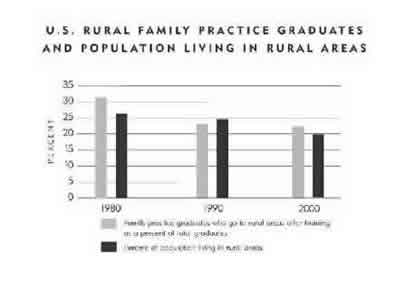 Source: National Rural Health Association
Already, the issue pits the efficiency of urban health care—lots of services and broad choice—with the notion of health care entitlement in rural areas. Through economies of scale and service specialization, providers in metro regions can offer a broader array of health services. Urban medical centers also have better access to capital to create state-of-the-art facilities, whereas tiny hospitals miles from large cities often depend on public subsidies and might struggle to provide basic care.
Specialists at the urban centers see medical problems daily that rural doctors might not recognize. Some studies have found country dwellers sometimes bypass local health care services anyway, either because what they need is not offered or because they simply prefer services elsewhere.
Small providers are significantly more limited, but many argue that a minimum level of health care access and service care must be maintained in rural areas. The focus of rural health care shouldn't be entirely on efficiency, rather a balance should be found between access and efficiency, said Ira Moscovice, director of the University of Minnesota Rural Health Research Center in Minneapolis. "We deliver mail to the bottom of the Grand Canyon and that's not efficient, either," he said, arguing that local primary care is best while specialty care is better done in large urban medical centers.
Hill put it another way: It's unreasonable to ask an elderly person to drive hours to see a doctor. "That's not good health care."
Prescribing help
At the federal level, HHS has set a high priority on expanding and improving health care in rural America, as have state governments in the district. HHS invests millions of dollars in the critical access hospital program, which pays increased government reimbursements to help keep small rural hospitals running. It also supports Rural Health Clinics and Rural Health Research Centers and other rural health programs throughout the nation every year. Every state in the district except Montana also has a state-supported medical school to home-grow its physicians.
Other efforts have helped physician-starved areas and may bear more fruit in years to come. Among them, rural practitioners and clinics are increasingly becoming part of a health system—that's how Berg managed to find someone to be on call on weekends. Another advantage is having contact with other physicians, including specialists, with whom rural family practitioners can consult. That in itself reduces professional isolation and is thought to increase the quality of care.
Another trend is toward using midlevel practitioners. In Berg's practice, they are on call two nights a week and see many patients under his supervision, although he does not have to be physically present. "When they're on call I have to be available for backup," Berg said.
Sometimes patients have trouble accepting midlevels. "They have never been exposed to them and they think it's something less than what they had," Munson said. While midlevels can help lighten the workload of rural doctors and help keep costs down because their salaries are lower than physicians' earnings, they're not in demand in Wisconsin, according to Munson.
They're used extensively in the district's western states, however. In Montana, many communities have only nurse practitioners or physician assistants, according to Sharon Kott, program coordinator at the Montana Area Health Center. In South Dakota, the presence of midlevels has reduced the number of physician vacancies by about 10 from several years ago, according to Osberg of the state's Office of Rural Health.
Telemedicine, sometimes called telehealth, also has the potential to take expertise to the hinterlands. Patients, doctors and staff can avoid extensive travel for examinations, consultations, conferences and training through videoconferencing. Internet connections can make charts and lab test results available faster. Other uses are developing.
The idea is becoming more accepted in some areas, but a survey of 16 critical access hospitals in Wisconsin found that only half the hospitals even had individual e-mail accounts. "The infrastructure isn't there," said Barb Duerst, interim director of the Office of Rural Health. That's despite the availability of public funds for that very purpose.
Moreover, the concept has been slow to take off because there's no way to split the fee, Hill said. "There's not a whole lot of motivation to do telemedicine because you don't get reimbursed for it," he said.
Take two incentives and call me in the morning
State medical school programs have shown some success in training family practice specialists for work in rural areas by choosing students from rural backgrounds and exposing them to rural practice during their schooling.
However, even though the universities of Minnesota, North Dakota and South Dakota are among the most successful schools in the nation at encouraging students to go into primary care and rural practice, only about one-third to half of the students choose family practice residencies after graduation. Less than that go on to practice in nonmetro areas.
Incentives also have had modest success at encouraging physicians into rural areas. Programs such as the National Health Service Corps help medical school graduates repay their student debt if they practice in places that lack adequate health care. The program provides up to $50,000 for two years of work and up to $35,000 for each additional year of service. States also have incentives such as loan assistance.
But none of those initiatives will get a primary care doctor to every rural community that wants or needs one.
"It's not like smart people haven't looked at this problem," Moscovice said. "It's a tough nut to crack."