Shares of Gambling Expenditure, 2000
Chart: Ninth District Gambling Expenditure, 2000
Published March 1, 2003 | March 2003 issue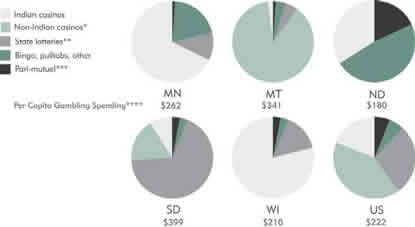 Notes:
* Figures for Montana and South Dakota measure small casino establishments with 30 or fewer video gambling machines. U.S. figure measures primarily large casinos in Nevada and New Jersey with thousands of gambling machines.
** Most of South Dakota state lottery revenue is from video gambling machines.
*** Betting on horse and dog racing.
**** Per capita gambling figures are total estimated spending on gambling in each state's population; they don't account for the unmeasured levels of spending across borders—North Dakotans buying lottery tickets in Minnesota, for example. Also, these figures exclude expenditure on illegal and Internet gambling.
Sources: Christiansen Capital Advisors LLC; "The Economic Impact of Indian Gaming in the United States," InteCap Inc., May 2002; "The Economic Impact of Indian Casino Gambling," M. Evans, 1999; state gaming commissions; U.S. census.