Survey shows Minnesota manufacturers cautiously optimistic about recovery in 2002
Survey of state manufacturers in January and February 2002
Published May 1, 2002 | May 2002 issue
Despite a sharp business downturn during 2001, Minnesota manufacturing companies expect business to stabilize or improve slightly in the first six months of 2002, according to a joint survey of state manufacturers in January and February by the Minnesota Department of Employment and Economic Development (DEED) and the Federal Reserve Bank of Minneapolis.
The survey shows a strong majority of manufacturers believe their operations have stabilized following significant second-half decreases in orders, profits, production, employment and business investments in plants and equipment. While 43 percent of manufacturers believe their orders will increase during the first six months of 2002, only 23 percent believe their orders will decrease. Similarly, 41 percent said they expect production to increase in the first half of 2002, while 21 percent anticipate decreases in their production levels.
Meanwhile, the steep second-half decline in manufacturing employment appears to have leveled off. Most manufacturers (80 percent) expect no further workforce reductions, and 22 percent say employment will likely increase during the first half of 2002. The sector's financial health seems to be improving as well. Although the results were mixed, more than 30 percent expected profits to increase compared with just 13 percent that reported increased profits during the second half of 2001.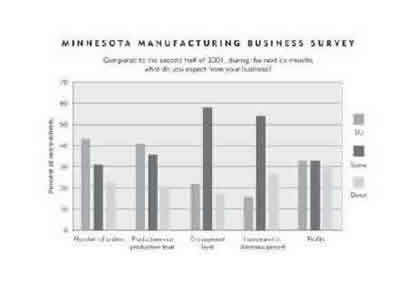 "Last year's national economic slowdown hit the manufacturing sector particularly hard, especially in the second half of the year," said DEED Commissioner Rebecca Yanisch. "While the economy as a whole remains shaky, there are strong indications that things are beginning to improve. And it's good news that our state's manufacturing businesses are stabilizing. This survey suggests that we can anticipate further improvement in the manufacturing sector this year."
"Manufacturing is an important component of the state and national economies and while the sector took a hard punch in 2001, it wasn't a knock-out blow," said Analysis and Evaluation Director Bob Isaacson.