Temporary canary
Growth in the temporary staffing industry fluttered during the recession, and signs of a spring pickup are hard to read
Published March 1, 2003 | March 2003 issue
The biggest temporary employer in the small North Dakota town of Wahpeton would likely surprise a visitor to the region. Firmly in the farm belt and just across the Minnesota border, Wahpeton has a burgeoning silicon prairie of its own in an Imation Corp. plant, where workers build state-of-the-art data technology that competes against global competitors.
The plant employs 80 to 180 workers on a temporary basis out of a total workforce of 750, said site manufacturing director Dennis Galden. Imation, a 3M spinoff based in Oakdale, Minn., produces data storage products for the consumer and corporate markets at the Wahpeton plant. Finding employees has not been difficult, Galden said, with farmers and construction workers more than willing to labor inside during the winter months when their professions go into hibernation.
"It's been very good for the community to have Imation, and the Red River Valley is a good place for business because it has a good work ethic and good skills," Galden said. "We've been very pleased with the workers."
Though still a small percentage of total employment in the district, the temporary employment industry—temp industry, for short—grew significantly in the last decade. Imation uses temp employees for the same reasons many companies do. It likes the flexibility of adding people when production cycles up and reducing them when sales drop or the plant needs retooling to add another product line. Constantly improving automation in the computer hardware industry, said Galden, means the workforce shrinks as machines handle work once done by employees.
What makes the Imation plant—which has been in Wahpeton for more than 25 years, most of that time as part of 3M—so rare is the sheer number of temporary employees in such a rural location. Milwaukee-based Manpower, one of the nation's largest temporary employers, opened an office in the region solely to serve Imation and is one of only three offices the company has in North Dakota.
Temporary visibility
A temp is an employee who works for a period of time but is paid, in most cases, through an agency that holds a contract with the employer. Temp agencies also deduct taxes and offer benefits to those contract employees working elsewhere.
The majority of temp agencies and temp work are in metropolitan regions, where firms have access to a larger labor pool, and where more companies are in need of short-term labor. About 60 percent of all temp firms in North Dakota are located in Cass County, home to Fargo. Eight of every 10 temp employees in Minnesota live in the Twin Cities. But industry figures also show that temp firms have been slowly spreading beyond metropolitan regions.
The visibility of the temp industry rose significantly during the 1990s, as a hot economy created millions of new jobs, and temp firms played matchmaker between available workers and needy employers. Because temp workers are easy to both add in good times and shed in downturns, some economists have come to look at the industry as an employment bellwether, the proverbial canary in the coal mine.
For 2003, the news from the front lines of the temporary industry shows an industry with some optimism, but not yet ready for full flight. Temp firms are hoping for and expecting better days, but no one anticipates a return to the kind of growth experienced in the late 1990s.
The numbers: small but growing
Despite dramatic growth over the past decade, the temp industry is still a small slice of the Ninth District economic pie. In November, the Minnesota Workforce Center reported there were just 50,000 temps out of a population of 2.6 million employees. All the temp workers in the district would barely match the regional population of Duluth, Minn.
Nelson Grundvig, research analyst with North Dakota's Job Service, estimated that around 14,150 people held temporary jobs in November 2002, or roughly 4 percent. South Dakota had 10,140 workers classified as temps in 2001, about 4 percent of the total nonfarm employment in the state, said Phil George, director of the state's Labor Market Information Center.
In fact, the number of temp workers in the Dakotas is about twice the national average of 2.2 percent. No one is quite sure why, but George offers an educated guess. "Two factors that might impact the level of contingent workers would include seasonal jobs and student workers," he wrote in an e-mail. "It seems likely that northern states with highly seasonal industries would have higher contingent worker percentages."
Still, George doesn't count the temp industry as a large factor in the economy. "It's not a big industry," he said. "We don't have much temporary and what we do have is in the southeastern part of the state."
Maybe more notable is the industry's impressive growth. In Minnesota, the past decade has seen it increase 6 percent a year on average, doubling in size from 1998 to 2000, according to Dave Senf, a labor market analyst with the state Department of Economic Security.
The Washington, D.C.-based American Staffing Association's (ASA) data suggest the industry grew between 10 percent and 13 percent annually from 1997 to 2000. Nationally, 2 million people per day are employed by staffing companies, the association said on its Web site, and 1 million jobs have been created by temp agencies over the last eight years. The great majority of temps, 79 percent, work full time.
Montana figures show huge growth in temps, from just 1,686 in 1992 to nearly 5,800 in 2000 before tumbling to 5,500 a year later, said Phil Brooks, state economist with the Department of Labor and Industry. Over the next decade, he said, the industry will be the third-fastest growing in the state, just behind tourist-related sectors such as eating and drinking establishments and gambling. "We see it growing 4.1 percent per year," said Brooks.
More temp workers may exist than state economists can count in part because it is a segmented industry with vague boundaries, where a temp IT employee is technically counted as working in a personnel-related industry. In Minnesota, the state tracks 210 separate temp occupations.
Even the ASA confessed in a report that "very little solid data exist on the size and growth of various segments of the staffing industry. ... Accurately measuring staffing industry size and growth patterns is indeed a challenge."
The industry continues to evolve, with some temp agencies specializing in accounting or computing professionals. Still, most district temp firms—particularly those outside the Twin Cities—offer employees in more traditional occupations. The most popular use of temps is for general labor, freight, stock and material movers (8.8 percent), followed by office clerks (6.5 percent), packers and packagers (5.5 percent), production work helpers (3.7 percent) and data entry keyers (3.2 percent). The rest of the occupations represent less than 3 percent of all temp employees and range from customer service reps to home health aides.
In Minnesota, office clerk was the top temp occupation, a surprising outcome to Senf, who did the research. He assumed other jobs would have far surpassed clerical work, one of the mainstays of temp employment for decades. "My mother worked on and off as a clerical worker when I was growing up, and I was surprised clerical is still so high after all these years," he said. "I thought it might have changed by now."
But the industry did see significant geographical growth outside the familiar boundaries of metropolitan areas, according to data provided by the ASA and the Omnicomp Group, a New Hampshire-based temp industry market research firm. The Upper Peninsula of Michigan, for example, had no temp staffing offices until 1995, when the number jumped to seven, spread over three counties, and to 12 offices in four counties by 1999.
Within the 26 northwestern Wisconsin counties in the district, there were only nine staffing offices in 1993, all of them located in Eau Claire, La Crosse and St. Croix counties (the last of which is across the border from the Twin Cities). By 2000, the number of staffing offices leaped to 51 and had popped up in the likes of Barron County, where its biggest city (Rice Lake) has a population of just 8,300, and Taylor County, which has a countywide population of less than 20,000.
A temporary cooling-off period
Like the overall economy, the temp industry has also cooled, dipping even before Sept. 11. Research conducted last year at the Bureau of Labor Statistics found that the temp industry began sliding in October 2000. The ASA reported that temp employment nationwide fell 7 percent between November 2000 and September 2001, a decline which continued through 2001 and into the first quarter of 2002, albeit at a slower rate.
The temp industry also slowed in all district states about this time and, in some cases, even earlier, according to data from the ASA and the Omnicomp Group (see chart). In Minnesota, the number of staffing establishments in 2001 dropped 7 percent over 2000, and total temp employees dropped 9 percent-representing the second consecutive annual decline in temp employment.
Workers Employed Through
Temporary Staffing Firms*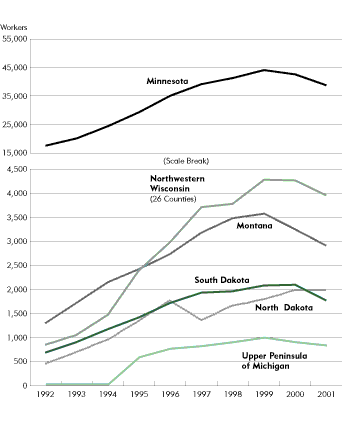 * Figures do not include other temporary employment classifications that the Bureau of Labor Statistics and state labor offices typically use in calculating total temporary employment.
Sources: American Staffing Association and the Omnicomp Group
This downturn collides with more optimistic long-term projections. Nationwide, the BLS predicts that the personnel supply services industry—which includes employment agencies and temporary staffing firms—will grow 3.7 percent annually from 2000 to 2010 and may add another 1.9 million jobs.
Economists are keeping their ears to the ground, listening closely for signs of stability in the shaky economic recovery nationwide. Many look to the temp industry for early signs of recovery, as businesses begin to ramp up production through increased hiring.
Some signs indicate a possible turnaround. The ASA's most recent survey showed temp employment grew 8.5 percent in last year's third quarter over the second quarter. The third quarter was the strongest since 1992, when the country began an economic recovery that led to the boom years of the later 1990s. A November survey by Manpower showed expectations of slightly higher employment growth as well.
Temporary outlook for the district
Among numerous industry sources in the district, no one expects a 1990s-style recovery, but there's reason for cautious optimism. There's a murmur of more work—a wait-and-see attitude remains among clients, but few are cutting back. And many see potential for a bump in hiring temps, although it will not result in any huge shifts in the labor market. Many firms also report growth in temp-to-hire positions, which tells them the job market is improving.
One person with a broad view of the region is Mark Tasler, the Midwest regional developer for Express Personnel, a temp agency with 26 offices in the district. Since July overall business in the district has shown "slight increases each month," he said, citing a pickup of work in light industrial and light technical work, the latter involving electronics firms. And he sees an explosion of contract staffing where engineers and information technologists work six-month contracts at various companies, honing their skills while earning the highest hourly wages in the temp industry—$40 to $50 an hour.
Still, he thinks only sustained growth in the temp industry will indicate an economy that's out of the woods. For now, he said, clients are playing it safe by hiring hourly employees and doing little hiring of executives. Only when they're sure a recovery is real will they ask Express to help them vet more expensive managerial talent.
Express is a franchise business, and despite the uncertain economy, Tasler plans to open at least five new franchises in the district each of the next five years. Part of his continued optimism is a belief that temp work may constitute a greater part of the 21st century economy than it ever did in the 20th century.
But anecdotes and opinions on the temp market in the near term range far and wide, even among branch offices in the same state. Lynne Johnson, manager of Express Personnel Services Inc. in Helena, Mont., said last year was "very slow for clerical, data entry, sorting, filing and other admin assistant functions." As a result of the lagging sales, she shifted gears and began placing temp employees in construction jobs that bring higher gross margins along with higher workers' compensation costs.
Over in Billings, Mont., however, a client in the sugar beet industry helped Express Personnel manager Dera Wichman have a banner year. Sales were up dramatically, she said, after a sugar beet company that had been using another temp agency switched to hers for a three-year contract. The usual December-February drop in business did not occur, either, she said. Even without the new sugar beet contract, "we've been up this year, but not by a huge amount, and I am anticipating a little more growth this year," she said. "I hope it's better this year, but I'm not expecting a tremendous difference."
Temp staffing in Fargo last year was slow, but this year early indications point to a small increase in business later in the year, said Lora Schiltz, branch manager of the Manpower office. One client plans to add 120 people for light industrial work, including several temp workers. Others have told her their temp needs will be modest this year. "You hear everything across the board," she said.
The Sioux Falls office of Kelly Services Inc., a national temp supplier based in Troy, Mich., has managed to stay busy. "We met our forecast in 2002, and this year I'd say I'm conservatively optimistic," said Bill Connelly, city manager of the Sioux Falls office. "Our large accounts are steady to increasing the use of temporary labor. We're finding a lot in the temp-to-hire market, probably representing 40 percent of our placements."
The city boasts 15 other competitors, he said, fueled by the still buoyant economy there and an employee shortage in the area. While his office offers experience in clerical, technical support, marketing and light industrial, he anticipates "an increase in light industrial" and more work placing substitute teachers in the city's school district. Kelly Educational Staffing Program, he said, contracts with school districts around the country to assist in placing substitutes, including in two local districts.
News from the Upper Peninsula is less encouraging than in other areas. The paper industry, a bulwark of the U.P.'s economy and a large employer of temps, continues to struggle, said Julie Bishop, owner of Proserv Inc. in Marquette. "If they end up cutting contractors I'd say it will create a huge change in my business," she said. If they don't, it won't be a banner year, anyway. "For now, I see revenues as the same as last year, and last year was down a slight bit from the year before," said Bishop.
In Eau Claire, 10 temp agencies slug it out in what has been a difficult economy. Chris Olson, office supervisor of Melville, N.Y.-based Adecco's Eau Claire office, said two of his competitors recently closed shop. Adecco works with Celestica Inc., a manufacturer of computer parts with a plant in nearby Chippewa Falls, and Nestle, which has two facilities in the region.
Around half its clients are clerical, the rest light industrial, he said. More than half the employees are in temp-to-hire positions. If war does break out with Iraq, he suggested that employment may rise as companies look to temporarily replace workers called up by the National Guard.
In Adecco's case, the slow 2002 has led to clients predicting that this year will bring more business. "We're expecting things to pick up because our clients are expecting to ramp up in the near future," he said. "We've gotten a few hints, nothing concrete, but by hearing the tone of [the client's] voice and by reading between the lines we're getting a good feeling from clients and from corporate."