The next gold rush, or gold bust?
Montana debates benefits, costs of coalbed methane
Published January 1, 2003 | January 2003 issue
Mark Fix is worried about what some see as Montana's newest pot of gold: coalbed methane.
As owner of a 9,700-acre ranch in the Miles City area of southeastern Montana, Fix believes the coming coalbed methane rush in the state's Powder River Basin could potentially destroy cropland he uses to feed his cattle and dramatically alter the region's landscape by adding thousands of miles of new roads and power lines.
Despite those reservations, Fix is not opposed to coalbed methane, or cbm. Methane, more commonly referred to as natural gas, supplies about one-third of the U.S. energy market. (Small amounts of nonmethane gases also fit into the natural gas category.)
Rather, Fix wants the state and the industry to create safeguards so if and when CBM drilling becomes a major industry over the next decade, farmers and ranchers will not suffer from potentially adverse environmental consequences of CBM's main byproduct, slightly salty water. Too much salt in the ecological watershed of Montana could harm water bodies as well as the state's number one business, agriculture.
"We need to protect what we have," said Fix, who also serves on a CBM task force of the Northern Plains Resource Council, an environmental group based in Billings. "[The CBM industry] will be here for 10 to 20 years, but agriculture has been here forever. If drilling ruins the soil, we won't be able to bring it back."
To many in this area, CBM is the gold rush of the 21st century. Its development promises to bring good jobs and new tax revenue to the state. But it has already managed to bring together a rare alliance of environmentalists, farmers and ranchers, who seek environmental safeguards as CBM exploration creeps north into the state from Wyoming, which has bigger deposits and a more mature industry. Todd O'Hair, the state's natural resource policy adviser, calls CBM "the biggest energy issue we've got in the state and one of the top 10 issues, of all issues, in the state."
CBM potential, controversy
CBM figures big in President Bush's energy policy plan in part because it is plentiful and because technology has become available to make extraction easier. It represents about 5 percent of the natural gas market today, a number sure to rise, said Rhone Resch, vice president of energy markets for the Washington, D.C.-based Natural Gas Supply Association. The government also wants it mined, ironically, for environmental reasons since its escape from coalbeds contributes to atmospheric degradation.
The biggest deposits of CBM are found in the Powder River Basin, a rugged and dry swath of land shared by Montana and Wyoming and crossed by three rivers: the Tongue, Rosebud and Powder. The federal Bureau of Land Management estimates 50,000 to 70,000 wells could be drilled in this region of both states in the next two decades to extract methane. (See map of Coalbed Methane Basins.)
Only a portion of the basin is in Montana, but this land and a handful of other areas in the state could see as many as 10,000 wells. At the end of 2002, however, the state's only CBM producer—Fidelity Exploration & Production Co. out of Denver—had been allowed to tap just 250 wells in Big Horn County due to court-imposed limitations.
Those restrictions will likely be lifted, and the number of wells will swell, once the state and federal governments have completed an environmental impact statement covering future exploration procedures on state, private and federal lands. More than 8,000 people commented on the first EIS draft, most of them critical, according to news reports. The BLM will release a second EIS this month.
The U.S. Environmental Protection Agency also asked for more details on the impact to rivers and creeks and suggested the creation of a watershed management plan. The ultimate decision whether to move forward lies with the BLM's regional manager, and given the Bush administration's support for CBM, that action appears likely.
What's not clear is which side comes closest to the truth regarding the economic promise or environmental catastrophe that will accompany CBM development in Montana. Because CBM is still an immature industry by energy standards, neither side has much research or other hard evidence to confidently back up its claims. Difficult environmental questions remain, and the cash and development windfall that appeared so enticing just a year ago has hit the rough road of market realities.
NATURAL GAS PRICES**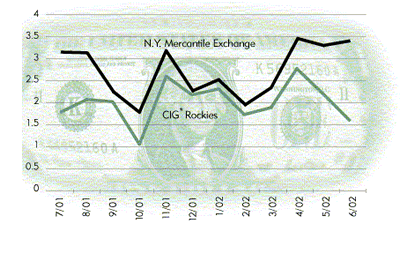 Source: Natural Gas Daily
* Colorado Interstate Gas
** $ per thousand cubic feet
Empty pot o' gold?
In the Ninth District, the only other state where companies have tested for CBM is North Dakota. Over the past two years, experimental wells have been tested in two west-central counties of the state—Slope and McKenzie—but two independent oil companies chose not to pursue further development, said Lynn Helms, director of the North Dakota Oil and Gas Division. The state's coal bounty, largely lignite, lacks the depth and maturity necessary to produce worthwhile quantities of CBM.
The real debate and activity in the district is in Montana, where the CBM issue and its surrounding controversy have seeped up from Wyoming, which has had great success—in a development sense, at least—in exploiting CBM over the past decade. Thanks to taxes from CBM, other natural gas sources, coal and oil, Wyoming is the only state in the nation with a budget surplus—$137 million. Montana's CBM potential is smaller but still sizable, and four companies have bought mineral rights leases to begin exploration when the dust settles on the environmental debate.
A report by the Montana accounting firm Anderson ZurMuehlen & Co. looked at potential CBM production from an estimated 9,550 wells over a 22-year life span. It predicted that the state could reap a $4 billion bonanza in tax receipts based on an average price of $4 per thousand cubic feet (Mcf) at the wellhead over that time span.
There's one major problem with the study, cited by state and local officials as the best and only numbers that showcase CBM's potential. The market has rarely, if ever, seen $4 Mcf prices for methane from the Rockies. (It has from other natural gas centers, such as the Henry Hub in Louisiana.) Three years ago prices hit $3.60 Mcf, but they have since tumbled to as low as half that amount in 2002.
"The reality is we really don't know what the price is going to be," said Resch. "That [$4Mcf] number is bullish, optimistic. Four dollars (Mcf) is making some assumptions and [whether] they're accurate is anyone's guess."
Part of the basin's problem, Resch added, is the lack of pipelines in the region capable of carrying gas to other markets, which means much of the current CBM production can't get out of a region already blessed with too much natural gas. Prices for natural gas in the Rockies have sunk as CBM production has skyrocketed, Resch said.
As the capacity grows to move CBM from the basin, producers will receive better prices because they will be able to send CBM to locations—like the East Coast—where supplies are tighter and prices are higher. Four pipelines have been proposed for the region. Increased natural gas exports from the Rockies may dampen prices in California and on the East Coast, but the end price will still be higher than what producers would get in, say, the Powder River Basin or Denver.
"Moving to these areas with high growth and demand for natural gas will get [CBM producers] prices that are substantially higher than in the Rockies," Resch said.
In the meantime, however, the drop in natural gas prices over the past year has precipitated a related drop in the number of wells operating in Wyoming, according to newspaper accounts. What will happen to drilling activity when Montana opens more land for CBM remains a question the markets will largely decide, said Resch.
Still, many in Montana have high hopes for CBM's ability to generate development and tax revenue for the state, mostly because they see projections from their southern neighbor. The BLM has estimated the 20-year economic impact in Wyoming's portion of the Powder River Basin at $1.6 billion in direct wages, with many billions more being paid to local, state and federal governments from a variety of taxes and royalties.
"We want to get this resource producing because we have a $250 million shortfall in the state," said Gail Abercrombie, executive director of the Montana Petroleum Association, a group that helped pay for the Anderson study. "We can't solve the budget crisis in six months, but it can certainly contribute to future budgets without being a drain on the resources of the state. There's not a lot of infrastructure the state has to pay for in CBM development."
Indeed, it might not take much CBM development to have a positive economic impact because much of the Powder River Basin lies in and near several slow-growing counties. Two Native American reservations are planning CBM development in hopes of capturing some of the economic benefits.
In McCone County, which lies north of the basin, "if one family moved in it would be an impact. We have counties where just 400 to 600 people live in them. If four families moved in there, it would be talked about big time," said Tod Casten, regional development officer in Miles City for the Montana Department of Commerce. "I'm for coalbed methane production as long as it's reasonably done because we need all the help we can get."
The environment, CBM
CBM raises a number of conundrums for Montana residents. Preservationists, for example, filed a lawsuit over the fear CBM producers might trample some of the more than 600 designated historical sites in the Powder River Basin. Montana is also the land of split estates, where landowners who do not own the mineral rights to their parcel have no right to stop CBM drillers.
But the biggest obstacle facing CBM supporters is environmental in nature. Methane gas sits in underground coal deposits called "seams." CBM producers use two drills attached to a compressor. One drill pulls water to the surface from coalbeds, and the other captures trapped methane. Mickey Steward, coordinator of the Montana Association of Oil, Gas and Coal Counties, said an 80-acre parcel typically contains two to four wells collecting water and gas at seams located at different depths. After methane from a well is collected, it is piped to a compressor station or "pod house" for further compression and transit to intrastate pipelines, said Steward.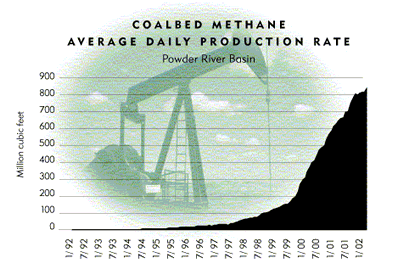 Source: Wyoming Oil and Gas Conservation Commission
While it might seem innocuous, that water byproduct—typically 16,000 gallons per well per day in Montana—is CBM's biggest environmental threat because it has elevated levels of sodium. Some of it is redirected to lined and unlined holding ponds or is reinfiltrated into the coal seams. A small amount is treated and used by ranchers and farmers or discharged into rivers and streams, Steward said.
By all accounts, humans and animals can drink the water drawn from the coal seams. The water has a slight carbonation to it, a touch higher than average drinking water. While that might not seem like enough to kill anything, a tiny increase in salt content added to any ecological system can create havoc for plant and animal life. The NPRC reports that the sodium absorption rate of methane water is three to four times higher than the level tolerable to Montana plants.
Jill Morrison, an organizer with the Powder River Basin Resources Council, said CBM depletes aquifers and dries wells used by farmers and ranchers and, if discharged into streams and rivers, results in destruction of vegetation and wetlands. A member of Morrison's organization, Ed Swartz, described in an article for the PRBRC how a CBM producer pumped water in 1999 into a nearby creek in Campbell County, Wyo., and how the winter grasses died a few months later. In a paper on CBM published in 2001, the Montana Department of Environmental Quality reported increases in salinity on the Powder and Tongue rivers, although not enough to violate water quality standards.
From a vantage point in Wyoming, where there were 4,500 active CBM wells in 2001, Morrison added a litany of other concerns. Under the BLM's plan for the Powder River Basin in Wyoming, more than 400 miles of power lines were laid last year and the same amount will be reached in each of the next six years, she said. Around 17,000 miles of dirt roads will be cut. Compressor stations use jet engines that raise a huge ruckus, and drainage from the water discharge creates erosion problems.
The traffic alone will have an impact on the region's air quality, she believes. Nor does the federal government have a good track record in her state of forcing producers to clean up after themselves once they have made their money. "What we know from past history is we'll never recover the cost of reclamation," said Morrison. "Why should we trust industry to do it responsibly when it hasn't cleaned up the mess it left from the last oil and gas booms of 20 and 30 years ago?"
Montana is watching Wyoming very closely because despite a more mature CBM industry, the state is still playing regulatory catch-up. The state and BLM in Wyoming are both currently working on an EIS to assess CBM exploration on federal lands there. According to a BLM source, Wyoming may use off-channel ponds and other infrastructure to avoid polluting the Tongue and other rivers, as well as treating the water before discharge.
Many CBM supporters in Montana see a golden opportunity. Sen. Norris (Mack) Cole, who represents eastern Montana and serves on the state's Energy Committee, strongly supports CBM and has toured Wyoming's CBM fields. He sees his neighbor as a good model for exploration. On trips to the PRB in Wyoming, he saw how water from CBM wells was used to feed livestock, irrigate land and to fill holding ponds where wildlife gathered.
He sees the environmentalists as obstructionists whose safeguards may cost companies too much and kill a budding source of jobs and revenue. And Cole sees his neighbor's huge mineral trust, now $635 million, as an indicator of just how much money his state could stand to make in a time of budget shortfalls. "I talked to ranchers down there, and I think if we're cautious it can be beneficial to the state of Montana," he said.
Learning curve
To ameliorate the potentially deleterious impact of CBM wells on air quality and groundwater runoff into Montana rivers, the EPA has worked closely with Montana's state environmental department and the BLM, said Max Dodson, assistant regional administrator in the EPA's Region 8 office in Denver.
"We've had more consultation in this case than in any other I can recollect in the last 10 years," he said. "We're hoping these issues are resolved in the final EIS document."
The EPA shares the same concerns as environmentalists, he said, noting air quality could diminish from the use of compressors and the dust that will rise from using dirt roads in a dry area of the state. The agency also raised red flags over the discharge of sodium-rich water in the Tongue, Rosebud and Powder rivers and has assisted in bringing forth technical data showing that CBM does not have a uniform effect on all water bodies. Depending on the river, it could have a less harmful or more harmful effect than environmentalists fear, and long-term effects remain largely unknown.
Nonetheless, Dodson believes that the EPA's work demonstrated government's commitment to finding answers in this controversy. "We want to make sure the public understands there is a regulatory safety net," he said.
Still to be determined is what kind of technical guidelines Montana's EIS will require in terms of water discharge and important distinctions in verbiage, which CBM proponents say could kill production if they do not go industry's way. The EPA's criticisms have been addressed in the new EIS, which contains a great deal of new information on mitigating the impact of groundwater discharge, said Chuck Laakso, a petroleum engineer in the BLM's Miles City office.
Local officials have expressed commitment to environmental protection, especially since they're not interested in getting blamed for destroying farms and ranches. "Water's always a big issue in CBM and we have concerns about landowners," said Chad Fenner, a Bighorn County commissioner who noted that the southern part of his county has the largest concentration of wells in the state. "There are folks who have ranched all their lives, and we don't want them hurt by this. We don't want to disrupt agriculture, but we would like to see more development down there."
Even CBM fans aren't interested in pushing forward without safeguards. "People in Montana are going to go more cautiously forward," Steward conceded. "Montana has a state environmental protection act that forces it to look at the environmental consequences of CBM on state land, in this case. Generally speaking, Wyoming is more pro-development than Montana."
Mining interests believe they can meet environmental demands on most issues as long as the state offers a smooth permitting process in return. "We've made a substantial investment in Montana. We understand the learning curve involved in doing CBM, but we know we can do responsible CBM processing while protecting the environment," said Joseph Icenogle, regulatory and public affairs coordinator of Fidelity, a fully owned subsidiary of MDU Resources Group in Denver. Fidelity owns all of the CBM wells still operating in Montana.
Industry groups are studying the best way to handle water and wildlife challenges and the placement of roads and power lines, according to Icenogle. His company understands it will have to abide by the state's historic preservation act and conduct continuing studies to determine the impact on wildlife as CBM moves forward. "It's been a litigious environment so far but we believe, all in all, these issues will get addressed. And we're committed to business in Montana, and we feel Montanans want us there," he said.
Fix, the Miles City rancher, just hopes government and industry officials are speaking the truth. "We keep spending a lot of time talking to the people in control of this to get the point across that we must keep the quality of our water good," he said. "They'll tell you it's too costly to treat the water and put it back into the same aquifers. But we need to protect what we have. If my soil is ruined by this water, I can't get it back."