Theme song for softwood lumber: Oh, Canada
Are Canadian imports killing the U.S. softwood industry?
Published January 1, 2002 | January 2002 issue
Howard Hedstrom's sawmill in Grand Marais, Minn., can break even selling studs wholesale for about $300 per 1,000 board feet. Prices hit $400 in 1996, helping convince the company to buy a sawmill in Two Harbors, Minn.
But by October of 2001, the price had fallen to about $215 per 1,000 board feet, and Hedstrom Lumber was bleeding red ink even after permanently closing its Two Harbors stud mill last spring and dismissing about 45 workers—half its workforce.
Many people blamed low stud prices on Canadian imports of softwood lumber, which is made from fir, pine and other cone-bearing trees. "We were forced to shut down one of our mills because of imports of softwood lumber, and the effect those imports have had on lumber prices," Hedstrom wrote to the US International Trade Commission (ITC), as it investigated whether Canadian softwood imports were harming the US lumber industry.
The US government agreed and, in two separate rulings last year, added import taxes—also called duties or tariffs—of about 32 percent to the cost of most Canadian softwood.
Canadian softwood imports have been on the rise, and lumber prices have been generally poor. But the cause-effect relationship between the two is not quite so clear. And while US lumber companies benefit from the new duties on Canadian imports, other US industries using such materials lose out because they are forced to pay higher prices.
With more than $3.5 billion worth of lumber and wood products produced annually in the Ninth District, a lot is at stake. Almost 67,000 people are employed at about 2,700 establishments in the lumber and wood products sector in district states.
More than one-third of the Canadian softwood lumber imported to the United States in 2000 came through the border states of Minnesota, North Dakota and Montana, according to ITC figures. About 70 percent of all softwood lumber is used as two-by-fours and other framing lumber sold in the residential construction and remodeling markets.
Neighboring knotheads
Canada produces about 28 billion board feet of softwood lumber annually and 18.3 billion board feet were exported to the United States in 2000. Thirty-five percent of the softwood lumber used in this country comes from Canada, the world's second-largest producer behind the United States.
The forest products industry is Canada's largest manufacturing sector. The nation has an efficient, technologically advanced lumber industry that is particularly strong in British Columbia, where wood products accounted for 45 percent of the gross domestic product as late as 1995, according to Statistics Canada.
The wood products industry tends to be cyclical, but a downturn since mid-2000 has cut particularly deep in the United States. "We're all just hanging on," said Hedstrom, whose grandfather started the company nearly 88 years ago. Hedstrom Lumber revenue was $13.1 million in fiscal 2000. But it fell—partly due to the plant closing—to $8.5 million this past fiscal year ending Sept. 30, and the company took a "substantial loss," he said.
Provincial governments own 90 percent of Canada's timberlands, and Hedstrom and many others believe the Canadian government unfairly subsidizes its nation's producers by charging less than market value for stumpage fees—the price paid for standing timber—on public lands.
The ITC and Department of Commerce, federal agencies responsible for investigating matters of unfair trade, studied the matter and imposed the first of two duties on Canadian softwood lumber in August. A preliminary countervailing duty averaging 19.3 percent was then imposed on softwood lumber from four lumber-exporting Canadian provinces—British Columbia, Alberta, Ontario and Quebec.
The duty was made retroactive to last May, meaning that Canadian lumber firms were on the hook for three months worth of import duties. The duty was set to expire Dec. 15, 2001, but will be reinstated if finalized later in 2002.
In addition, Commerce investigated and affirmed allegations that softwood lumber was dumped, or sold at less than fair value, in the United States from April 2000 through March 2001. In November the department levied an additional anti-dumping duty averaging 12.6 percent on the same products, but it was applied to all Canadian provinces. At nearly 32 percent for four provinces, the duties are intended to give American companies a level playing field in selling softwood lumber, siding, flooring and flooring strips.
The tariff action was precipitated by the expiration last March of the U.S.-Canada Softwood Lumber Agreement (SLA), which limited imports of Canadian softwood to 14.7 billion board feet a year (a board foot is a 1-foot square of wood that is 1 inch thick). All softwood exports to the United States were duty-free up to this figure, but high fees were imposed on any additional shipments.
Bound no longer by quotas, Canadian sawmills quickly pushed up the flow of softwood to a hungry US market. Sawmills in the United States started crying foul as they were forced to deal with the double-barrel of poor domestic prices and increased foreign competition. Many American sawmill owners wanted the flow of Canadian products slowed as a matter of self-protection.
Timberrrrr prices and government subsidy
The connection between higher Canadian imports and low prices is not as obvious as it might seem in theory. Historical data show that prices were stronger during the SLA than either immediately before or after the SLA. But the industry saw record spot prices and high annual averages in 1993 and 1994, two years before the SLA went into effect. Average prices in the last half of 2000 and early 2001—with the SLA still in tow—were the lowest in almost a decade (see chart below).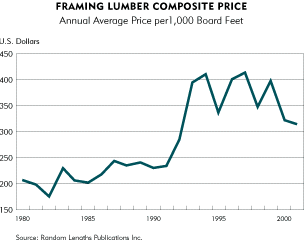 But as they generally tend to do in the lumber industry, prices increased during the busy construction season despite higher Canadian imports. What's more, prices hit $402 in May—several months prior to the imposition of duties—and then fell again to $275 by October, two months after countervailing duties were approved. Nonetheless, prices through the first 10 months of last year averaged less than $320, levels not seen since before the SLA.
A number of other factors, however, come into play in the US softwood lumber downturn. Thirteen percent of Canadian and 50 percent of American softwood lumber exports were shipped to Japan in the mid-1990s, but a recession that began in 1997 and continues today dried up that market. Fortunately, a robust domestic construction scene allowed the United States—the world's largest lumber consumer—to absorb much of what was once exported to Japan.
Meanwhile Canadians, who export more wood products than they consume, are eager to sell more to the United States because they need alternative markets. Their products are inexpensive partly because the Canadian dollar is worth only about 64 cents in the United States.
A boom in the US housing market in the late 1990s fueled strong softwood lumber sales, said Ken Skog, project leader at the US Forest Service Forest Products Laboratory in Madison, Wis. But orders fell after the Sept. 11 terrorist attacks, and a recessionary economy and higher unemployment have sawmill owners concerned about the future of housing construction.
Lumber is basically a commodity that sells for about the same wholesale price throughout the nation, although transportation costs cause some variations. When supply is scarce, the price rises. When supply is plentiful, the price drops, sometimes quickly (see chart below).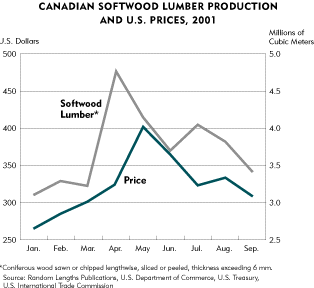 Industry soft overall
Global competition, the high value of the dollar compared with other currencies, limited logging on federal lands and weakness in the domestic economy are affecting all parts of the forest products industry, which are in simultaneous down cycles for the first time in recent memory. For example:
Hardwood companies are being caught between high stumpage prices and low wholesale prices, according to Bob Owens, president of Duluth-based Owens Forest Products and former president of the National Hardwood Lumber Association. Hardwoods are trees with leaves such as birch, ash, maple and basswood. Many companies find profits elusive, he said.
Another troubled segment is engineered wood products such as oriented strandboard, particleboard, laminated lumber and reconstituted wood. Georgia-Pacific closed its Superior, Wis., hardboard operation and Potlatch temporarily curtailed production at its Cook, Bemidji and Grand Rapids, Minn., oriented strandboard operations recently due to unfavorable market conditions.
Paper and related products, the largest sector of the industry, has been hit hard. Employment in the past year was reduced at paper mills that include Potlatch in Cloquet and Brainerd, Minn., and Stora Enso in Minnesota and Wisconsin, the nation's top paper-producing state. Smurfit-Stone in Missoula, Mont., temporarily shut down two paper machines and laid off more than 100 workers until conditions improve.
Wood you say it's a subsidy?
Recently, duties on Canadian softwood lumber imports have grabbed the most headlines. Many charge the Canadian government with providing sweetheart deals to the timber industry there. In reality, the American and Canadian systems of securing timber are very different and difficult to compare directly.
In the United States, supply and demand generally determine stumpage prices through a system of sales and auctions. Private lands provide most of the harvested timber; the government owns 42 percent of the nation's timberlands.
Stumpage fees have risen in the Ninth District during the past few years partly because less timber has come from public lands as environmental concerns have stopped or delayed federal timber sales. The problem is especially acute in Montana, where the harvest on federal lands has fallen more than 70 percent in the past decade, said Charles Keegan, director of forest industry and manufacturing research, Bureau of Business and Economic Research, University of Montana-Missoula.
With high stumpage fees and low wholesale prices, domestic softwood lumber producers, most of whom are located in Western and Southern states, are being squeezed. In Minnesota, mills were paying $240 to $250 per 1,000 board feet for standing white pine last fall, according to state Department of Natural Resources economist Doug Ford.
In Canada, companies buy licenses to manage and harvest trees on specific pieces of government land, and stumpage fees are priced by cubic meters of wood. In Ontario last November, one category of white pine stumpage in one region was $19.50 (Canadian) per cubic meter, according to the province's Ministry of Natural Resources. Cubic meters don't convert well to board feet, and little pine is harvested in Ontario, but for purposes of a very crude comparison, that converts to about $29.50 (US) per 1,000 board feet.
Canadians argue vehemently that the government doesn't subsidize the industry and they've asked the World Trade Organization (WTO) to hear their claims. Low stumpage fees don't fit the WTO's definition of a subsidy, Canada says, since the government isn't making a financial contribution or conferring goods or services. Furthermore, the Canadians argued, Commerce based its findings on US prices, not on prevailing Canadian market conditions.
The impact of the duties on the Canadian industry has been swift and harsh. An estimated 10,000 to 16,000 logging and sawmill jobs in British Columbia were lost in the two months following announcement of the countervailing duty. Wood products giant Weyerhaeuser Co. reduced production by 53 million board feet at its British Columbia and Ontario softwood lumber sawmills late last year. Doman Industries and Tembec Corp. have closed lumber mills until the effects of the duties were clearer and conditions improved.
The import tariffs are "the number one economic issue in our country," said John Allan, president of BC Lumber Trade Council in British Columbia. "That's going to cause a lot of bankruptcies in Canada and that's what the American lumber industry wants. It's a market share issue." Canada's system aims to keep workers employed rather than leave them subject to swings in the market, Allan said. He called the motives behind the tariffs "protectionism."
Final decisions on the duties could end up before the WTO and a North American Free Trade panel later this year. But the two nations could also take another route and settle the dispute themselves. Talks aimed at a negotiated agreement continued late last year even as Commerce moved toward its final rulings.
Sticks and stones
In fact, the lumber disagreement is nothing new. A century ago the two nations quarreled over the issue and in the 1930s, the United States imposed a lumber tariff.
More recently, in 1982 the US government investigated charges of Canadian subsidies, but nothing could be substantiated. As a result of a 1986 memorandum of understanding, Canada collected a 15 percent tax on its lumber exports to the United States.
The U.S.-Canada Free Trade Agreement went into effect in 1989; under that pact, a panel with members from both countries struck down a 6.51 percent countervailing duty levied by the United States from 1991 to 1994. From April 1, 1996, to March 31, 2001, the two countries abided by the SLA.
As soon as the SLA expired, International Paper Co., Potlatch Corp., Plum Creek Timber Co. and other companies filed petitions for countervailing and antidumping duties. The group, calling itself the Coalition for Fair Lumber Imports, cites the demise of 31 mills nationwide from August 2000 through June 2001 and warns of additional American sawmill closings and job losses without protective tariffs.
But others warn there are also consequences for the United States if the duties are made permanent. If the price of Canadian lumber goes up, less lumber might come across the border, said the US Forest Service's Skog. American sawmills might fill at least part of the void by upping production, although some experts say domestic producers don't have enough capacity to completely replace Canada's products.
Many in the US wood products industry cheered the tariff decisions. But not everyone was ecstatic.
"My lumber producers would like the United States and Canada to negotiate a new softwood lumber agreement that's fair to everyone," said Wayne Brandt, executive vice president of Minnesota Forest Industries and the Minnesota Timber Producers Association. "Tariffs are just bad business," he said. Weyerhaeuser, which has mills on both sides of the border, also prefers a negotiated solution, one that's driven by market forces.
The nonpartisan Cato Institute, a Washington, D.C., think tank, did an economic analysis last year that "strongly supports the conclusion that stumpage fees do not have a significant impact on ... the quantity or price of Canadian lumber imports." Authors Brink Lindsey, Mark A. Groombridge and Prakash Loungani said low Canadian stumpage fees do not mean that more timber and lumber is actually produced.
The authors also noted that trade restrictions would hurt millions of home buyers and lumber-using industry employees compared with the 200,000 or so Americans in the logging and sawmill industries who are helped by tariffs.
A retail and consumer organization called American Consumers for Affordable Homes that includes Home Depot and the National Association of Home Builders (NAHB) agrees with that characterization. Spokeswoman Susan Petniunas said the preliminary tariff decisions were based on "pure political pressure from a handful of US forestry companies."
NAHB economist Michael Carliner said studies suggest that half to two-thirds of the added 32 percent duty costs would be passed on to the consumer. The price of a typical new wood-framed home with 15,000 board feet of lumber could increase $1,500 or more, he said. An NAHB analysis of Census Bureau data claims that thousands of families would be unable to buy houses with $1,500 added to the price.
But Ellen Engstedt, executive vice president of the Montana Wood Products Association, said Montana home builders believe the duties would add only a few hundred dollars to new home prices. "If you're building a $100,000 house, that's not much," she said.
The prevailing concept behind the preliminary duties, a Commerce Department official explained, is that free trade is not a carte blanche for other countries to hurt American industry. "How can you say you're practicing free trade when it's not fair?" he said.
Tariff advocates say no one in the U.S.-Canada softwood lumber trade should have a built-in advantage as Canada has right now. They hope to create fair trade for the American companies, but the trade-off is potentially higher consumer prices and possible Canadian mill closings.
Tariff opponents say that the US softwood lumber industry needs to be globally competitive and protecting it won't help in the long run. They say worldwide competition will keep consumer prices low and spur the industry to greater efficiency—but it could also cause plant closings and job losses for Americans while providing opportunity for Canada to sell more lumber here.
In short, it's a tough issue that's unlikely to be permanently settled in the near future. As Terry Mace, resource analysis specialist at the Wisconsin Bureau of Forestry said: "There's no easy answer to the softwood problem."