Trade job growth slows
Published April 1, 1998 | April 1998 issue
While trade employment growth has slowed overall recently, it has moderated more in the district than in the nation, where retail jobs account for about three-fourths of trade employment.
The district's trade employment, especially in metropolitan statistical areas (MSAs), excluding Minneapolis/St. Paul, rose at a 0.9 percent annual rate in 1996 and 1997. This rate was significantly lower than the 3.6 percent increase in 1994 and 1995. In Minneapolis/St. Paul, trade employment slowed to 1.9 percent from 3.9 percent over that time. Thus, the region's slowdown in trade employment growth was sharper than in the nation, where it decelerated to 2.5 percent in 1996 and 1997 from 3.2 percent in the prior two years.
With incomes rising and unemployment low both in the district and nation, the decrease in trade employment is not likely due to a slackening in retail spending. Rather, part of the slowdown may be a reflection of employers' difficulties in hiring workers at prevailing wages. Plus, the pace of expansion in retail space may have slowed.
"Shopping center construction and development will slow down in 1998 while the Twin Cities market catches its breath after the last five years of growth," according to a recent Minneapolis/St. Paul real estate report.
TRADE EMPLOYMENT
3-Month Moving Average, Percent Change from a Year Earlier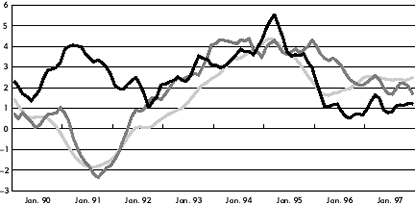 United States
Minneapolis/St. Paul &nbsp
Other Ninth District MSAs

Source: U.S. Bureau of Labor Statistics