Upper Peninsula of Michigan feels downturn
Published May 1, 2009 | May 2009 issue
Tourism in the U.P. took a beating last year, largely because the rest of Michigan was mired in deep recession exacerbated by the sinking fortunes of the auto industry. The eastern peninsula depends on tourist traffic flowing across the Mackinac Bridge, and last summer that traffic slowed noticeably, undermining the area's leisure economy.
Lodging sales in the U.P., measured by Smith Travel data and room-tax receipts, declined markedly through the summer and into fall compared with 2007 (see chart). Between June and October revenue due from a U.P.-wide bed tax fell about 10 percent from the same period a year earlier. In another indication of softening demand, average room rates dropped in the fall compared with the previous year.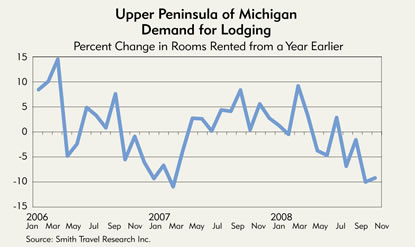 Marquette also saw declines in lodging demand for the latter half of 2008, according to Smith Travel figures. But in Sault Ste. Marie, demand bucked the U.P. trend, increasing year over year in the summer before dropping sharply after September. According to local tourism officials, the border community attracted driving vacationers from other parts of the Midwest and Canada with Web promotions and radio ads produced jointly with the state tourism office. It probably also helped that local hotels, motels and bed-and-breakfasts were discounting; the average room rate fell over 3 percent for the year.