Wisconsin sees another poor year
Published May 1, 2009 | May 2009 issue
The good news in Wisconsin last year was that summer lodging demand increased over 2007, although overnight stays in June were down because of flooding in the central part of the state. The bad news is that 2007 didn't set any records for tourist action. In contrast with other district states, demand for accommodations barely increased over the previous year. And visitation and travel spending dropped, according to a study by the state tourism department.
The upshot: Wisconsin tourism has stagnated since 2006 because of deteriorating economic conditions and competition from neighboring states. Leisure and hospitality employment declined year over year throughout 2008—a delayed reaction to the 2007 slowdown (see chart). Last fall the worsening recession cut sharply into lodging demand statewide.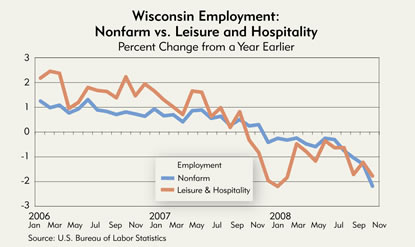 The recession's impact on communities in the district portion of the state has varied. In the northern resort town of Rhinelander, lodging demand fell for most of last summer and fall compared with the previous year. However, lodging taxes for Hayward and La Crosse indicate that tourist activity through the third quarter of last year was commensurate with the same period in 2007. Both cities may have benefited from their proximity to the Twin Cities, the source of a lot of tourist traffic into northwestern Wisconsin.