RSS

Every letter tells a story
The Carter Glass Archive
Published December 1, 1997 | December 1997 issue
Thomas Jefferson once wrote that a person's letters make up the only complete and true journal of their life. If so, then a half-century after his death, we have a pretty good understanding of the man who was Carter Glass.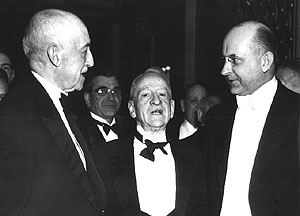 As prolific as he was pugnacious, Carter Glass left a thorough record of his ideas, quarrels and hopes in hundreds of letters. And those letters—along with the correspondence he received, his speeches, editorials, newspaper clippings, memos and other documentation of his 88 years—are all housed in the Special Collections section of the University of Virginia Library in Charlottesville, Va.
Appropriately enough, the Special Collections section is located in the older of the campus' two library buildings, in the basement, at the end of a hallway lined with busts of famous Virginians, and through a walnut-lined room with floor-to-ceiling bookcases and huge oil paintings of that room's benefactors.
The papers of such Virginians as Harry F. Byrd Sr. and Jr., Secretary of State Edward Stettinius and Thomas Jefferson are included in the Special Collections, as well as those of the state's prominent families, including the Lees, Randolphs, Berkeleys, Cabells and Harrisons.
These collections are treated like the historical treasures they are, and researchers must adhere to strict rules. The collections are never viewed in full by patrons; rather, papers or books are requested and delivered by a librarian, after which great care is required: Books and other bound material must rest on special cradles; no tracings may be taken; no pens, notebooks, briefcases or bags are allowed in the reading room; and pencils and paper provided by the library may be used for note taking, among other rules.
In the case of Carter Glass, a researcher begins by examining a guide to his voluminous archive—the "Inventory of the Carter Glass Papers." At 614 letter-size pages, plus a 185-page index, this Inventory is a formidable (and heavy) research project in and of itself. In it are listed the contents of 423 boxes. Although Glass is remembered for his role in developing financial regulation, these boxes provide insight on a vast range of topics—for Glass never seemed to lack for an opinion—from the invasion of Armenia by Turkey (Box 151), convicts on road forces (258), Huey P. Long (419 and others), racial segregation (11), unemployment (336), women's suffrage (5-F), as well as hundreds of entries dedicated to the Federal Reserve Act, banking and other financial matters.
But even such an exhaustive inventory doesn't begin to list all the material included in those boxes, as an introduction to the index warns: "... a searcher who uses the Index to run down entries on a particular person or subject will often find many more actual letters and documents when he goes to the Papers themselves. It is strongly advised that any scholar undertaking a serious project in connection with the Papers deal directly with them and not rely solely on the Inventory for guidance."
Good advice. Open any box and it is stuffed with papers that go well beyond their brief description in the Inventory. Within each box, folders are used to keep certain subject areas together, such as the sequential letters between Glass and his many correspondents. Some examples:
A 1913 memo from an admirer of one of his speeches:

It is a long time since I enjoyed anybody's speech as much as I did yours. It is the finest long speech of sustained sarcasm, irony, ridicule and vitriol that I have ever heard.

There is an engaging series of letters in early 1922 between Glass and G.W. Armstrong, the author of a book suggesting that the Federal Reserve Act was really authored by the banking powers of New York. In responding to Armstrong, Glass sheds light on the details of the Act's beginning:

Neither Mr. Paul M. Warburg nor Mr. Samuel Untermeyer wrote one sentence of it. The Act, in every essential provision but one, was outlined by me to President elect Wilson, then governor of New Jersey, on the afternoon of Dec. 26, 1912, in Gov. Wilson's bed chamber at Princeton, while he lay in bed with a deep cold.

The dispute between Armstrong and Glass deepened, especially because Armstrong included a letter from Glass in a second edition of the offending book--without Glass' permission. Fed up, Glass finally ended their correspondence:

Since you and I seem far apart on the proprieties of correspondence between gentlemen, and since you avow your right to print another person's letters without first obtaining his consent, I must decline to have any further communication with you.

On suffrage for women, in a 1920 letter to Virginia State Sen. Walter Mapp:

I assume that it is well known that I have been and am utterly opposed, primarily, to woman suffrage ...

However, Glass—a sage politician—concedes that even without a constitutional amendment, suffrage was inevitable, so:

The simple, sensible question is: do we want them to vote with the Democratic party in the next presidential election, or with the Republican party?

In a 1925 letter to Gov. Harding (head of the Federal Reserve), Glass is outraged that Sen. Robert Owen is making false claims about Owen's involvement in writing the Federal Reserve Act. After setting the record straight on Owen, Glass continues about other matters of the Act:

The one frightful mistake that the House conferees did make was in their persistent advocacy of making the comptroller of the Currency an ex-officio member of the Federal Reserve Board. It is still my unabated conviction that this official, if of the proper type and personality, could be of invaluable service in such a relation. But, unhappily for the country, the men who have filled this office since the inauguration of the Federal Reserve System have been either malignants or asses or designing persons like Dawes, who seems to have gone into the office for the single desperate purpose of attempting to destroy branch banking in the United States.
Pardon the long digression ...

For Glass there were often digressions, and they were rarely brief. Anyone interested in what was on Glass' mind can peruse the contents of the 423 boxes online, under the title "A Guide to the Carter Glass Collection" at the University of Virginia Library site.