RSS

Fed survey results show bankers energized, relieved and distraught over GLB
Published March 1, 2000 | March 2000 issue
To get a feel for what bankers in the Ninth District think about the Gramm-Leach-Bliley Act, the Minneapolis Fed sent a survey to its 942 Ninth District banks and received almost 400 replies. Survey results show a wide range of interest and concern for different parts of the new law and its impact on banking.
For example, little attention was paid by the media to the closing of the unitary thrift loophole (the so-called Wal-Mart rule). But it was easily the strongest blip on the radar screen of bankers in the largely rural Ninth Federal Reserve District. Nine of 10 bankers said the measure was very important—twice the concern level given the next closest item.
With the walls of Glass-Steagall torn down, bank respondents also identified a wide variety of new activities they are interested in pursuing. More than four of 10 said they were interested in new commercial activity that was complementary to existing bank activities. No other opportunity opened by the new law received even half as many votes.
Banking Voices
Below is a sample of comments from bankers who responded to a recent banking survey by the Minneapolis Fed.
The financial modernization act is very important for a community bank like ours. It will allow us to accelerate our strategic plan to be a "financial service center," not just a bank by previous definitions. A community bank that does not change with the market will not be around in five years.

I am concerned that financial services legislation passed recently on top of the interstate branching law passed a short time ago are increasing the systemic risk to the industry. We are seeing bankers getting involved in activities they may not be ready for, such as branching (and) new product lines with additional risk, that will lead to problems.

I suspect the (new law) will result in mergers of banks, insurance and investment companies. However the industry cultures and product competencies will take some time to unfold profitably for many of the mergers. Customer service and relationship management will be a common denominator for success.

The effect of this legislation on smaller banks is likely to be indirect by virtue of the consolidation it promotes and the broadening of player eligibility in the financial services arena. The former may not be bad for the economy taken as a whole, but will be harmful for the parity so far as it concentrates economic power. The latter may or may not increase competition-it will provide more players horizontally but fewer vertically-but it will likely make matters more difficult for those financial institutions that don't assume new powers or form strategic alliances. As with any regulation, change will be slow in all rural areas. Our population numbers will not warrant fast changes, so this survey is just a snapshot in time. The financial services modernization law will help escalate the demise of rural communities and rural banks. This is the exact plan big banks, brokerage firms and U.S. government had in mind when passing this legislation. The ultimate goal is to get rid of anything rural or small-belt farms, business, manufacturing or banks. The enclosed quotation from Walter Wriston says volumes about banking and its competitive position. "All I can tell you is that the banking business used to have about 70 percent of the financial assets of the world. Now we have about 30 percent. Do you know any industry that went from 70 down to 30 percent of market share and survived?"
How important to your organization are the following changes made by the Financial Services Modernization Law?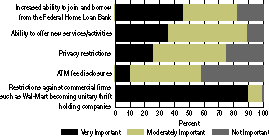 Which of the following new services or activities would you take advantage of, if allowed, under the recently passed law?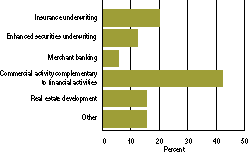 How will this law affect the level of competition in the delivery of financial services in your market?





See the results of the survey, fedgazette, April 2000.