RSS

Minneapolis Fed Hosts 2008 Financial Services Executive Forum
Published December 1, 2008 | December 2008 issue
On Sept. 10, the Minneapolis Fed hosted the 2008 Financial Services Executive Forum. Over 80 financial services executives participated in the full-day event, an occasion for Bank senior management to meet with Ninth District banking and financial institution leaders, share Fed information and insights, and elicit candid perspectives on key challenges currently facing the financial industry.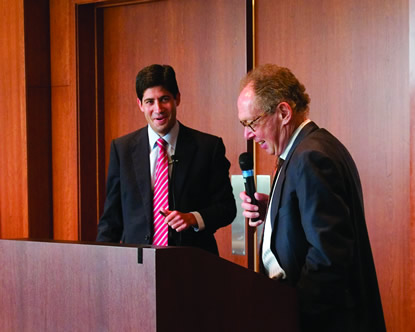 Minneapolis Fed President Gary Stern introduces Fed Governor Kevin Warsh.
The forum featured keynote addresses by President Gary Stern and Fed Governor Kevin Warsh. The agenda also included presentations by four members of Fed senior management: Jim Lyon (Regulatory Reform), Ron Feldman (Too Big to Fail), Claudia Swendseid (Transition from Paper to Electronic Payments) and Art Rolnick (An Optimistic View of the Economy). Question-and-answer sessions followed each presentation.
"At a broad level, a conference like this is about economic education," said Art Rolnick, senior vice president. "This is an opportunity for financial leaders to learn what Federal Reserve officials think about the key issues facing the financial system. And this education is a two-way street: We learn a great deal from conferences like this because we hear directly from financial executives. This is especially important in times like these, when the financial system is facing unique challenges."
"Based on the attendance, rich dialogue and positive feedback from participants, the event was a true success," according to Senior Vice President Duane Carter, who sponsored the Fed forum. "The discussion reflected the vast knowledge and experience of the Fed and the finance executives. It also highlighted the importance of outreach and the need for continual communication with the financial services industry on issues that will shape its future."