RSS

Supply, Demand and Deadlines
Journalists help shape a pilot workshop on economics training.
Published December 1, 2000 | December 2000 issue
The fundamental question before those attending "Supply, Demand and Deadlines," a workshop on economic literacy for journalists hosted by the University of Minnesota and the Minneapolis Fed in September, was whether such an effort was even necessary.
That question is discussed at length in the accompanying articles, [From a Journalist's Viewpoint and Understanding the Cost of Free Lunch] but affirmation of such a need was suggested during an unplanned "session": At a break following his presentation to the journalists, University of Minnesota economics professor V.V. Chari was corralled by a couple of reporters who pressed him on how to more accurately report inflation numbers; that confab grew as other journalists joined the discussion and soon Chari was holding another class in the hallway. As an economist might say, that's a pretty good market signal.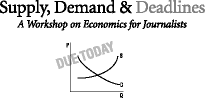 In the end, and with sometimes strong differences of opinion on a possible framework, the 20 journalists who attended largely concurred on the necessity for such a workshop. The insights gained from this initial program have led the Minneapolis Fed and the university's Minnesota Journalism Center to begin shaping an annual workshop that will address the question of economic literacy for journalists.
Thinking like an economist, writing like a journalist
Apart from answering the larger question of the need for specialized economics training for journalists, those in attendance were asked to critique the conference format and various instructional techniques. The journalists' analyses will influence future agendas, but the overall pedagogical model of the first conference will continue to be applied: A high-quality faculty will present lectures that will not only help journalists better do their jobs, but will also illuminate a particular topic or theme. For example, the pilot conference focused on incorporating economic thinking in stories and included the following presentations:
"What is the Story?"
Applying economic reasoning to better analyze issues and possible stories, by Steven Landsburg, professor of economics, University of Rochester.

"Putting the Story in Context"
Using historical analysis to understand current trends, by Gregory Clark, professor of economics at the University of California, Davis.

"Thinking Like an Economist"
Reviewing economic principles as they apply to stories, by V.V. Chari, professor of economics, University of Minnesota.

"Writing Stories About Economists"
Thinking about how to investigate the lives and thoughts of economists, by Sylvia Nasar, professor of journalism, Columbia University.
Fed Chairman Alan Greenspan served as the keynote speaker for the event; his off-the-record remarks described his relationship with the press over the years and served as an engaging introduction to the conference. Minneapolis Fed President Gary Stern was also a featured speaker, his remarks describe his preparation for a Federal Open Market Committee meeting.
Future conferences may revolve around a particular economic theme—such as the new economy, budgets or Social Security—but they will all focus on how journalists, given limited resources and very tight deadlines, can better do their jobs.
Two workshops, one message
One thing is certain—a two-pronged approach is planned for next year's conference. Two workshops will occur simultaneously, one for reporters and editors with experience in business and economics writing, and the other for more general assignment reporters who would benefit from a grounding in economic principles.
The experienced business and economics journalists will meet in a "retreat" setting with some of the top economists and business experts in the country, while the general assignment reporters will meet in the University of Minnesota's state-of-the-art journalism conference facility in Minneapolis. The two workshops will convene in joint sessions, via video conferencing, as appropriate. Many of the journalists who attended September's pilot program will serve as advisers for the forthcoming sessions.
The somewhat Solomonic decision to hold workshops aimed at two different audiences was a relatively easy one to make. Journalists at the pilot program were certain that training in economics would benefit nearly all reporters and editors—experienced and inexperienced—regardless of whether their "beat" was health, politics or city hall. An understanding of trade-offs, incentives and other fundamental principles should apply to nearly all journalistic writing or reporting. By way of example, one reporter held up a local newspaper and pointed out a story from that morning's metro edition that missed an important angle on a local budget issue.
But the journalists also liked the idea of more in-depth training for experienced economics reporters and editors, suggesting that such training would filter through newsrooms and generally improve the economic literacy of news organizations.
"The spectacular feedback from participants at the pilot session of Supply, Demand and Deadlines helped us focus on our target audience and on the content that will be most useful for journalists," said Kathleen Hansen, director of the Minnesota Journalism Center, which will take the lead in next year's conference. "It is clear that economics and business writers at the top of their profession welcome a forum where they can delve into some of the more pressing and unique challenges they face in their coverage of the complex issues on this beat. We can tailor an in-depth, hands-on workshop for them and make the plenary sessions available via teleconference to the general assignment journalists at another site where the more basic skills and issues will be explored off-line," Hansen said. "This should meet the needs of both groups and leverage the expertise of the keynote speakers to the best advantage of everyone."