A snapshot of cash rent for farmland
The average cash rent for an acre of cropland in the United States rose only 0.8 percent in 1999 from the previous year, and the average cash rent for pasture increased 1.1 percent.
The average value of cash rent in the Ninth District increased in all states in 1999, except for a decrease in cropland in Minnesota. Cash rent values range from $75.60 per acre for cropland in Minnesota to $5 per acre for pasture land in Montana. Nationwide, 40 percent of farmland is rented or leased.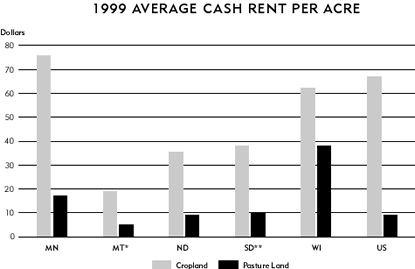 Cropland
Percent Change
From 1998
Pasture Land
Percent Change
From 1998
Percent of
Farmland Rented
or Leased 1997
MN

-2.3

6.3

40.6

MT*

11.8

11.1

34.5

ND

-1.4

1.1

51.0

SD**

4.1

5.2

38.2

WI

3.3

11.8

27.3

U.S.

0.8

1.8

40.6
* Nonirrigated cropland only
**Irrigated cropland only