Coal powers district electricity production
Coal is the predominant source of electricity generation in Ninth District power plants. Over 70 percent of electricity produced by district utilities comes from coal-fueled generators. By comparison, coal provides 56 percent of electricity nationwide. Hydroelectric and nuclear power each produce about 13 percent of district electricity. Renewable sources of energy other than hydroelectric (for example, wind power) provide only 0.4 percent of electricity generation. Coal is the main energy source in all states except South Dakota, where electricity is primarily generated by hydroelectric power.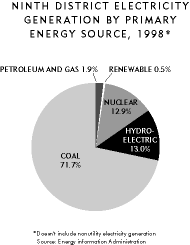 Source: Energy Information Administration
Carbon dioxide emissions per unit of electricity generated have decreased from 1988 to 1998 in Montana, North Dakota and South Dakota, while edging up in Minnesota and Wisconsin. North Dakota has the highest level of carbon dioxide emissions per unit of electricity in the district, and the highest proportion of electricity powered by coal. In contrast, South Dakota has the lowest level of carbon dioxide emissions per unit of electricity and the least reliance on coal.