Ninth District Commercial Construction Roundup
Minneapolis-St. Paul commercial construction expected to grow at a slower pace in 2001
Reports from commercial real estate firms indicate continued growth in building construction in Minneapolis-St. Paul, especially among large discount stores in the retail market. However, higher vacancy rates in office and industrial construction markets, and higher land, materials and labor costs may slow overall growth in 2001 compared with 2000.
In the retail market development of all-in-one discount stores, such as Target, Kmart and Wal-Mart, has grown faster over the past decade than multitenant shopping centers. Since 1990, discount stores have grown 300 percent in the Minneapolis-St. Paul area, compared with 21 percent for multitenant shopping centers, according to Colliers Towle Real Estate in Minneapolis. Overall retail vacancy rates are at 5 percent, indicating a tight retail market, which is expected to continue into 2001, according to CB Richard Ellis, headquartered in El Segundo, Calif. However, despite low vacancy rates, higher land and labor costs will likely keep growth in retail construction moderate.
In 2000, about 4 million square feet of space in office buildings were opened in the Minneapolis-St. Paul area, the largest single-year increase in new office space in more than 15 years, according to Grubb & Ellis Co., based in London. Absorption of office space doubled in 2000 compared with 1999. Two projects under construction in downtown Minneapolis will bring 1.1 million square feet of new available office space in 2001. Vacancy rates in downtown Minneapolis are expected to increase but remain below 10 percent, according to CB Richard Ellis.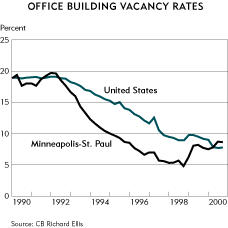 Industrial building construction, which includes warehouses, distribution centers and office business centers, was 50 percent higher in 2000 compared with 1999. Nevertheless, CB Richard Ellis reports low vacancy rates for industrial properties. Ellis also reports that in 2001 a lack of suitable land sites, higher material and labor costs, and flat demand will offset overall low vacancy rates, bringing industrial construction levels closer to 1999 levels. Among the multitenant sector of industrial properties, Colliers Towle Real Estate reports higher vacancy rates and a slower absorption of open space in contrast to single-tenant properties.
Sioux Falls commercial construction breaks record in 2000
Commercial construction in Sioux Falls, S.D., reached record levels in 2000, led by the building of a $30 million heart hospital. New commercial construction in Sioux Falls finished at $118.2 million in 2000, with additions and remodeling projects totaling $85 million, up 61 percent and 14 percent, respectively, compared with 1999. "Last year was a gigantic year," said Ron Nelson of Bender Commercial Real Estate Services in Sioux Falls.
However, following a record year may make it difficult for commercial construction to post an increase this year; in fact, 2001 will likely finish closer to levels seen in 1998 and 1999, according to Stephen Metli, director of Planning and Building Services in Sioux Falls.
Office building is approaching overbuilt and industrial construction is a little soft, Nelson said. While 2001 will probably fall from last year, construction will remain at high levels. "Construction could be down 10 percent to 15 percent and it would still be a good year," Nelson said.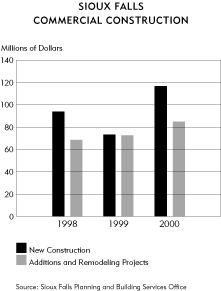 During 2001, "significant construction is expected in medical facilities and retail," Metli said. A wide variety of retail projects include a couple of super stores and a number of restaurants and smaller box retail stores.
While retail construction is expected to remain dynamic, "the challenge will be the available sights; retail is more sight specific than industrial and office construction," Nelson said. Sioux Falls has a strong retail sector, which draws shoppers from as far as 150 miles away.
When asked if the slowing national economy will affect Sioux Falls construction activity, Metli pointed out that since November the economy has wrestled with one of the coldest winters on record. "We talk with local contractors and architects and they are busy," Metli said.
Contracts awarded for building projects grew in 2000
In 2000, construction contracts awarded for public and private buildings in Minnesota, North Dakota and South Dakota reached $3.5 billion, 5 percent more than a year earlier, according to the Construction Bulletin. The total value of construction contracts awarded for public and private buildings was larger than contracts awarded for heavy construction projects, such as roads, bridges and sewers.