Health care insurance costs escalate
Rising health care insurance costs have concerned business leaders over the past few years. Beginning in 1999, the annual percent increase in health-related compensation started to outpace the annual percent rise in wages and salaries, and increases have tended to grow faster at small companies than at large firms. Businesses of all sizes have responded to higher premiums by passing at least some cost increases to employees, shopping each year for a plan with lower rates and even recruiting workers who are already covered on a spouse's plan.
Growth in demand has boosted insurance costs
The increase in health care insurance costs is largely attributed to a rise in demand for medical care. Health care has grown dramatically over the past 50 years, as Americans have chosen to spend a larger share of their income on health care. In 1950 Americans spent on average 5 percent of personal consumption expenditure on medical care; by the 1990s that figure was over 17 percent. An aging population and growth in the number of new health care products and services have contributed to the increase in consumption.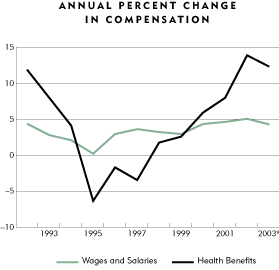 *Percent change, 3rd Quarter 2002 to 3rd Quarter 2003
Source: Bureau of Labor Statistics
As Americans grow older, they are more likely to demand a larger amount of health care. For example, those aged 65 and older, though they comprise just one in eight Americans, account for over a third of total health spending. And this age cohort of the population is expected to grow. By 2020 the U.S. Census Bureau predicts that the population 65 and older will rise from 12.6 percent to 16.5 percent.
In addition to an older population, technology gains have led to a wider array of health care products and services. More symptoms and diseases can be treated; essentially, there is more health care to purchase. When a new technology comes forward to treat a debilitating condition, consumers with the condition are likely to purchase the treatment.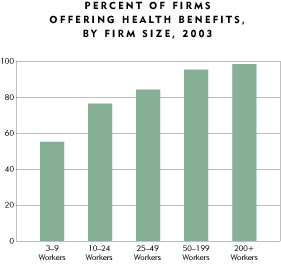 Source: Kaiser/HRET Survey of
Employer-Sponsored Health Benefits, 2003
Employers attribute recent growth in health insurance rates largely to prescription drug spending, hospital spending and an aging population, according to a survey of employers that was released in September by the Kaiser Family Foundation. The survey showed that private health insurance premiums rose almost 14 percent in 2003, the third consecutive year of double-digit increases. (See the May 2002 fedgazette for more on health care costs.)
Small businesses pay more
Of the 14 percent increase in health insurance premiums, small businesses pay a higher amount for health insurance relative to large companies because they can't spread risk over a large number of people. According to the Kaiser survey, businesses with fewer than 200 employees saw rates climb 15.5 percent in 2003 compared with 13.2 percent for firms larger than 200 employees.
Small firms are less likely to offer health care benefits compared with large firms. Only 55 percent of companies with three to nine employees and 76 percent of companies with 10 to 24 employees offered health benefits, compared with well over 90 percent of firms with 50 or more employees.
There are implications for both the private and public sectors. A small company that doesn't provide health benefits has a disadvantage in attracting employees compared with large companies. Furthermore, employees of small businesses that don't offer benefits may elect not to purchase health insurance on their own, thus adding to the number of people who are uninsured. An uninsured person is less likely to pay for preventive care and is more likely to visit the emergency room when health problems are acute. This raises costs for hospitals, which in turn affects insurance premiums and spending on public health programs.
Small businesses that pool together when buying health care insurance can provide the economies of scale similar to that of a larger firm and potentially reduce costs for purchasing insurance plans. Federal legislation is currently under consideration to better facilitate the forming of associations to purchase health insurance.