Manufacturing lots of work for little profit
Manufacturers were busy in the second half of 2004, although the bottom line didn't have much to show for it, according to a winter survey of manufacturers by the Federal Reserve Bank of Minneapolis and the Minnesota Department of Employment and Economic Development.
"Sales are pretty strong [but] energy and health care costs are hurting profits," reported a representative of a medium-sized North Dakota company. From Montana through the Upper Peninsula of Michigan, manufacturing activity is up, as respondents reported increases in production, new orders, investment in equipment, employment, productivity and prices. Smaller companies saw the slowest growth in activity, while medium-sized businesses reported the fastest growth in activity. However, profits were anemic, as respondents from Minnesota and Montana indicated decreases in profits and manufacturers from other district states indicated small increases.
The recent drop in the value of the dollar has pushed exports up and imports down, according to respondents. However, "the weak dollar has increased the prices of our imported materials greatly," commented a medium-sized South Dakota manufacturer.
Manufacturing Performance Increased in the Second Half of 2004*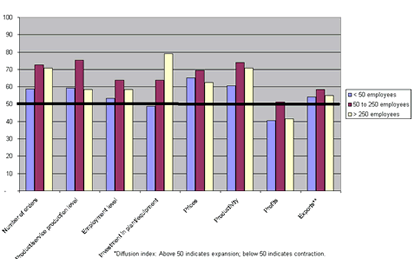 * Diffusion Index: Above 50 indicates expansion, below 50 indicates contraction.
Looking forward to the first half of 2005, respondents anticipate stronger activity for their companies and are hoping for healthier profits. Across the district, production and new orders are expected to jump. To meet the expected increased demand, companies plan to aggressively hire employees and increase productivity through capital investments. The result is an anticipated slight increase in profits. However, "price increases for raw material and parts continue to be a concern," commented a midsized Minnesota producer.
This view is also expressed for the overall economy. Respondents expect the overall economy to grow in the first half of 2005. Investment, business investment and consumer spending are expected to increase at a healthy pace, although weak overall corporate profits and a significant rise in inflation are anticipated.
Manufacturers Expect the Economy to Grow in the First Half of 2005*
* Diffusion Index: Above 50 indicates expansion, below 50 indicates contraction.
See complete survey results [xls] and additional charts.
Ninth District Manufacturing Business Conditions Survey Methodology – Winter 2005
Of the 16,706 Ninth District manufacturers a stratified random sample of 2,906 businesses was drawn from the population. For each state except Minnesota (see note below), the population was stratified based on employment size; the sample includes 100 percent of establishments with more than 49 employees, 20 percent with 5 to 49 employees and 3 percent fewer than 5 employees.
A postcard survey was mailed to each of the selected businesses. The mailing was in late January and a second mailing was sent in early February to Minnesota businesses that did not respond to the first mailing. A cutoff for survey responses was February 18. A total of 397 usable surveys was received, for a response rate of 14 percent. Of the usable surveys, 48 were from respondents indicating that their specific location had no manufacturing on site.
Survey results were tabulated for all manufacturers. The confidence interval for sampling error was calculated. The 95 percent confidence interval for the table of results for all manufacturers is plus or minus 4.9 percentage points. Results are also subject to errors introduced by other factors such as the wording of questions and differences between survey respondents and nonrespondents.
Note: The Minnesota Department of Employment and Economic Development produced and processed the surveys for Minnesota manufacturers, and the Federal Reserve Bank of Minneapolis conducted the survey for manufacturers in Montana, North and South Dakota, Ninth District counties in western Wisconsin and the Upper Peninsula of Michigan.