District exports post double-digit growth
District manufactured exports increased almost 18 percent in 2005 from a year earlier, the largest gain in the eight years that export data have been available. All district states posted double-digit growth in exports at rates well above historical averages. Machinery and computer/electronic products, the top two district manufactured export products, grew 20 percent in 2005. Meanwhile, exports to all destinations increased, with strongest gains to Asian destinations other than Japan.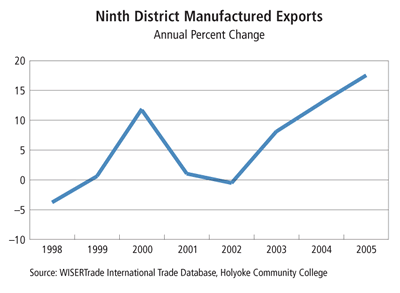 Strong export growth to developing countries
Strong growth in developing countries has led to a faster rate of district manufactured export growth than in developed countries. Strong economic growth creates a larger appetite for products from abroad. According to statistics from the World Bank, low- and middle-income countries grew faster than high-income countries from 1990 to 2003. The increasing share of economic output has placed these countries in a position to import more products.
In 1997, exports to Canada, Europe and Japan, the top three export destinations that year, comprised 68 percent of district manufactured exports. In 2005, exports to those destinations represented 64 percent of the total. The difference is accounted for by growth rates. Manufactured exports to Canada, Europe and Japan grew at an annual average rate of 5 percent between 1997 and 2005, while exports to all other regions grew at a 7 percent rate.
Among developing countries, exports to China showed the strongest rate of growth—an average 27 percent annually since 1997, followed by Mexico at 13 percent. In total volume, China has the third largest increase in exports since 1997, even though in 2005 it comprised only 5 percent of district manufactured exports. (China is one of the top five destinations for Montana. China's rankings for other district states include Minnesota, 6th; Wisconsin, 6th; South Dakota, 8th; North Dakota, 11th.) Forecasted growth for developing countries is expected to be relatively solid over the next one to two years, continuing the prospects for export growth to these regions.
Many district manufactured goods go overseas
The U.S. manufacturing sector decreased as a total share of output from 1997 to 2004. According to gross state product data, which measure the value added in production by the labor and capital located in a state, the manufacturing sector's share of GSP decreased from 16 percent in 1997 to 13 percent in 2004 (the last year data are available). While the share of output dropped, manufacturing output was relatively flat between 1997 and 2004.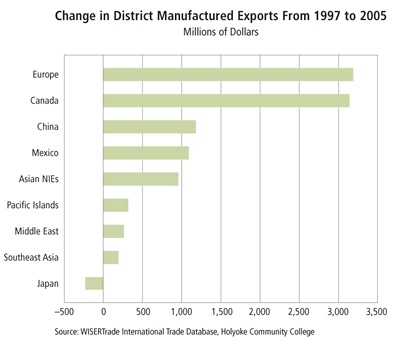 Almost half of manufactured goods produced in the United States are sold abroad. The share of manufactured products exported to other countries was 49 percent of manufacturing GSP in 2004, up from 48 percent in 1997. District states show a smaller share of manufactured products exported compared with the national average. However, within individual states, it's important to note that GSP doesn't measure the total value of the final good produced, but rather the value added.
For example, a product that begins production at a South Dakota manufacturer may finish in Washington. GSP calculates the value added to the product in each state. However, the export data measure the value of the product from the state it is shipped.
Let's say a South Dakota manufacturer adds $75 of value to a product that is then finished in Washington, where a manufacturer adds $25 of value. In terms of GSP, $25 is recorded for Washington and $75 is posted for South Dakota. If the product is then exported from Washington, the export data collectors record $100 for Washington and $0 for South Dakota. Therefore, it's not surprising that for a few states that have international borders or large ports, manufactured exports as a percentage of manufactured GSP is over 100 percent (Washington, Vermont and Texas).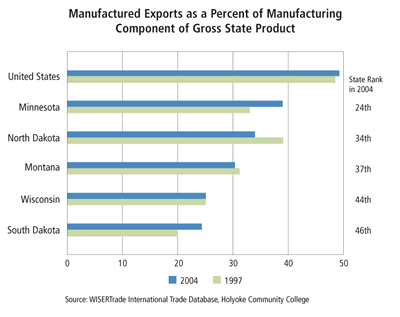 In district states, manufactured exports as a percentage of GSP between 1997 and 2004 increased in Minnesota and South Dakota and decreased in North Dakota and Montana.