Manufacturing: On the up and up
Manufacturers were busy making products in 2005 and expect to make more in 2006, according to a fall survey of manufacturers by the Federal Reserve Bank of Minneapolis and the Minnesota Department of Employment and Economic Development.
Strong manufacturing activity in 2005 was reported across the district. Manufacturers reported that new orders were up in 2005 and ramped up production and prices accordingly. In addition, survey respondents reported increased employment and capital equipment investment. Productivity also increased. Smaller companies saw the slowest growth in activity, while medium-sized businesses reported the fastest growth. However, the profit picture was mixed, as manufacturers in the western portion of the district saw higher profits, while those in the eastern portion saw lower profits.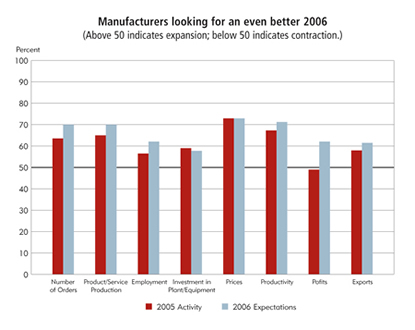 Source: Federal Reserve Bank of Minneapolis
A vast majority of respondents reported that Hurricanes Katrina and Rita did not affect profits in 2005. However, 23 percent reported decreased profits as a result of the hurricanes, and 5 percent noted increased profits. For 2006, 24 percent think profits will be reduced, and 13 percent think profits will increase as a result of the hurricanes.
"Our order books are basically filled for 2006," reported a representative of a medium-sized North Dakota company. Over half the respondents expect the number of orders to increase in 2006, while only 25 percent expect decreased orders. Manufacturers of all sizes across the district plan to respond to increasing production by expanding employment, increasing investment in equipment and raising prices. The one exception is North Dakota respondents, who overall expect some declines in investment. The result of increased manufacturing activity is an anticipated increase in profits. However, "energy prices are of major concern and represent the biggest threat in 2006," commented a medium-sized western Wisconsin producer.
The views expressed for the overall economy are mixed. Respondents expect slightly increased business investment and employment, stable overall corporate profits, declining consumer spending and a significant rise in inflation.
Ninth District Manufacturing Business Conditions Survey Methodology – November 2005
Of the approximately 17,000 Ninth District manufacturers, a stratified random sample of 2,867 businesses was drawn from the population. For each state except Minnesota (see note below), the population was stratified based on employment size; the sample includes 100 percent of establishments with more than 49 employees, 20 percent with 5 to 49 employees and 3 percent fewer than 5 employees.
A postcard survey was mailed to each of the selected businesses. The mailing was sent in late October/early November, and a second mailing was sent in mid November to Minnesota businesses that did not respond to the first mailing. A cutoff for survey responses was November 28. A total of 474 usable surveys was received, for a response rate of 17 percent. Of the usable surveys, 93 were from respondents indicating that their specific location had no manufacturing on site.
Survey results were tabulated for all manufacturers. The confidence interval for sampling error was calculated. The 95 percent confidence interval for the table of results for all manufacturers is plus or minus 4.4 percentage points. Results are also subject to errors introduced by other factors, such as the wording of questions and differences between survey respondents and nonrespondents.
Note: The Minnesota Department of Employment and Economic Development produced and processed the surveys for Minnesota manufacturers, and the Federal Reserve Bank of Minneapolis conducted the survey for manufacturers in Montana, North and South Dakota, Ninth District counties in western Wisconsin and the Upper Peninsula of Michigan.