Professional services firms anticipate higher profits, tighter labor supply
Accountants, architects, engineers and other professional services firms did well over the past year and expect to continue to grow over the next four quarters, according to results of the first survey of professional services firms, conducted in May and early June of 2006 by the Federal Reserve Bank of Minneapolis and the Minnesota Department of Employment and Economic Development.
The survey shows growth in sales prices, revenue and productivity. Profits and employment grew slowly over the past 12 months due to higher input costs, such as supplies, transportation, equipment and space, and lower availability of workers. Over the next four quarters, responding services firms expect expansion in all aspects of their businesses, although they do not plan to add office space. They also expect more jobs and higher profits in the overall economy, but flat consumer spending and rising inflation.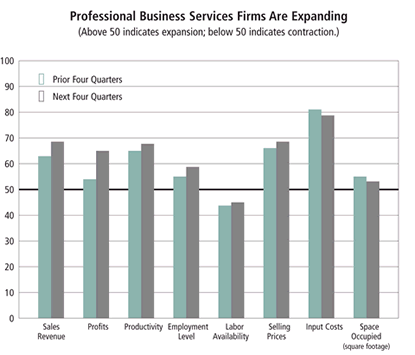 Source: Federal Reserve Bank of Minneapolis
Firm revenue increased across the district over the past year, with 53 percent of respondents reporting higher revenue and 27 percent reporting lower revenue. Firms increased revenue by raising sales prices and slightly increasing employment. It appears that productivity also increased, with 42 percent reporting increases and only 13 percent reporting decreases. However, 64 percent of the respondents reported higher input costs, and only 2 percent reported lower costs. "Fuel prices are killing us," noted a respondent from a South Dakota engineering firm.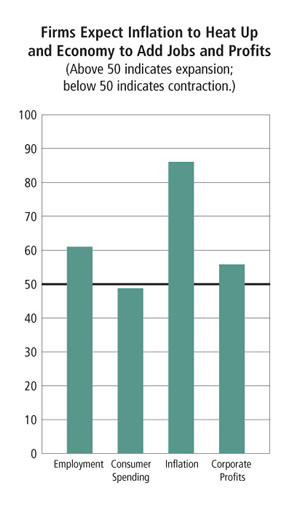 Source: Federal Reserve Bank of Minneapolis
Respondents indicated that wages increased an average of 3.5 percent and benefits 3.4 percent. The result is slightly higher profits, with 43 percent of respondents noting increases and 34 percent decreases. "Costs have gone up substantially, but we have been able to offset with cost savings programs and moderate price increases," noted a manager of a western Wisconsin research firm.
The outlook for the next four quarters is strong and optimistic across the district. Only 17 percent of respondents expect decreases in sales revenue, and only 7 percent expect decreases in productivity. In addition, respondents plan to raise prices further and add employees if they can find them. "It is extremely difficult to find both skilled and unskilled employees," commented a respondent from a Montana engineering firm. Even with the tight labor markets, firms plan to increase wages per worker by only 3.0 percent and benefits per worker by 2.6 percent. According to 60 percent of the respondents, overall input costs are expected to continue to increase. Over half the respondents expect to increase the bottom line, and 17 percent expect decreases in profits over the next four quarters.
Expectations for the overall economy for the next four quarters are laden with fears of inflation. Seventy-three percent of the responding firms expect an increase in inflation. Nearly half expect overall flat employment, and 37 percent expect increased employment. The outlook for consumer spending is mixed, and 39 percent of those responding expect an increase in corporate profits.
Ninth District Professional Business Services Survey Methodology–June 2006
Of the approximately 20,000 Ninth District professional business services firms (most firms in NAICS code 541), a stratified random sample of 2,216 businesses was drawn from the population. For each state, the population was stratified based on employment size; the sample includes 100 percent of establishments with more than 49 employees, 30 percent with 5 to 49 employees and 4 percent with fewer than 5 employees.
A postcard survey was mailed to each of the selected businesses. The mailing was sent in early May, and a second mailing was sent in mid-May to businesses that did not respond to the first mailing. A cutoff for survey responses was June 9. A total of 391 usable surveys were received, for a response rate of 18 percent.
Survey results were tabulated for all professional business services firms. The confidence interval for sampling error was calculated. The 95 percent confidence interval for the results is plus or minus 4.9 percentage points. Results are also subject to errors introduced by other factors, such as the wording of questions and differences between survey respondents and nonrespondents.
Note: The Minnesota Department of Employment and Economic Development produced and processed the surveys for Minnesota firms, and the Federal Reserve Bank of Minneapolis conducted the survey for manufacturers in Montana, North and South Dakota, Ninth District counties in western Wisconsin and the Upper Peninsula of Michigan.
Resources:

Survey Results [xls]