Who needs downtowns, anyway?
The fate of the Grand Cities' downtowns is a testament to—depending on your perspective—either the power or the limits of central planning after a natural disaster. More so than in other parts of town, local government tried to direct the course of recovery in the historic business districts, rather than letting market forces determine what happened to them. In doing so, city officials made massive public investments and intruded into private markets to a greater degree than was customary before the flood.
Like the downtowns of other cities, the central business districts of Grand Forks and East Grand Forks were depressed before the flood. Since the 1970s many businesses had relocated to outlying malls and strip centers, leaving behind empty storefronts in old, rundown buildings. A case could be made in 1997 that the downtowns weren't worth saving.
But the nuclear option—bulldozing the downtowns and building on higher ground away from the river—was never seriously considered; city leaders were adamant that the historic cores of their communities be rebuilt. "If you don't have a central city, you don't have anything," said Terry Hanson, executive director of the Grand Forks Housing Authority. "You've lost your heart." As a practical matter, Grand Forks (but not East Grand Forks) was required to save historic buildings as a condition for receiving federal disaster-relief funds.
Grand Forks devoted $28 million of its HUD block grant to rebuilding its 30-block central business district, overriding complaints by business owners on Washington Street and Gateway Drive—which also suffered flood damage—that too much money was being spent downtown. East Grand Forks spent about $32 million, 70 percent of its HUD disaster funding, on its much smaller downtown.
Following the advice of various federal agencies and consultants, each city drastically reshaped the physical environment of its downtown, investing in new or upgraded infrastructure and public amenities. And civic leaders strove to shape the business environment, using their authority and financial resources to expedite and control private development.
In Grand Forks, for example, planners created an open-air plaza called Town Square to serve as a venue for community events (a farmers' market is held there on summer weekends) and converted empty lots into pocket parks graced with public art. These and other public improvements made downtown a more attractive, inviting place than it was before the flood.
But city officials went further. To lure First National Bank (Alerus Financial today) back downtown, the city spent $11.7 million, two-thirds of it federal dollars, to build a multistory office complex that would also provide taxpayer-subsidized space for a law practice and accounting firm. Downtown businesses received grants of up to $230,000 to fix up their damaged buildings. And the Downtown Development Commission, formed in 1997 to guide the district's rebirth, favored certain uses for city-owned buildings (restaurants and art galleries, for instance) by selling them for less than the highest price offered.
In similar fashion, the city of East Grand Forks tapped federal and state funding to build a state-of-the-art library, a magnificent new city hall that residents dubbed the Taj Ma-City Hall and an "invisible" floodwall—an array of panels that can be assembled when waters rise, thereby preserving river views in normal circumstances.
And, in an effort to save a business district battered not just by the flood, but also by competition from Grand Forks, the city's Economic Development & Housing Authority spent millions of public dollars on aid and incentives for private businesses. In 1999, outdoors outfitter Cabela's received the biggest incentive of all: over $8.5 million in federal funds for construction and related expenses, plus a property-tax break and income tax credit, in return for agreeing to build a 62,000-square-foot store downtown. The Nebraska-based retailer normally builds much larger stores on major highways near big cities. "There would have been no other way we could have convinced Cabela's to come to town," said EDHA Director James Richter.
Looking for signs of life
The riverside renaissance that city planners envisioned after the flood has been slow to blossom. As development and business activity picked up in the rest of the metro area after 2000, both downtowns struggled to hold onto their commercial base.
Assessed property values in downtown Grand Forks rebounded strongly as rebuilding progressed, but from 2001 to 2004, assessed values increased only 8.5 percent, barely beating out inflation. (Valuations for downtown East Grand Forks aren't available.) Many businesses left downtown after the flood and didn't come back, remaining instead on South Washington, 32nd Avenue and other commercial strips. Corporate Center, Alerus' municipally owned headquarters, has been one-third empty since it was built, contributing to a downtown office vacancy rate of 37 percent in 2004.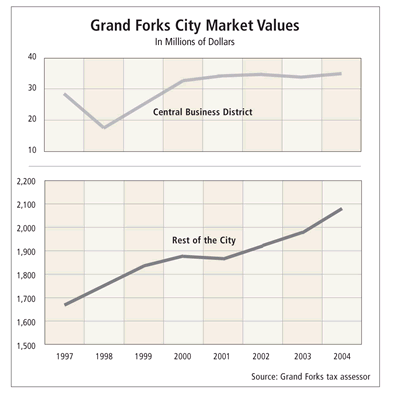 PRACS Institute, a medical testing facility, and a MeritCare clinic have opened in downtown East Grand Forks since the flood. But downtown too has lost small businesses to newer areas along Gateway Drive and State Highway 220, and tenants of Riverwalk Centre, a downtown mall that the city owns, haven't been able to capitalize on Cabela's presence. Surviving businesses there owe the city thousands of dollars in back rent.
There are signs, however, that the cities' efforts to make their downtowns safer and more appealing to the eye are beginning to pay off. Competing with big-box retail on 32nd Avenue may be a lost cause, but the historic heart of the Grand Forks area may yet develop into an entertainment and residential district oriented to the river and the extensive parkland that the flood created.
Downtown Grand Forks in particular has attracted private investment in the past year. Two restaurants, an artisan bakery and an art gallery have moved into the renovated first floors of historic buildings, and several housing projects are either complete or under development, including a $4 million condominium complex and 21 apartments in a former opera house, restored after the flood with $600,000 in HUD funds.
Housing developers required incentives such as free land, no-interest loans and property tax exemptions to take a chance on downtown. But City Council President Hal Gershman, whose ward borders downtown, sees housing as the key to the area's future. "You look all over the country, and downtowns are back; people want to move downtown to be near the action," he said. "And lo and behold, that's happening in small Grand Forks."