District manufactured exports flatten in 2013
For the 2013 performance of manufactured exports, the shipping container might be considered half full or half empty.
On the plus side, exports from Ninth District states hit a record $46 billion. However, growth was essentially flat—at 0.3 percent—from 2012 to 2013. Individual district states saw variable results, mostly because of export performance in important, high-share countries or sectors.
Aside from sliding during the recession, manufactured exports have seen strong growth for the better part of a decade; in 2010 alone, exports jumped 17 percent. But the past two years have seen that trend slow considerably (see Chart 1). Minnesota posted the only growth last year among district states at 3.3 percent, while North Dakota had the largest decrease at 8.2 percent. U.S. manufactured exports increased 2.4 percent in 2013.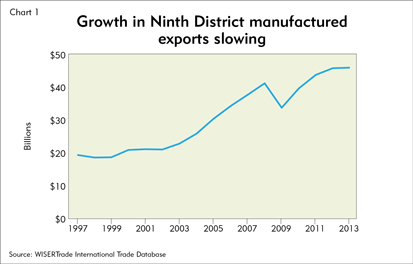 Shipments to Canada drop
District shipments to Canada, which comprise one-third of all exports, dropped by almost 2 percent in 2013 despite a modestly growing economy. Exports of machinery, the largest export industry to Canada, decreased 5.5 percent, offsetting modest gains in transportation equipment and food and kindred products. During 2013, the U.S. dollar appreciated 3.1 percent relative to the Canadian dollar, which makes district exports more expensive in Canada (see Chart 2).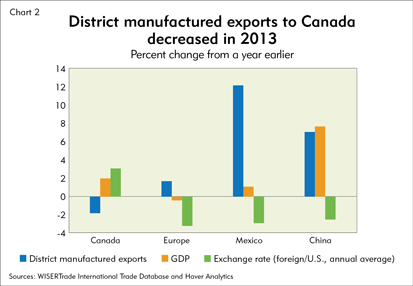 Currency fluctuations also appear to have played a role in the next three largest export markets—Europe, Mexico and China, whose currencies all appreciated relative to the U.S. dollar during 2013, making district exports relatively less expensive in those countries. Exports to each of them also grew.
In Europe, district exports increased by almost 2 percent despite GDP decreasing slightly. Exports to Mexico followed a strong 2012 with a 12 percent climb last year. Several industries posted solid export growth to Mexico, except food and kindred products (the second-largest district export industry to Mexico, which dropped 5 percent). Meanwhile, district exports to China increased 7 percent after no gain the year before, led by 20 percent growth of computer and electronic products and food and kindred products.
Domestic growth edges out exports
The lackluster performance in exports also slowed overall growth in district manufacturing. For example, manufacturing employment grew 0.7 percent in 2013, down from 2.4 percent growth in 2012. Nevertheless, manufacturing output continued to expand. According to a regional survey of manufacturers by Creighton University (Omaha, Neb.), manufacturing grew in Minnesota and the Dakotas during 2013; results were slightly stronger in Minnesota and South Dakota compared with 2012 and slightly weaker in North Dakota. Flat export activity alongside modest employment and output growth suggests that the sector benefited more from domestic demand than foreign trade in 2013.
Exports play a much greater role in the manufacturing sector of North Dakota compared with other district states. In 2012, exports in North Dakota as a share of manufacturing GDP reached 84 percent. Other district states ranged from 37 percent in South Dakota to 46 percent in Minnesota. Much of North Dakota's exports are to Canada: 70 percent, by far the largest share among district states.
Machinery loses ground
Among manufacturing industries, machinery is the district's largest with 24 percent of the total. But machinery shipments decreased almost 8 percent in 2013 and declined in all district states, including a 26 percent drop in Montana. Computer and electronic products, the district's second-largest export industry, decreased 1 percent (see Chart 3). Aside from these two industries, all other district manufactured exports combined increased 4.3 percent in 2013. Transportation posted particularly strong growth at 12 percent. Among several industries in the "Other" category, district exports in petroleum and coal products have grown 30-fold over the past decade or so, but dropped 34 percent in 2013; most originate from North Dakota and end up in Canada.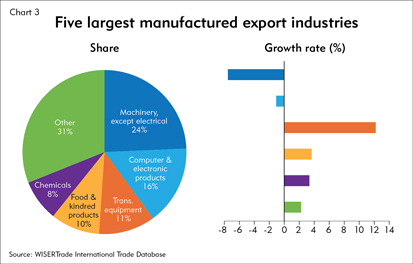 Largest export destinations and industries