An Evening with Narayana Kocherlakota - held in Marshall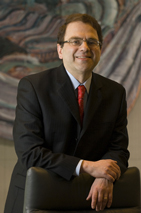 Wondering about the current outlook for the economy? Have questions about monetary policy?
Join Southwest Minnesota State University President Dr. Connie Gores as she moderates a discussion on monetary policy, the state of the economy, and prospects for the coming months with Federal Reserve Bank of Minneapolis President Narayana Kocherlakota. The discussion is open to the public and will take place on the Southwest Minnesota State University campus in Marshall, MN. A reception will follow.
The town hall forum with President Kocherlakota was a public event and discussion held at in Marshall, Minnesota on May 5, 2015.
Video: Remarks and Q&A