Minneapolis Fed President Kashkari to Discuss Immigration in Worthington
Neel Kashkari, president of the Federal Reserve Bank of Minneapolis, will be visiting Worthington, Minn., to hear from residents, area business leaders and civic officials about the role immigration has played in their community.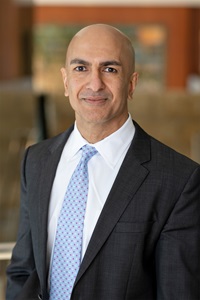 Neel Kashkari
"Worthington is an important example of immigrants contributing to a community's development," said Kashkari. "Businesses in our region increasingly struggle to find the workers they need. I want to learn from communities like Worthington that are successfully utilizing immigration to support economic growth."
Immigration is an issue Kashkari has written about in the past. This is Kashkari's fourth outreach trip of 2018, but the first ever focused on a specific topic.
Kashkari will begin his visit on Thursday, July 12, by attending the Journey to America program at the Worthington International Festival. There, he will speak about the Federal Reserve, then join Mayor Mike Kuhle for a discussion and audience Q&A on immigration in the Worthington community.
On Friday morning, July 13, Kashkari will hold a listening session with immigrant entrepreneurs at the Biotechnology Advancement Center and take a tour of JBS' Worthington plant, which relies on immigrants in its workforce. While at JBS, Kashkari will have lunch with Voices of the Community, JBS' employee diversity group.
Kashkari has been president of the Minneapolis Fed since January 2016. During his brief tenure, he has made it a priority each year to visit local communities in every state in the Ninth Federal Reserve District.
Attendance at the International Festival is open to the public. To watch a livestream of this event on Thursday, July 12, at 7:00p CT, go to www.minneapolisfed.org.
---
The Federal Reserve Bank of Minneapolis is one of 12 regional Reserve Banks that, with the Board of Governors in Washington, D.C., make up the Federal Reserve System, the nation's central bank. The Federal Reserve Bank of Minneapolis is responsible for the Ninth Federal Reserve District, which includes Montana, North and South Dakota, Minnesota, northwestern Wisconsin and the Upper Peninsula of Michigan. The Federal Reserve Bank of Minneapolis participates in setting national monetary policy, supervises numerous banking organizations, and provides a variety of payments services to financial institutions and the U.S. government.
Media Contact
Danielle Cabot

Public Relations Associate (612) 477-4519 danielle.cabot@mpls.frb.org