Minneapolis Fed names Washington and Mattson assistant vice presidents
The board of directors of the Federal Reserve Bank of Minneapolis has appointed two new assistant vice presidents and officers, effective August 1.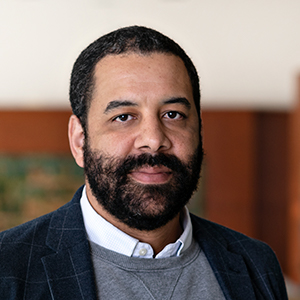 As assistant vice president, Strategic Communications, Dominick Washington will lead the Banks's internal and external communications, including media relations; web, design, and editorial services; and social and digital media. Washington joins the Bank from Minnesota Management and Budget, where he served as the director of Policy Research and Planning and interim director of Legislative and Intergovernmental Relations. He previously held communications leadership roles at the Minneapolis Foundation, the Bush Foundation, the University of Chicago, and UnitedHealth Group, among others.
"Dominick brings significant leadership and expertise to the Minneapolis Fed," said Amy Phenix, senior vice president. "His experience across sectors, including academia and state government, will complement the Bank's strong research and policy focus."
As assistant vice president, Regional Outreach and Public Programs, Karmi Anna Mattson will lead the Bank's outreach and public education programs across the Ninth District, including regional economic data gathering, production of the Beige Book, the Bank's facility tour program, and public events, such as its participation in the Minnesota State Fair and other forms of community engagement. Mattson has been at the Bank since 2002, serving in a variety of capacities and departments, including a decade in Regional Outreach, where she led innovative strategies to reach new and expanded audiences.
"Karmi brings a deep knowledge of the Federal Reserve, strong leadership, creativity, and innovation to this role," said Phenix.
---
The Federal Reserve Bank of Minneapolis is one of 12 regional Reserve Banks that, with the Board of Governors in Washington, D.C., make up the Federal Reserve System, the nation's central bank. The Federal Reserve Bank of Minneapolis is responsible for the Ninth Federal Reserve District, which includes Montana, North and South Dakota, Minnesota, northwestern Wisconsin, and the Upper Peninsula of Michigan. The Federal Reserve Bank of Minneapolis participates in setting national monetary policy, supervises numerous banking organizations, and provides a variety of payments services to financial institutions and the U.S. government.
Media Contact
Alyssa Augustine

Content Strategy and Engagement Supervisor (612) 204-5175 alyssa.augustine@mpls.frb.org